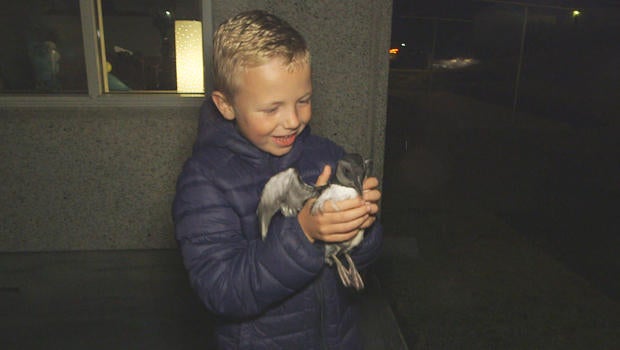 This week on "Sunday Morning" (April 29)
Full episodes of "Sunday Morning" are now available to watch on demand on CBSNews.com, CBS.com and CBS All Access, including via Apple TV, Android TV, Roku, Chromecast, Amazon FireTV/FireTV stick and Xbox. The show also streams on CBSN beginning at 9:30 a.m. ET and 1 p.m. ET.
WE'LL SEE YOU ON THE RADIO: Beginning April 22, "Sunday Morning" is available to CBS News Radio listeners.
You can also download the free "Sunday Morning" audio podcast at iTunes and at Play.it. Now you'll never miss the trumpet!
---

GUEST HOST: Lee Cowan
COVER STORY: A children's puffin rescue squad | Watch Video
The island of Heimaey, just off the coast of Iceland, is a breeding ground to Atlantic Puffins. But the colorful birds are not as plentiful here as they once were. Scientists say their numbers have been down by a third or more just since 2002. And one threat to the puffins is the local fishing village's bright lights, which can confuse young pufflings and draw them away from their nocturnal feeding ground.
Enter the Puffling Patrol -- young children who volunteer to rescue lost birds. Lee Cowan pays a visit.
For more info:

ALMANAC: The designer of Radio City Music Hall | Watch Video
"Sunday Morning" looks back at the career of Donald Deskey, an advertising man behind New York City's Art Deco showcase, who died on April 29, 1989 at the age of 94.
For more info:
ART: Grant Wood: An American artist | Watch Video
He is inarguably Iowa's most famous artistic son. Grant Wood (1891-1942) is best-known for his painting "American Gothic," one of the most recognizable portraits in history. Now, the Whitney Museum of Art in New York City has organized the largest exhibition ever of Wood's art. Anna Werner reports.
For more info:
FOR THE RECORD: Janelle Monáe | Watch Video
Tony Dokoupil profiles the singer and actress, whose new album is 'Dirty Computer."
GALLERY: Janelle Monáe in black and white
Watch the music video of "Make Me Feel," from Janelle Monáe's album "Dirty Computer":
For more info:

PASSAGE: Charles Neville and Bob Dorough | Watch Video
"Sunday Morning" looks back at the musical accomplishments of two gifted jazz artists. Lee Cowan reports.

CONNECTIONS: The stories behind Craigslist Confessional | Watch Video
Washington, D.C. lawyer Helena Bala experienced an unusual sense of connection and fulfillment five years ago when she saw a homeless man, with whom she stopped and shared a sandwich and a conversation. After listening to his story, she posted an ad on Craigslist offering to listen to anyone who just needed to talk. She was immediately flooded with requests. And so began "Craigslist Confessional." Bala talked to Jim Axelrod about how what she offers to the hundreds of people desperate to talk is very different from typical therapy.
For more info:
ON STAGE: Denzel Washington on when the work pays off | Watch Video
Michelle Miller interviews the actor, now starring on Broadway in the Eugene O'Neill classic, "The Iceman Cometh."
For more info:

HARTMAN: From NASA designer to school custodian (Video)
Maury Forrester, 77, works as a custodian at Coulter Grove Intermediate School near Knoxville, Tennessee. You wouldn't realize that, in an earlier life, Forrester was an electromechanical designer, part of the team that put a man on the moon. Steve Hartman reports on finding the key to a successful career.
MUSIC: Barbershop: A harmonious passion (Video)
In Las Vegas, at the annual convention of the Barbershop Harmony Society, the boys of four-part harmony packed them in. Barry Petersen checks out the acts large and small, and asks, in these polarized times, who couldn't use a little more harmony?
For more info:

OPINION: On the end of Bill Cosby | Watch Video
Nancy Giles on witnessing the death of an image, of the Bill Cosby she thought she knew, following his conviction on sexual assault charges.
For more info:

CALENDAR: Week of April 30 | Watch Video
"Sunday Morning" takes a look at come notable events of the week ahead. Lee Cowan reports.

NATURE: Redbuds (Extended Video)
We leave you this Sunday Morning in the pink ... Pink, Oklahoma, that is, where the Redbuds - Oklahoma's state tree - are in bloom. Videographer: Roy Neher.
WEB EXCLUSIVES:
NATURE UP CLOSE: Hummingbirds
Arizona's Sonoran Desert plays host to a high diversity of some of the world's tiniest birds
---
The Emmy Award-winning "CBS Sunday Morning" is broadcast on CBS Sundays beginning at 9:00 a.m. ET. Executive producer is Rand Morrison.
Follow the program on Twitter (@CBSSunday), Facebook, Instagram (#CBSSundayMorning) and at cbssundaymorning.com. "Sunday Morning" also streams on CBSN beginning at 9:30 a.m. ET and at 1 p.m. ET, and is available on cbs.com, CBS All Access, and On Demand. You can also download the free "Sunday Morning" audio podcast at iTunes and at Play.it. Now you'll never miss the trumpet!
Thanks for reading CBS NEWS.
Create your free account or log in
for more features.