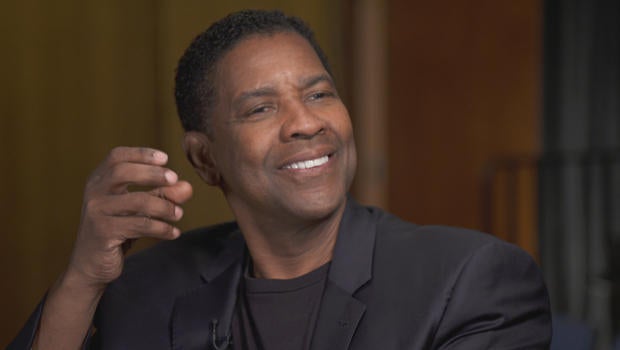 Denzel Washington on when the work pays off
DENZEL WASHINGTON went up against Gene Hackman for command of a nuclear submarine in the 1995 film "Crimson Tide." He's been sailing through performances on both the screen and the Broadway stage over the course of his long career. Michelle Miller has our Sunday Profile:
His name is Denzel Hayes Washington Jr. But to legions of moviegoers he's simply Denzel. He's played a staggering variety of characters in some 50 films in 40 years: Malcolm X; a homophobic lawyer ("Philadelphia"); a jazz trumpeter ("Mo' Better Blues"); and a boxer ("The Hurricane").
Washington said, "I just do what I do. I don't analyze it, I don't overanalyze it, I try not to read about what people think I'm doing. It's not that precious to me. I'm just doing what I know how to do and what I love to do."
And his work has been awarded with two Oscars – Best Supporting Actor for his role in "Glory" as a defiant soldier in the Union Army, and Best Actor for "Training Day," where he played a decorated but deeply corrupt narcotics officer; and in 2016 he received the Golden Globes' Cecil B. DeMille Award for lifetime achievement.
Miller asked, "How much more is there left for Denzel Washington?"
"Man gives the award, God gives the reward," he said. "That's what my mother raised me on. So, I like awards. We all wanna be loved! You know, you work hard and you want people to appreciate what you do. But that's not what I live for."
His long, successful career has made him a role model to actors, especially African Americans. And his reach extends to the stage, too. He's starred on Broadway in "Julius Caesar," "Checkmates," "A Raisin in the Sun," and "Fences." For that play, he won a Tony for Best Actor.
Now he's starring in a revival of Eugene O'Neill's "The Iceman Cometh." The play, written in 1939, is set in 1912, and is about unrealized dreams, betrayal and addiction. "It's a comedy," he joked.
No, it's heavy. Washington plays Hickey, a wealthy, larger-than-life salesman who visits a group of drunken, down-on-their-luck barflies.
"He is an incredibly skilled actor who uses all his skill set to disappear inside of the characters," said director George C. Wolfe. "I think there are a number of actors who we go to see, who are enjoyable and compelling, and you're seeing them play this role, and this role, and this role. And they don't disappear. I think he surrenders to his characters in an extraordinary way."
Washington grew up in Mount Vernon, New York with his mother, Lennis, who managed her own beauty shop, and his father, Denzel Sr., a Pentecostal minister who worked two jobs.
"He used to sit in the driveway with his foot out of his car and the door open, listening to the radio," Washington said. "And I used to wonder why he would do that. I think he had just left one boss and there was another boss waiting for him in the house, so that was only time he had to be the boss!" he laughed.
Washington says when he was young, his parents -- especially his mother -- helped prepare him for the challenges he'd face. "I remember when I was a kid and we were in Florida, and someone called us n-----s. We were, like, nine years old, me and my brother. There was all this anger. It wasn't even what they said, but the way they felt. So I went inside and I asked my mother. I said, 'Ma, why are they talking like that?' She said, 'Oh, that's just somebody who's worried about you taking their place.' I said, 'Oh, okay.'"
Washington took his place in Hollywood in the early 1980s, shortly after graduating as a star of Fordham University's theater program in New York. Even though he had talent, he says he found few mentors and even fewer opportunities compared to white actors.
Nearly 20 years ago, he expressed his frustration to Ed Bradley of "60 Minutes": "I see how the playing field is laid out. And it's not level. It's not fair. You can still bump your head; you can go but so far," Washington said.
"You think that's because of race?" asked Bradley.
"Ignorance. I don't just say race. Race is the obvious, you know, because as a black man, we can't hide. You know, there are other races that can hide. You can't change this."
Miller asked him, "Is it any better?"
"I sat and watched 'Black Panther,'" he replied. "And what are they up to, a billion something? So, that answers that question!"
"Is that the seminal moment?"
"No. That's where we are now. I mean, I'm proud as a father might be. I'm not finished the race, but I feel like I've passed the baton.
"When you run a relay race, when you hand the baton off, you still run about 20 or 30 yards behind the next person. So I'm still running, but I'm enjoying watching this generation take off – take the ball and run with it."
And he's in a position to help. As a producer and a director, he hires people. "That's power," said Miller.
"That's opportunity, the opportunity to give others opportunities. I'm happy about that."
At 63, Washington is about to be seen in the action thriller "The Equalizer 2."
Until then, each night he'll stay under the glow of the spotlight, because that's where Denzel Hayes Washington Jr. says the work really pays off.
Miller asked, "How do you know when you've done your job?"
"At the end of the night, you know, when you come out and nobody applauded," he laughed.
"They're running out the door?"
"Yeah, running, a standing-and-leaving ovation! But no, you are grateful and humbled. You know, we still all wanna be loved. You know, we come out and we bow and 'thank you,' and you mean it."
For more info:

Story produced by Mary Raffalli.
Thanks for reading CBS NEWS.
Create your free account or log in
for more features.