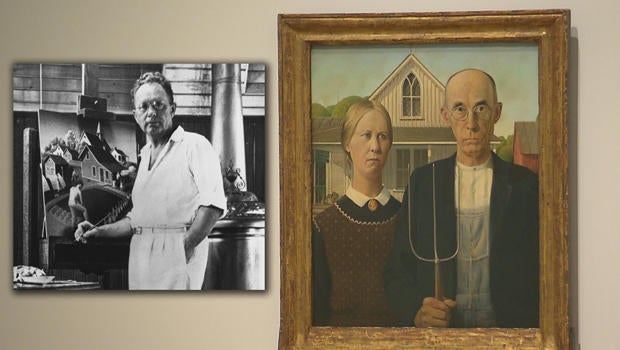 Grant Wood: An American artist
Grant Wood created one of America's most familiar paintings. Yet his life story remains unfamiliar to most of us - which is where the exhibit Anna Werner's about to walk us through comes in:
You've undoubtedly seen it before. It's one of the most recognizable paintings in American art: "American Gothic," by the artist Grant Wood (1891-1942).
It's likely the only work many Americans have ever seen by him.
But curator Barbara Haskell of the Whitney Museum of Art, in New York City, is out to change that with a retrospective of his work.
With about 120 pieces in the show, it's the most extensive Grant Wood exhibition that's ever been mounted.
And at its heart is "American Gothic." The people who posed for it were Wood's dentist and his sister. "But when it was first presented at the Art Institute [of Chicago], it was listed as a husband-and-wife," said Haskell.
"One of the interpretations is that actually it's a sublimated portrait of Wood's parents. The broach that the sister is wearing is the broach that belonged to the mother."
"Or maybe we're just reading too much into it?" asked Werner.
"Exactly. But that's what he wanted. He wanted all of us to try to figure out what is going on."
According to Haskell, "He had a vision of American history. He loved the idea of Paul Revere. But this is a great example of how eerie his landscapes and narrative pictures are."
Turns out, there's more to Grant Wood than we knew.
Born in rural Iowa in 1891, Wood's talent was apparent from an early age. After graduating high school, he traveled abroad to refine his craft, but eventually returned home to Cedar Rapids, Iowa.
It was there be became known by his regionalist style, in artwork focused on rural life in America.
"He felt that everyday scenes from Iowa were just as important as the kinds of things that were being taught in the major art schools," said Sean Ulmer, director of the Cedar Rapids Museum of Art, which owns the Grant Wood studio, a few blocks away, where Wood lived and worked from 1924 to 1935.
"Grant got into it and said, 'With a few modifications, I can actually live here, bring my mother in here and my sister, and we don't have to pay rent someplace else,'" Ulmer said.
It was there that Wood painted "American Gothic," which won a bronze medal in a competition hosted by the Art Institute of Chicago, and brought the 38-year-old artist national fame. He became well-known, if a bit of a puzzle.
"He wore overalls as a uniform and had this 'Aw, shucks' kind of personality that he presented to the press," Haskell said. "But in fact, he was very sophisticated."
His brief marriage in his 40s, combined with a focus on the male form in his art, raised questions.
"He lived in the Midwest in the 1930s within a community that was very masculine," said Haskell. "He had homosexual tendencies that he was afraid of confronting."
"Do you think he had a happy life?" asked Werner.
"I think he had a very troubled life. I think you see that troubled life in all the pictures. And that's what holds our interest. On one hand, they're bucolic and harmonious and ordered, and then on second glance, there's something else going on."
Although not everyone agrees.
Werner asked Sean Ulmer, "Do you think that this was a man who was in the closet at a time when being gay was not widely accepted?"
"Well, we have no evidence at all that he was gay," he replied. "It certainly was rumored during his own lifetime. I tend to lean more towards the facts that do exist, and looking at the work itself."
That's something the public can do now in New York, and always in his hometown.
Today, Grant Wood is still a household name in Iowa. "Absolutely, and I mean he is beyond a doubt Iowa's most famous artistic son," said Ulmer. "I think that one of the things that Grant Wood really did is shared with a much larger public the beauty that exists in the Iowa landscape and the people who populate that landscape."

For more info:

Story produced by Sara Kugel.
Thanks for reading CBS NEWS.
Create your free account or log in
for more features.