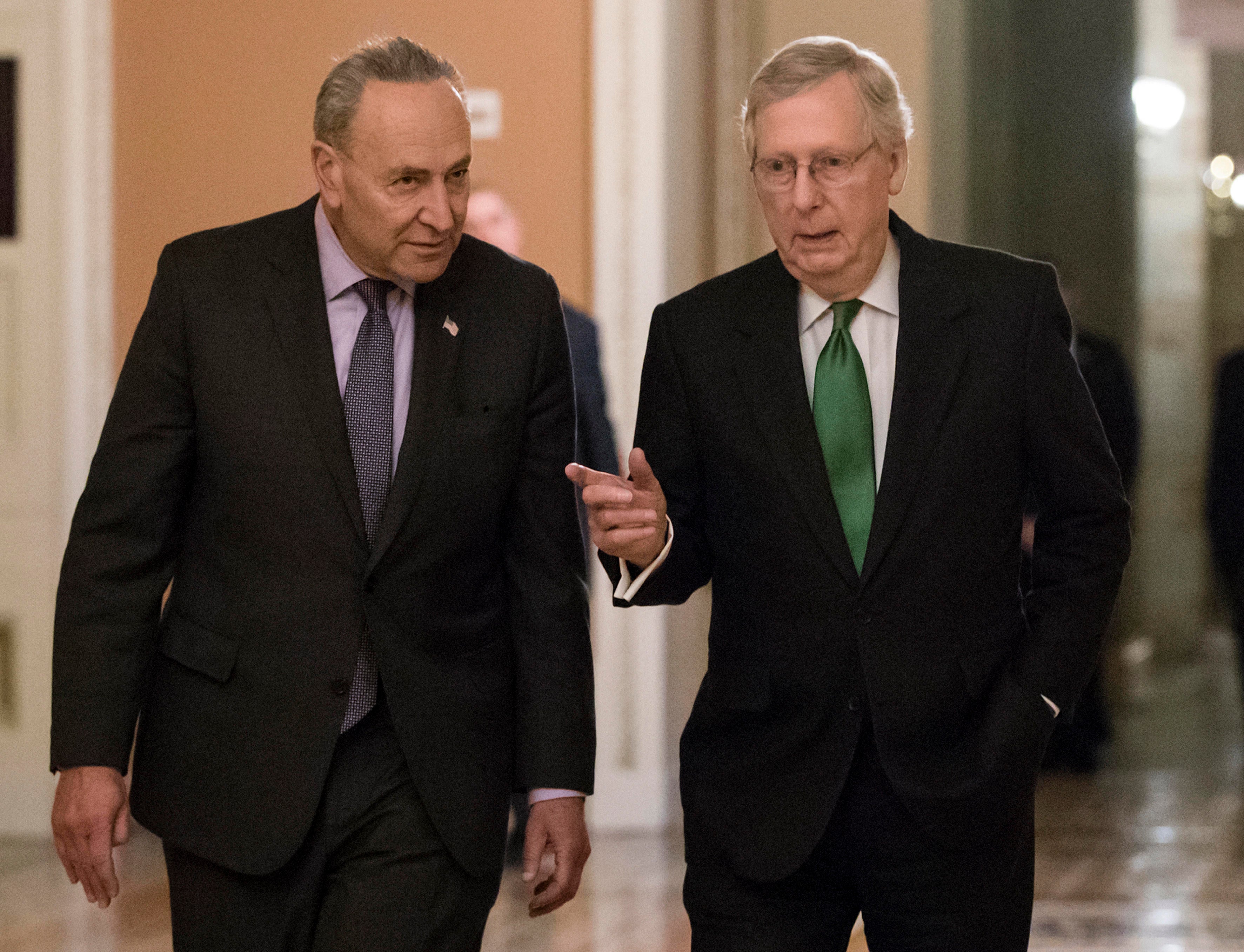 The big seven races that will (probably) decide who controls the Senate
While it looks like Democrats have a good shot of winning back the House of Representatives in November, the Senate is much tougher terrain for them. And the big reason is that Democrats have 25 senators up for reelection this year – more than half their caucus – including 10 in states that President Trump won in November. Meanwhile, the Republicans only have eight seats up this cycle, and only one of them comes from a state that Hillary Clinton carried.
The good news is that after Doug Jones' upset victory in Alabama last December, they only need a net gain of two seats to reclaim the chamber. And with Mr. Trump mired in low approval ratings, they're betting that their newly-energized base will be able to defend the seats they already control and make inroads elsewhere.
A lot can happen between now and November, but here are the seven races that are likely to decide which party takes the Senate.
Arizona
When Arizona Republican Sen. Jeff Flake announced that he wasn't running for reelection, GOP officials were initially relieved. Flake, they figured, was likely to lose a GOP primary against a more radical conservative, which would allow Democratic Rep. Kyrsten Sinema to easily win the seat.
The GOP is hoping their preferred candidate, Rep. Martha McSally, will win the August Republican primary and fend off Sinema. The first woman to command an Air Force squadron in combat, McSally has shown she can win tough races and has a moderate profile.
But before she can square off against Sinema in the general election, she'll have to defeat two hard-right candidates that the GOP worries won't stand a chance against Sinema: Dr. Kelli Ward, a state senator known to indulge in conspiracy theories, and Joe Arpaio, a former sheriff who was accused of numerous civil rights violations and was convicted of contempt of court before Mr. Trump pardoned him.
Sinema, meanwhile, is a fortysomething moderate who's seen as a rising star in the Democratic Party. She'll be a tough opponent against whoever wins the GOP primary, and is likely to be the heavy favorite in the race if she winds up running against Ward or Arpaio.
And a recent special election to replace Rep. Trent Franks, who retired over a sex scandal, provides yet more reasons for Republicans to worry, as the GOP candidate to replace him only narrowly carried his deep-red district. That election was yet another sign that Republicans are in trouble nationwide, and further proof that Arizona represents one of the Democrats' two best pickup opportunities in November.
Nevada
The other top Democratic pickup opportunity this year is in Nevada. Sen. Dean Heller, who is running for a second term, is the only Republican up this cycle in a state won by Clinton in 2016. And he's going up against a formidable Democratic opponent in Jacky Rosen, who was just elected to the House in 2016 in a close and expensive swing-district race.
Nevada itself is a swing state with a subtle Democratic tilt. It went for President Obama in 2008 and 2012, and again for Hillary Clinton in 2016, albeit by a smaller margin. The state has a large Hispanic population, which is typically a boon for Democratic chances. And Heller, who aligned himself with the unpopular Mr. Trump in a successful effort to avoid a conservative primary challenge, is widely considered the most vulnerable Republican incumbent up this year.
North Dakota
The most vulnerable Democratic senator up for reelection is likely Heidi Heitkamp, a freshman in a state that went overwhelmingly for Mr. Trump in 2016. It's solidly Republican territory, and although Heitkamp has a good amount of money on hand, the GOP was able to recruit their top choice to run against her, Rep. Kevin Cramer.
Polling is hard to come by in a state as remote and sparsely populated as North Dakota. But Heitkamp will have her work cut of for her as she hopes to replicate her surprise victory six years ago, which she won with the smallest margin of victory in the country against a flawed Republican nominee. If Cramer can run a strong campaign and avoid his habit of making controversial statements, Heitkamp's tenure in the U.S. Senate may be coming to a close.
West Virginia
Democratic Sen. Joe Manchin has made his name as a moderate in what's arguably the most pro-Trump state in the union. He won a special election in 2010 in a race that famously saw him shoot a copy of a "cap and trade" law with a rifle, and sailed to reelection two years later.
Republicans are hoping that Mr. Trump's strength in the state and Manchin's voting record, which occasionally drifts left by West Virginia standards, will be enough to unseat him. They're also making note of Manchin's daughter, Heather Bresch, who runs a pharmaceutical company that dramatically raised the price of EpiPens.
The good news for Democrats is Manchin is a talented politician. And despite Republican efforts to run a strong candidate against him, they may be saddled with Don Blankenship, a former coal baron implicated in a mine explosion that killed 29 people in 2010.
Blankenship is facing Rep. Evan Jenkins and state Attorney General Patrick Morrissey in next week's GOP primary. And he's getting some back up from a Democratic super PAC that's been spending big money to trash his GOP rivals in the hopes that Manchin winds up running against Blankenship in November.
For his part, Blankenship has been concentrating a lot of fire on GOP Senate Majority Leader Mitch McConnell, whom he called "cocaine Mitch" in surreal web ad earlier this week. Blankenship has also tried to tie McConnell to China through his wife Elaine Chao, Mr. Trump's Taiwanese-born Secretary of Transportation, and has called McConnell's father-in-law a "wealthy Chinaperson."
Tennessee
With GOP Sen. Bob Corker retiring, Democrats landed their best recruit of the cycle in former Tennessee Gov. Phil Bredesen. The Republican candidate, meanwhile, is almost certain to be Rep. Marsha Blackburn. Polling indicates the race could go either way, and Corker – a Trump critic who seemingly delights in needling the president – recently decided to praise Bredesen as "a very good mayor, a very good governor, and a very good businessperson."
A follow-up interview with CNN showed Corker refusing to refer to Blackburn by name while still insisting he would support his party's nominee. When pressed about this exceptionally tepid endorsement, Corker replied "I'm supporting the nominee…and I don't know what else to say."
Corker also hasn't shied away from handicapping the race in Bredesen's favor. "I'm guessing that she's down six [points], but down for real six [points]," he said at a Christian Science Monitor breakfast last month. "Will Bredesen have crossover appeal? No question. We have significant Republican fundraisers who are hosting fundraisers for him today."
Missouri
Democratic Sen. Claire McCaskill has been a top Republican target since she was first elected in 2006, and yet she's always been able to outmaneuver her GOP opponents. In 2012, she famously boosted GOP Rep. Todd Akin in the Republican Senate primary, sensing that he would be the easiest Republican to beat. She was right, with Akin quickly imploding after making a series of comments that introduced the phrase "legitimate rape" into the political lexicon. The GOP responded by cutting Akin off and letting McCaskill trounce him.
In an effort to avoid a repeat of that race, the GOP quickly coalesced around Missouri attorney general Josh Hawley, an attractive candidate seemingly free of any real baggage. But McCaskill is once again showing herself to be a strong candidate, with even Hawley's own polling showing the race to be neck-and-neck.
Hawley has also been forced to deal with the disturbing scandal surrounding GOP Gov. Eric Greitens, who's been accused of sexual assault. A defiant Greitens says he's not going anywhere and the victim of a "witch hunt," much to the chagrin of Republicans who want him to resign and stop dragging down Hawley. Sure enough, Democrats are doing all they can to link Hawley to Greitens, and while the race is still a toss-up, McCaskill's chances of staying in the Senate keep looking better and better.
Indiana
Democrat Joe Donnelly won his Senate seat in 2012 after Republican primary voters chose a tea party candidate over their longtime standard bearer, Sen. Dick Lugar. But Indiana is typically Republican territory, and the home of Vice President Mike Pence, meaning Donnelly might have an uphill climb to stay in his job.
The GOP has two congressmen, Luke Messer and Todd Rokita, tearing each other down in an effort to get a shot at Donnelly. But in recent weeks, businessman Mike Braun increasingly looks like the favorite in the Republican primary. Braun is spending his own money on the race, and has released a series of innovative ads targeting Rokita and Messer. His campaign is also looked upon favorably by D.C. Republicans who like his anti-Washington message and are impressed by his debate performances.
So if the GOP holds onto the Senate come November, or at least keep it to a 50/50 split with Pence as the tiebreaker, they may have Braun to thank.
The bonus states: Florida, Texas, and Mississippi
In Texas, Rep. Beto O'Rourke is facing an uphill battle in his race to unseat GOP Sen. Ted Cruz. Cruz benefits from all the natural advantages for a Republican running statewide in that massive and complex red state, but Democrats hope O'Rourke can turn out their base in a big way while Republicans stay home. Cruz is still the favorite in this race, but there's a chance O'Rourke can pull off the upset.
In Mississippi, meanwhile, recently appointed Republican Sen. Cindy Hyde-Smith is looking to win a November special election to replace the retired Thad Cochran. But the special election will be non-partisan, meaning that voters will have a host of Republican and Democratic candidates to choose from with the top two finishers heading to a runoff if nobody can get 50 percent of the vote.
The worry among Republicans is that Hyde-Smith might lose her place in the runoff to conservative firebrand Chris McDaniel, who nearly defeated Cochran in 2014. And Democrats have an attractive candidate in Mike Espy, a conservative Democrat who could become the first black senator from Mississippi since Reconstruction should he face the divisive McDaniel in the runoff.
And in Florida, Republican Gov. Rick Scott is spending a lot of money to unseat longtime Democratic Sen. Bill Nelson. Nelson would seem to have an early edge in the race, but Scott's resources are virtually limitless, meaning that Florida could easily have the most expensive race this cycle and also the one that determines the fate of the Senate.
Thanks for reading CBS NEWS.
Create your free account or log in
for more features.