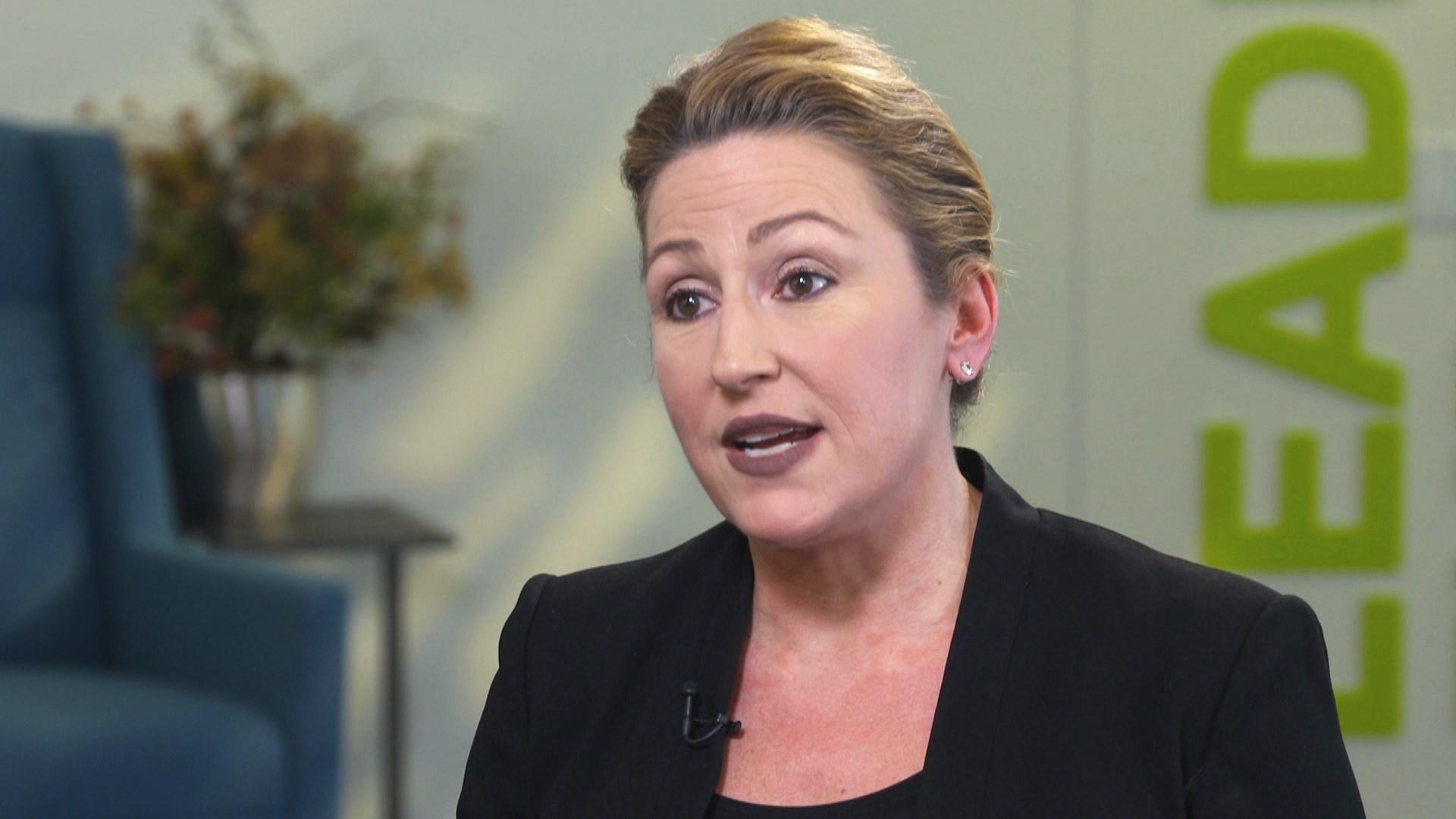 Mylan CEO on EpiPen drug price controversy: "I get the outrage"
Pharmaceutical giant Mylan was at the center of criticism last year over rising drug prices. Mylan's EpiPen became the lightning rod for scrutiny, as its price increased by nearly 500 percent over seven years.
CBS News coverage of the life-saving device for allergies created public outrage and led to a congressional investigation. Last September, Mylan CEO Heather Bresch was called before Congress to explain why EpiPen's price had soared from about $103.50 in 2009 to more than $608.61 in 2016.
"Let's just say I think a lot of misinformation and people had no idea, very uninformed about who Mylan is, the role we play in health care -- one out of every 13 prescriptions," Bresch told "CBS This Morning" co-host Norah O'Donnell in her first in-depth interview since testifying on Capitol Hill. "We're in everybody's medicine cabinet."
We met inside Mylan's one-million-square-foot manufacturing plant in Morgantown, West Virginia, as the first national news organization to go inside.
"You can ask just about anybody and they say the price of drugs is too high," O'Donnell said.
"And I agree with them," Bresch said.
The cost of the life-saving drug inside each EpiPen injector is worth a couple of dollars. But the design is what's added to the price tag.
"Why did the price of EpiPen increase 500 percent over the past decade?" O'Donnell asked.
"Because we realized there was an unmet need. … And so we made a conscious decision, the board, we put a business plan together to invest, to build public awareness and access," Bresch said. "We're now in over 70,000 schools across America. We've donated more than 800,000 free EpiPens… and remember that that price incorporates the entire supply chain. But it was that investment over the last eight years that would allow us to reach patients and save lives."
Because Mylan wanted to make it more accessible, it became more expensive, Bresch said.
"That price went up because we were making investment. As I said, about $1 billion over the last decade that we invested in the product that we could reach physicians and educate legislatures," Bresch said. "But then you also invest in the supply chain, to make sure that, you know, that employers, that employees, that everyone has access to have our medicine. Last year, 90 percent of EpiPen patients paid less than $50 for EpiPen."
"But the list price is $600," O'Donnell pointed out.
"Yes. Which is why I've said that if EpiPen needed to be a catalyst to show the system is broken, then so be it," Bresch said.
"But I don't have to tell you, because you witnessed it in Congress. But there's a lot of patients at home who say it's pharmaceutical companies like Mylan that are the ones getting rich," O'Donnell said.
"No, absolutely. And I understand that. And that's why I said I get the outrage, because it is so complicated and so complex. And the only face that you see on that medicine is the pharmaceutical manufacturer," Bresch said. "Where in reality…there's at least five entities touching that product."
In fact, Bresch said that for every $608 EpiPen two-pack, Mylan receives $274. The remaining $334 go to other players in the supply chain – middle men, including pharmacy benefit managers, or PBMs.
The president of the national association representing America's PBMs, Pharmaceutical Care Management Association, told CBS News: "Mylan stands out for its refusal to accept responsibility for its own high prices ... PBMs, which reduce prescription drug costs by 30% for employers, unions, public programs and the patients they serve are part of the solution."
"President Trump has said that pharma is now going to have to address the high drug prices," O'Donnell said. "He's demanding change."

"And I couldn't agree with him more. And I'm looking forward to it," Bresch said. "I think if we've ever had a moment in time, or administration that is willing to be disruptive, I think President Trump has shown that he is willing to make tough decisions, hard decisions, but right decisions."
"So you would support the change in…the law that would allow the U.S. government to negotiate drug prices for Medicare and Medicaid?" O'Donnell asked.
"No, I don't know that that's the answer. What I would support is that we look holistically at how pharmaceutical pricing is done today, and what is the best day to make it market-driven and give transparency to the patient walking up to that counter, that they know what they're buying," Bresch said.
Asked who her allies would be in the effort to fix the pricing system, Bresch said it would be a coalition of various groups.
"Employers. Employers are frustrated. Employers know their health care bill's going up and up," Bresch said. "And they're hearing from their employees who are dealing with these soaring deductibles. … So, I think the administration's going to be an ally. And I hope every mom out there is an ally. As I said, I can't do this alone. And I don't have all the answers. But what I can tell you is I'm going to work tirelessly… to get the right information and to strive for that transparency that's much needed in this system, and to make sure that patients can have the medicine they need."
Mylan has introduced a generic injector in response to criticism. It sells for $300, half the price of the EpiPen.
In a statement to CBS News, America's Health Insurance Plans, the national health insurance trade association, said:
"Millions of patients depend on prescription drugs to keep them well. And every day health plans provide comprehensive access to these life-saving medicines. Health plans help to control rising drug costs by negotiating lower prices with pharmaceutical companies that lower premiums and negotiating lower prices with pharmacies when prescriptions are filled.

But the problem of out of control drug costs starts long before a patient picks up a prescription. When pharmaceutical companies that face no competition in the market have the power to set whatever price they want, patients pay more for insurance. That's called price gouging – regardless of what kind of insurance plan they have. We need more competition, more choices, and lower costs."
Thanks for reading CBS NEWS.
Create your free account or log in
for more features.