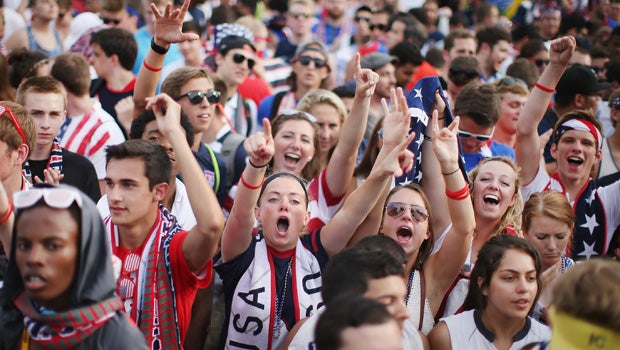 ​Roger Bennett on America's growing love for football (the other kind)
The World Cup is focusing the attention of at least some Americans on the sport the rest of the world calls "football" -- you know, that game where the players actually DO use their feet non-stop. It's a welcome development for our contributor Roger Bennett:
In 1990, I spent a summer as a counselor at a sleepaway camp in Maine and first encountered America's cruel indifference to football -- soccer -- the sport I loved.
My English national team had overcome their long-term commitment to mediocrity, dragging themselves into the World Cup semi-final against longtime nemesis in both war and football, Germany.
The day of the game remains one of my life's most frustrating. I wasted an afternoon driving Maine's rural back roads from one sleepy backwoods bar to another. All were broadcasting the local Portland minor league baseball game.
In the pre-Internet age, I had to wait for the next day's Boston Globe to discover the bitter result. England had lost on penalties.
Back then, the Untied States was football's final frontier, just like space for Captain Kirk -- a game inescapably doomed to experience only false dawns and empty promise . . . forever America's "Sport of the Future."
I moved to the States shortly afterwards, and have watched with wonder as the profile of the World Cup has painstakingly risen, tournament to tournament.
We now live in a nation in which demographers have determined soccer is the second-most popular sport for those aged 12-24 -- ahead of basketball, baseball and college football.
In fact, the United States has become a bona-fide soccer nation! And the 2014 World Cup will empower the sport to complete its takeover. Even the rural Maine bars of old will be tuning in.
The United States may have been slow to warm to soccer, but it has caught up fast.
Who could not love what the sport offers? A built-in excuse to ditch work, head to the pub, indulge in some daytime drinking, and watch this tournament -- Homer's "Odyssey" in cleats.

For more info:
Thanks for reading CBS NEWS.
Create your free account or log in
for more features.