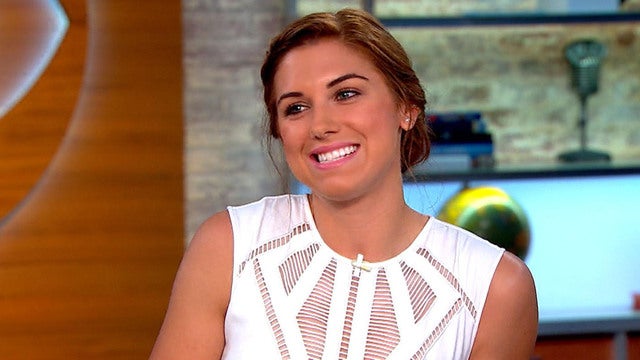 World Cup champ Alex Morgan's rise to stardom
When soccer star Alex Morgan was 8 years old, she wrote a note to her mother on a Post-it note:
"You just have this feeling. You sacrifice so much along the way. You just become so committed because you love the game so much," Morgan said Friday on "CBS This Morning."
Morgan, who started playing soccer at the age of 5, went on to become one of the top stars in U.S. women's soccer as an Olympic gold medalist and, most recently, walking away with Team USA as a World Cup champion.
She chronicled her journey to stardom in her new memoir, "Breakaway: Beyond the Goal," published by Simon and Schuster, a division of CBS. In the book, Morgan recalled a conversation she had after with her dad after complaining that she was tired during a training session in their backyard.
"But, Al, you gotta work hard every day if you want to be the best. Well, you are the best, but you can be better," he had said. "Come on. We'll get ice cream from 7-Eleven after."
"He always kind of pushed me the right amount, and I feel like that's important for parents. ... It's okay to push kids into something, but not too much," Morgan said on "CBS This Morning." "You want them to naturally gravitate towards something. So that's why I think me and my dad have such a great relationship."
She also spoke warmly about veteran team member Abby Wambach in her book.
"I really look up to Abby. Honestly, she's been a really big mentor for me throughout my national team career," Morgan said. "So it's great to be able to finally get this World Cup, for her, for this team, for this country. She's had the best career, and all she was waiting for was that World Cup title, and she got it. So it was pretty amazing to be on that ride with her."
Morgan said the popularity of soccer in America has been growing slow and steady, but in the past few years, there's been a greater push to women's soccer. While she looked up to female soccer players like Mia Hamm, Brandi Chastain and Kristine Lilly when she was growing up, now she's in a position where young athletes look to her with admiration.
"Being in this position, it's a little weird to take a step back and think of myself in that way, but at the same time, we have such a big responsibility because so many young girls have such a big opportunity that 20 years ago they didn't have in sports," Morgan said. "So I think that's important for me to show them that and help them spark that dream that I had because of these other players."
Thanks for reading CBS NEWS.
Create your free account or log in
for more features.