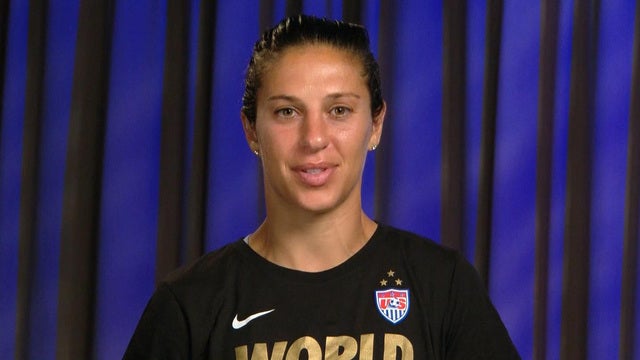 Carli Lloyd celebrates "epic" Women's World Cup win
Team USA midfielder Carli Lloyd and Women's World Cup MVP had good reason to celebrate through the night Sunday, following her record-breaking role in America's 5-2 victory over Japan.
"It was just an epic win and we created history," Lloyd said Monday on "CBS This Morning."
The records began just three minutes into the game. A corner kick fromMegan Rapinoe set Lloyd up for what became the quickest goal in a Women's World Cup game since the tournament started in 1991.
Moments later, in the fifth minute, Lloyd knocked home her second goal for the U.S. women. That marked another milestone as USA became the first team to score twice in that short a span in a Women's World Cup game.
In the 16th minute, nearly two minutes after Lauren Holiday posted a third American goal, Lloyd found an opening from midfield.
"There's not many times I've tried to hit a ball from midfield at goal and I don't' think I could have struck it any (more perfect). It just unleashed off my foot," Lloyd said. "I saw the keeper off her line and just instincts kicked in and I just went for it and it was just one of those moments where it just happened to go in."
The 54-yard strike secured the hat trick for Lloyd, the fast achieved in any World Cup game -- men's or women's -- and first ever in a Women's World Cup final.
Lloyd said visualizing her performance in training helped her get "zoned in" for the tournament.
"(I) did imagine playing in a World Cup final and scoring four goals or so," she said. "It's amazing what the mind can do and I was just focused and wanted to come here and help my team win in anyway I could."
Sunday's game also marked a historic rematch for Team USA. Four years ago, the team lost to Japan in penalty kicks. Lloyd, one of three players who failed to secure a shot, said she hadn't been thinking about that moment at all.
"I mean, it's in the past. It is what it is. It's part of the journey, part of the story," she said. "Everything was just focused on this game and this moment and I think that, you know, things and struggles you go through in life, it's how you bounce back."
Following USA's win against Germany, which propelled them into the finals, Lloyd said her goal was to win the tournament because no one would remember the second place team. Her performance earned her the Golden Ball and roaring cheers from an American crowd celebrating their first World Cup win in 16 years.
Despite struggles along the way, Lloyd said the team leaves a legacy with a positive message for young players.
"If you have a dream, it's definitely achievable through hard work, through dedication, sacrifice, everything. I mean, we have been those little girls screaming and jumping up and down," Lloyd said.
And even though she said she's taking it one year at a time, the 32-year-old thinks she'll be back for another World Cup appearance.
"I'm feeling pretty good, feeling healthy. I think it's definitely doable," she said.
Thanks for reading CBS NEWS.
Create your free account or log in
for more features.