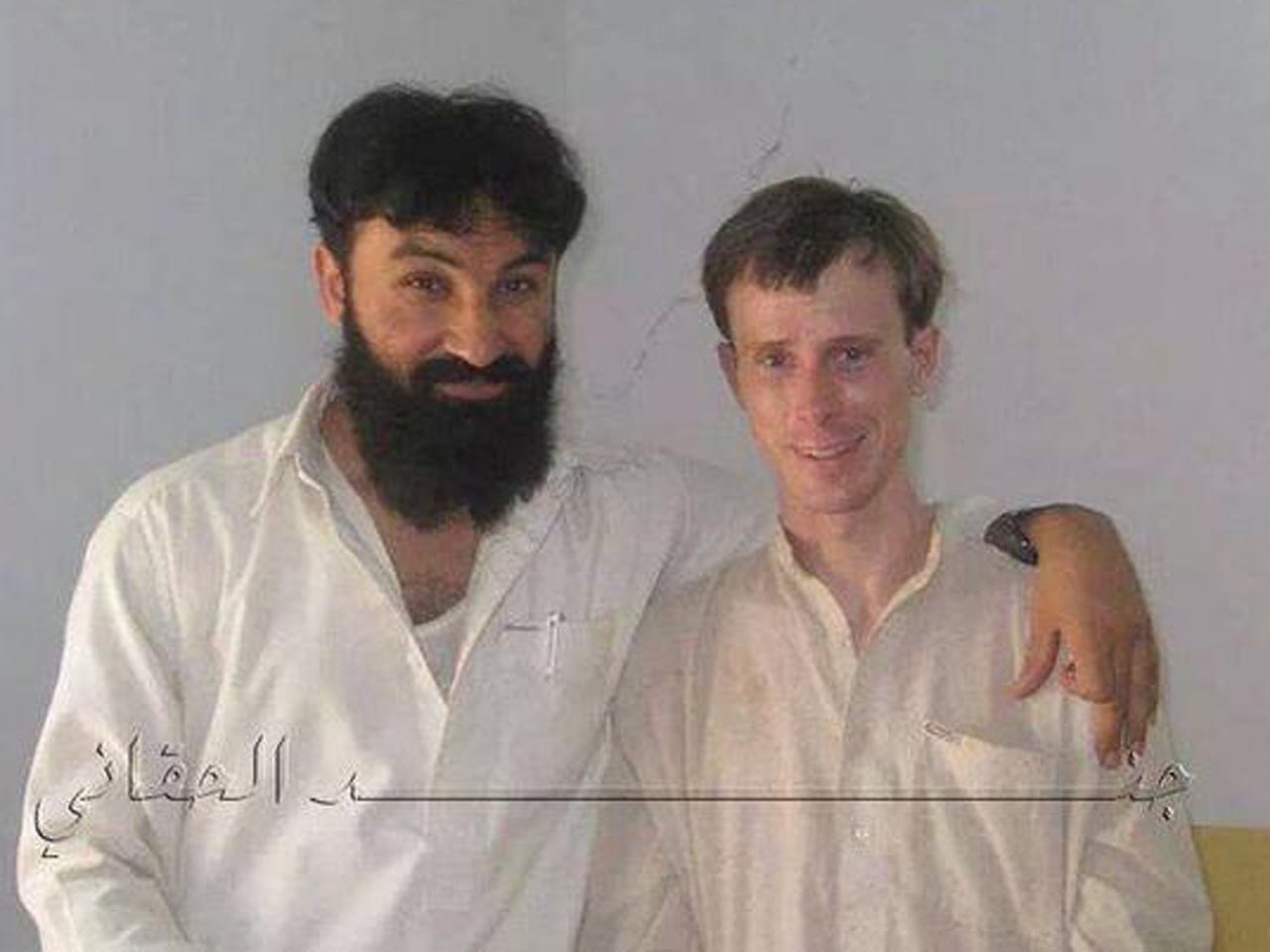 Photo appears to show Bergdahl with top militant
LONDON -- A photo published online Wednesday to a Twitter account associated with the Taliban and al Qaeda appears to show Sgt. Bowe Bergdahl smiling as one of the top commanders of the powerful, al Qaeda-linked Haqqani network, drapes an arm over his shoulder.
The unverified picture shows Bergdahl, looking very thin, standing with Badruddin Haqqani, who was killed in a suspected U.S. missile strike in August 2012. Badruddin, who was the son of Haqqani network patriarch Jalaludin Haqqani, was said to be the commander of the militant group's daily operations.
His death - which occurred in the Haqqani network's stronghold of North Waziristan on the Pakistani side of the border - was a major blow to the group, which has links to al Qaeda, the Pakistani Taliban (TTP) and the Afghan Taliban.
Arabic writing superimposed over the photo of Bergdahl and Badruddin reads, "recruited for Haqqani."
On Thursday, the Pentagon said it has no reason to doubt the authenticity of the picture, CBS Radio News correspondent Cami McCormick reports.
"He was a captive for five years, so pictures that the Haqqani network or the Taliban release are 100 percent propaganda and should be viewed that way," Pentagon spokesman Army Col. Steve Warren said. "These are bad people. These are terrorists. These are thugs, and these are killers who captured an American service member and held him for half a decade."
Bergdahl disappeared from his Army post in Afghanistan in June 2009 and was held hostage by the Taliban until May 30 this year, when he was freed as part of a prisoner swap that saw the White House free five Taliban militants from the Guantanamo Bay prison camp.
Bergdahl, now 28, has been receiving care at Army facilities in Texas since his return to the U.S. on June 13. He has not spoken publicly since his release.
The circumstances of his disappearance remain unclear, with some fellow soldiers alleging that he walked willingly off the base of his own accord.
Since the deal was cut with the Taliban to win his freedom, it has become the subject of intense debate in the U.S., with many of President Obama's foes accusing him of giving away too much to secure the release of a soldier who may have abandoned his post.
Also Thursday, letters in support of the deal from each of the Joint Chiefs of Staff were released by the Democratic chairman of the Senate Armed Services Committee, Sen. Carl Levin of Michigan.
"I balanced the risk of transferring the detainees with the importance of returning a U.S. solider from enemy captivity," Army Gen. Martin Dempsey, chairman of the Joint Chiefs, wrote. "I concluded the risk posed by the detainees' future activity would be less grave than breaking faith with our forces in combat."
The Army has thus far provided no information on the circumstances of Bergdahl's captivity, or how he ended up a captive. Officials have said he'll be interviewed by Army investigators, but only once medical staff indicate he's in a physical and mental condition to undergo such questioning.
According to a report published by the Washington Post, just three days before he disappeared, Bergdahl sent an email to friends saying: "This life is too short to serve those who compromise value, and its ethics. i am done compromising."
Senior U.S. officials said Bergdahl had told staff at the U.S. military base in Germany, where he was first brought after his release, that his captors locked him in a cage after two escape attempts.
There was no indication as to why the Islamic extremist groups would have published the years-old photo for the first time this week, or whether it might contain any messages.
The Twitter account where the photo appeared on Wednesday was set up earlier this year, but includes a large number of tweets about jihadist activities in various regions. The user or users tweet in both Arabic and Urdu, a language spoken in parts of Afghanistan and Pakistan.
Whoever is behind the "@khorasan313" account indicates loyalty to both al Qaeda leader Ayman al-Zawahri and Taliban figurehead Mullah Mohammed Omar. The account includes tweets which - while impossible to confirm - suggest high-level access to the leaders of both groups, including some claiming direct knowledge of the circumstances of Bergdahl's detention.
Twitter and other social media companies routinely shut down accounts deemed to belong to or espouse terrorist organizations, but the users often pop back up quickly under a slightly different name.
The head of intelligence gathering in the Netherlands told CBS News earlier this week that the ability to communicate "horizontally" among followers using social media platforms has made terror groups much more difficult to track and counter.
Thanks for reading CBS NEWS.
Create your free account or log in
for more features.