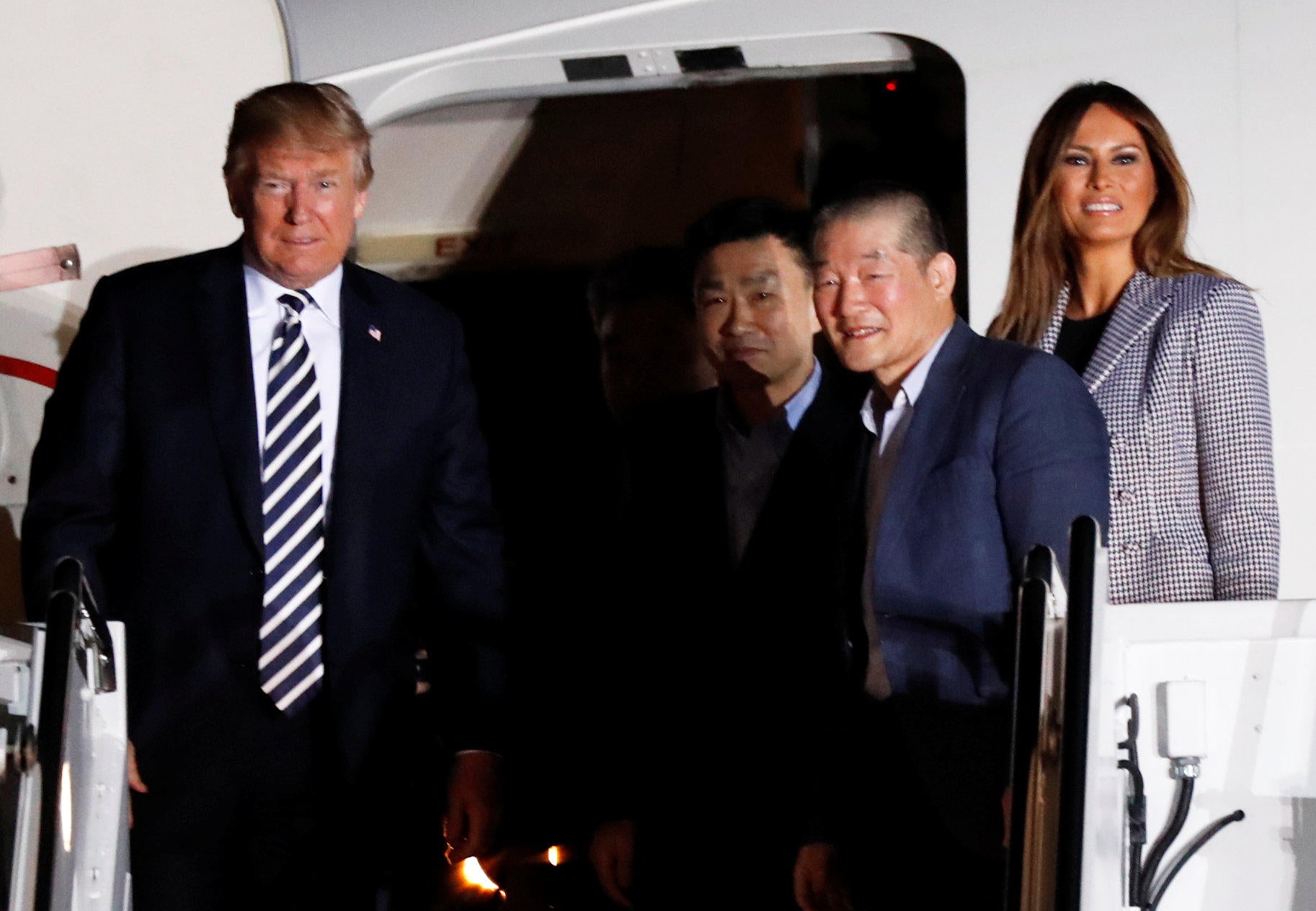 Trump welcomes freed prisoners home from North Korea
JOINT BASE ANDREWS -- President Trump and first lady Melania arrived early Thursday morning to greet three Americans as they flew into Joint Base Andrews, outside the U.S. capital, less than 24 hours after they were released by North Korea. The three men, Kim Dong Chul, Kim Hak Song and Tony Kim, were released during a visit on Tuesday by U.S. Secretary of State Mike Pompeo, and were in the air less than one hour after being released in North Korea's capital city, Pyongyang.
Pompeo and the former detainees arrived on two separate planes. Secretary Pompeo touched down first, and the plane carrying the three former detainees arrived about half an hour later at the U.S. military base in suburban Maryland. The plane pulled to a rest in front of a giant U.S. flag, stretched between two cranes on the tarmac. Mr. Trump boarded the plane with the first lady and then emerged at the top of the stairs with the three men to wave, and then walk down onto the tarmac together.
Pompeo greeted them at the bottom of the stairs and was hugged by one of the former prisoners. The three men appeared healthy as they walked toward waiting reporters. President Trump made brief remarks, saying "his proudest achievement will be -- this is a part of it -- but my proudest achievement will be when we denuclearize" North Korea.
Mr. Trump said he "very much appreciated" that Kim Jong Un had released the prisoners ahead of the two leaders' looming meeting.
"This is a special night for these three really great people," Mr. Trump said, adding, "congratulations on being in this country."
Kim Dong Chul, a day after his release, said through a translator as he stood next to Mr. Trump that being home was "like a dream, and we're very, very happy." Asked how he was treated in North Korean custody, Kim only said, "in many different ways."
President Trump also "paid his respects" to the family of Otto Warmbier as he stood with the freed men. Warmbier was an American student who died shortly after his return to the U.S. last year following his release by North Korea. Warmbier was flown home with severe brain damage, and his parents have sued North Korea over his death.
While the three men are walking on their own strength and appear healthy, they were transported immediately to the military's Walter Reed Medical Center in Washington for thorough health checks.
"The current priority is to allow the returnees decompression time as they transition. Decompression consists of establishing their routine, providing them with rest, and attending to their nutritional and medical needs," the Walter Reed hospital said in statement released Thursday. "We want them to be able to process and integrate their experiences in a healthy manner and this will be facilitated by trained professionals."
In a statement ahead of their return, the three freed men thanked the U.S. government, Mr. Trump and the American people "for bringing us home."
"We thank God, and all our families and friends who prayed for us and for our return. God Bless America, the greatest nation in the world," the three men said in a statement released by the State Department.
Pompeo accompanied the men as he capped his 12-and-a-half hour trip to Pyongyang, which included a 90-minute visit with North Korean leader Kim Jong Un.
North Korea released the prisoners as Pompeo visited the country to nail down the details of a looming meeting between Kim Jong Un and President Trump. U.S. officials are now planning for the summit to happen in Singapore, sources told CBS News on Wednesday.
The White House has lauded the Kim regime for releasing the three men, saying it helped to create a positive atmosphere for the upcoming summit.
Mr. Trump praised Kim on the tarmac, saying it was "very nice" of him to free the U.S. nationals and speaking optimistically about the prospect of getting North Korea to agree to nuclear disarmament.
"I really think he wants to do something, and bring that country into the real world," Mr. Trump said of the North Korean dictator on Thursday morning. "I really think a lot of progress has been made ... some great things can happen."
Vice President Mike Pence, who was also at Andrews early Thursday to greet the former prisoners, issued a statement on Wednesday crediting "President Trump's tough minded diplomacy" with winning their release. He said the administration was "encouraged" by it, but warned, "we will not let off the pressure until we achieve full denuclearization" of North Korea.
Pence again credited Mr. Trump's "strong leadership" for winning the prisoners' release in a tweet sent Thursday morning.
As soon as their plane cleared North Korean airspace on Wednesday, Pompeo called Mr. Trump to inform him of the releases. Their families were then notified by State Department officials.
U.S. officials kept the three former North Korean detainees away from members of the press during their trip back to the mainland United States. After departing North Korea, the two planes carrying Pompeo and the freed men stopped in Anchorage, Alaska, to refuel. State Department officials refused to discuss anything but the most basic details of their conditions, citing privacy concerns.
Relatively little is known about the men's time in North Korean custody. All are Korean-Americans, and the circumstances under which they ended up in North Korean prisons remain unclear. Below is a brief explanation of who the three men are, and what little is known about their detentions.
Kim Dong Chul
Kim, a South Korean-born U.S. citizen, has been held the longest. The former Virginia resident was sentenced in April 2016 to 10 years in prison with hard labor after being convicted of espionage.
He reportedly ran a trade and hotel service company in Rason, a special economic zone on North Korea's border with Russia.
Kim was the only one of the three detainees to ever receive any sort of trial in North Korea.
Kim Hak Song
Kim worked in agricultural development at an experimental farm run by the Pyongyang University of Science and Technology. The university is the only privately funded college in North Korea and was founded in 2010 with donations from Christian groups. He was detained last May for alleged anti-state activities.
The North's official Korean Central News Agency said in May 2017 Kim was detained and that "a relevant institution is now conducting detailed investigation into his crimes."
He worked at Pyongyang University of Science and Technology.
Tony Kim
Tony Kim, who also uses the name Kim Sang-duk, was detained a year ago at the Pyongyang airport. He taught at the Pyongyang University of Science and Technology, just like Kim Hak Song.
He was accused of committing unspecified criminal acts intended to overthrow the government. The North has not said the two cases of staff at the university are connected,
In April 2017, the chancellor of the university said Kim, who is in his 50s, taught accounting at the university for about a month and had taught at a university in China before coming to Pyongyang. He said he was informed that the detention had "nothing to do" with Kim's work at the university, but he did not know anything further.
North Korea only confirmed the detention of Kim in May 2017.
Thanks for reading CBS NEWS.
Create your free account or log in
for more features.