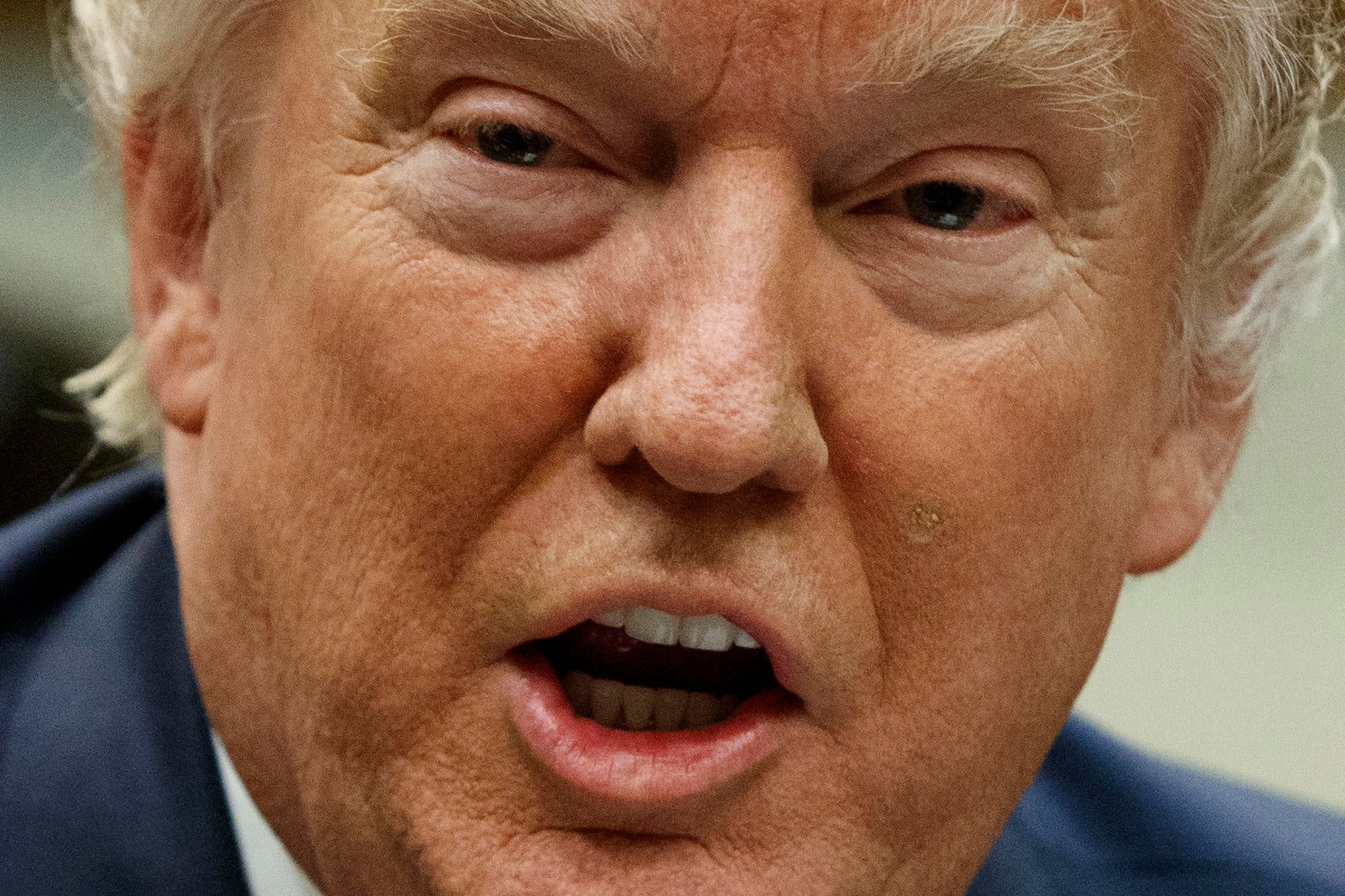 Today in Trump: March 14, 2017
Today in the Trump Administration
House Committee extends deadline for DOJ to provide wiretapping evidence

Facing a Monday deadline, the Justice Department asked lawmakers for more time to provide evidence backing up President Donald Trump's unproven assertion that his predecessor wiretapped his New York skyscraper during the election. The request came as the White House appeared to soften Trump's explosive allegation.
The House intelligence committee said it would give the Justice Department until March 20 to comply with the evidence request. That's the date of the committee's first open hearing on the investigation into Russia's interference in the 2016 election and possible contacts between Trump associates and Russia.
Donald Trump tax returns - portion of 2005 1040 released
In 2005, Donald Trump paid $38 million -- or about 25.3 percent -- in taxes on income of over $150 million, the White House said in a statement Tuesday night. In 2005, the tax rate for top earners was 35 percent. Currently, the top rate is 39.6 percent. In addition, the White House said that Mr. Trump paid "tens of millions of dollars in other taxes such as sales and excise taxes and employment taxes."
5 unusual things about the Trump presidency
Detractors and supporters alike agree that President Trump's presidency has already marked a departure from many of the norms of previous administrations. Here are five unusual facets of Mr. Trump's White House and his tenure so far as commander-in-chief.
Breitbart audio has Paul Ryan pledging not to defend Trump
House Speaker Paul Ryan told Republican lawmakers that he would not defend then-candidate Donald Trump in October, according to audio published Tuesday by Breitbart News.
Ryan's comments came after a leaked Access Hollywood video appeared to show Mr. Trump bragging about sexually assaulting women. In the October 10 phone call that followed, media outlets including CBS reported that the speaker said he wouldn't defend Mr. Trump and encouraged Republican lawmakers to do what was right for them in their bids to win reelection.
Ryan defends CBO estimate the 24M would lose insurance by 2026
House Speaker Paul Ryan said Monday that the Congressional Budget Office's (CBO) estimate that 24 million people would lose health insurance by 2026 under the GOP health bill is because the legislation would eliminate Obamacare's individual mandate.
In an interview on Fox News' "Special Report" with host Bret Baier, the Wisconsin Republican said CBO's report "exceeded my expectations" and he said that before Obamacare, 25 million were predicted to gain insurance, but now it's only half of that estimate.
The New York attorney general says that while Secretary of State Rex Tillerson was CEO of Exxon Mobil he used an alias in emails to talk about climate change.
The attorney general, Eric Schneiderman, made the accusation in a letter to a New York court Monday. He is investigating whether the company deceived investors and the public by hiding for decades what it knew about the link between fossil fuels and climate change.
Trump Schedule

Mr. Trump has lunch with Saudi Dep. Crown Prince Mohammed bin Salman bin Abdualaziz Al Saud, 12:30 p.m.; he speaks with Anthem CEO Joseph Swedish and HHS Secretary Price by phone, 3 p.m. (closed), and he has a phone conversation with Speaker Paul Ryan and House GOP leader McCarthy, 4 p.m.
Cabinet
Sen. Finance Committee holds confirmation hearing on nomination of Robert Lighthizer to be U.S. trade representative, 10 a.m.
What you missed yesterday
CBO scores GOP health-care bill

The Congressional Budget Office (CBO) released its analysis of the Republican health-care bill Monday -- it says that by 2018, 14 million more people would be uninsured under the legislation than under current law.
According to the CBO analysis, the legislation would reduce federal deficits by $337 billion over the next decade, with the largest savings coming from reductions in Medicaid outlays and the reduction of Affordable Care Act (ACA) subsidies.
HHS Secretary Tom Price said the White House disagrees "strenuously" with the report and called the finding that 14 million people would end up without insurance "virtually impossible."
President Donald Trump on Monday signed an executive order authorizing his top budget official, OMB Director Mick Mulvaney, to examine federal departments in search of places where money can be saved.
The order came ahead of the release of Mr. Trump's budget Thursday, which is expected to seek a contraction in the size and scope of the federal government.
The full text of the order, called the "Comprehensive Plan for Reorganizing the Executive Branch," was not immediately available.
Trump on the Healthcare Plan
President Trump continued to make a push for the American Healthcare Act, the GOP's Obamacare replacement. In a "listening session" composed of people who have complaints about the effects of the ACA, Trump compared Obamacare to the former president.
Merkel meeting postponed
A heavy winter storm expected in the mid-Atlantic and Northeast this week prompted German Chancellor Angela Merkel to put off her trip the White House by a few days. The two are slated to discuss NATO, ISIS and the Ukraine conflict. Merkel was to meet with Mr. Trump Tuesday. Their visit has now been moved to Friday.
Thanks for reading CBS NEWS.
Create your free account or log in
for more features.