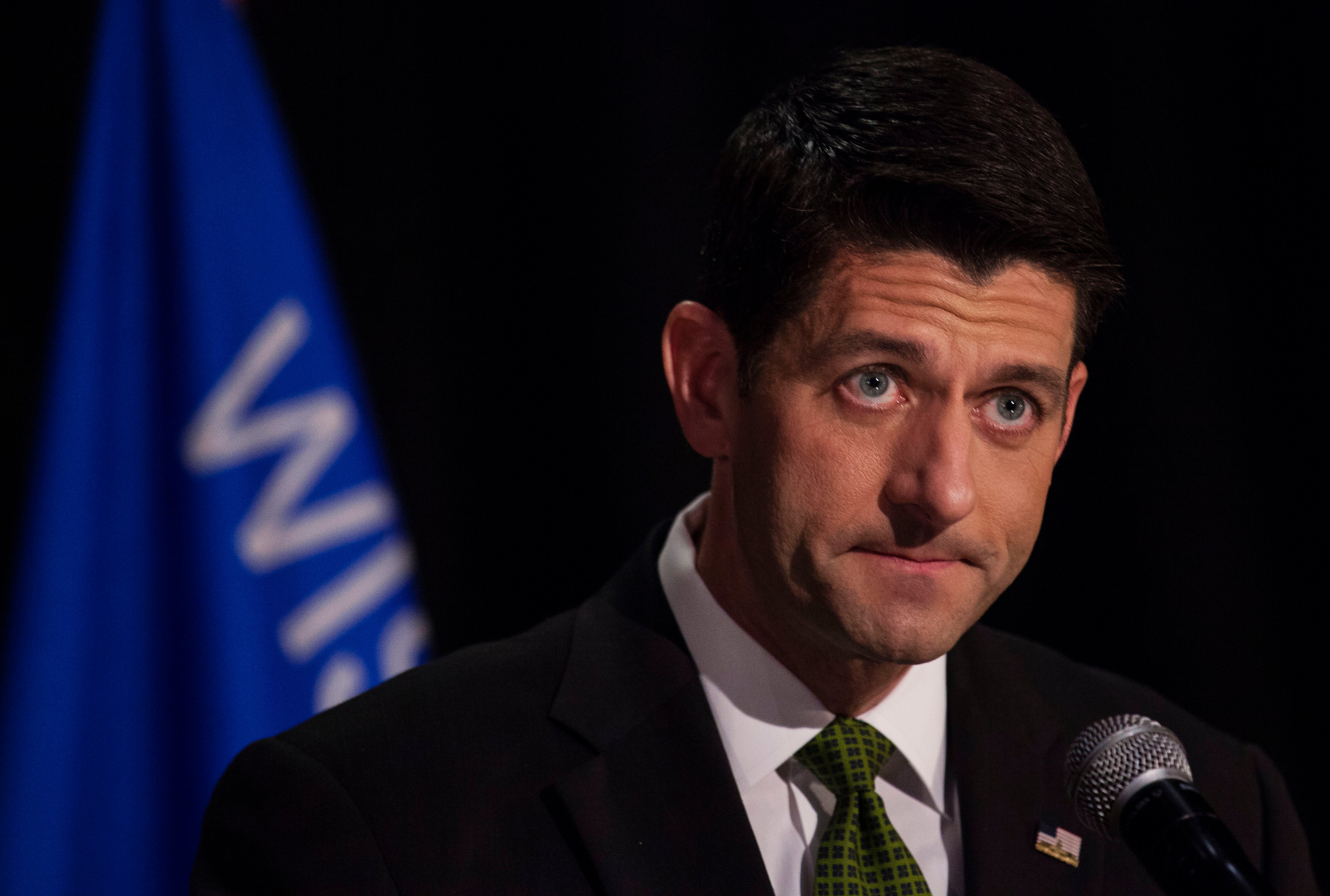 Paul Ryan tells Republicans he won't defend Donald Trump, will focus on keeping majority
House Speaker Paul Ryan told members of the House Republican Conference Monday morning that he won't defend Donald Trump anymore and won't campaign with him and will focus over the next 30 days on keeping the House majority, according to a Republican on a conference call.
"You all need to do what's best for you in your district," Ryan told his members, according to a readout provided by the Republican source. Ryan did not, however, say that he was rescinding his endorsement of Trump.
House Republicans scheduled the Monday morning conference call on Saturday after a wave of Republicans either condemned Trump for the lewd remarks he made in 2005 that surfaced on Friday, withdrew their endorsements or called on him to drop out of the presidential race.
The Wisconsin Republican and 2012 vice presidential nominee said he will no longer defend Trump or campaign with him for the next 30 days, the source said.
Ryan said he will focus his energy instead on ensuring Hillary Clinton does not get a blank check, the source said, with a Democratic-controlled Congress.
He also made clear to GOP lawmakers that his decisions are being driven by what is best for his members, not for himself and he's willing to endure political pressure to protect their majority, the source said.
On the hour-long call, Rep. Dana Rohrabacher, R-California, was critical of GOP leaders for backing away from Trump and he was not alone, according to two sources. One source pointed out that usually the loudest voices during these discussions are often the people who are most disgruntled and that more members support Ryan's decision.
Rep. Trent Franks, R-Arizona, was also on the call and said allowing Clinton to become president would end with fetuses being destroyed "limb to limb," according to a report by The New York Times that Franks' spokeswoman confirmed to CBS News.
The Republican National Committee has scheduled a separate conference call for Monday evening, according to Politico.
A few hours later, Trump responded to Ryan on Twitter.
Ryan endorsed Trump in June and is among those Republicans who have condemned Trump, but haven't withdrawn their support. On Friday night, however, Ryan disinvited him from an event they were scheduled to appear at together in Wisconsin.
"I am sickened by what I heard today," Ryan said in a statement Friday night. "Women are to be championed and revered, not objectified. I hope Mr. Trump treats this situation with the seriousness it deserves and works to demonstrate to the country that he has greater respect for women than this clip suggests. In the meantime, he is no longer attending tomorrow's event in Wisconsin."
CBS News' Margaret Brennan and Catherine Reynolds contributed to this report.
Thanks for reading CBS NEWS.
Create your free account or log in
for more features.