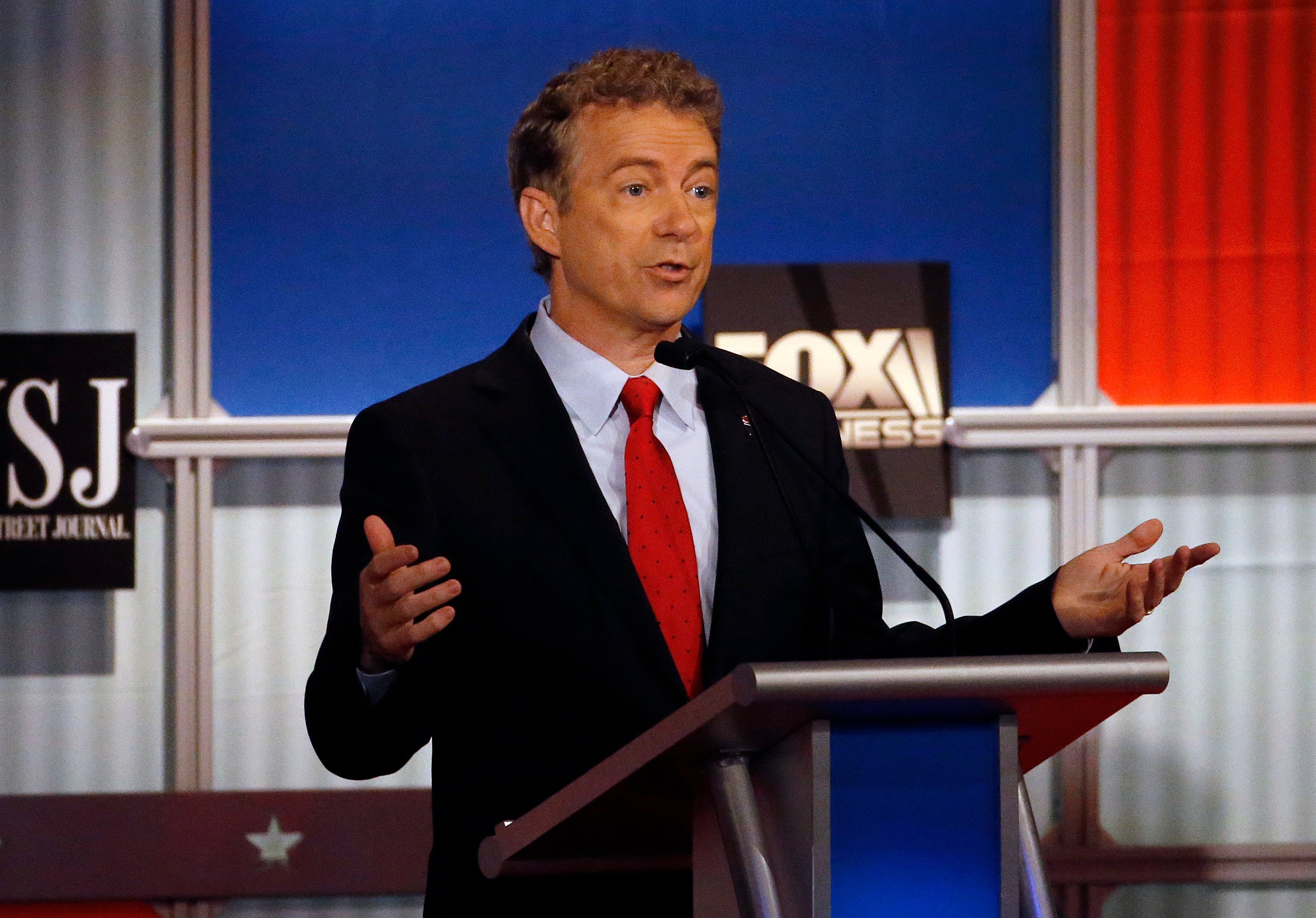 How Rand Paul barely made it into Tuesday's main debate
It was a Fox News poll released Sunday morning that saved Republican presidential candidate Rand Paul from being bumped from CNN's main debate stage to the second-tier debate earlier Tuesday evening.
The announcement of Paul's presence on the main stage was a surprise when CNN release its debate lineup Sunday afternoon. The Kentucky senator had been lagging in the 2016 polls, and didn't meet CNN's criteria for the main stage: An average of 3.5 percent in national polls (in certain polls conducted between October 29 and December 13), or 4 percent in either Iowa or New Hampshire polls.
But a Fox News poll of the Iowa Republican presidential caucus released Sunday showed Paul with 5 percent support, tied with Jeb Bush. It was enough for CNN to keep him on the main stage.
"In the light of new polling released this morning and in the spirit of being as inclusive as possible, CNN has decided to include Sen. Rand Paul in the prime-time debate," a CNN spokesperson told CBS News.
A different decision would have bumped Paul down to the earlier debate at 6 p.m., along with former Arkansas Gov. Mike Huckabee, former Pennsylvania Sen. Rick Santorum, South Carolina Sen. Lindsey Graham, and former New York Gov. George Pataki.
He's not the only candidate to be saved by the polls of voters in early primary and caucus states. Former Hewlett-Packard CEO Carly Fiorina, Ohio Gov. John Kasich and New Jersey Gov. Chris Christie -- who found himself relegated to the second-tier stage during the last GOP debate -- were all saved by the strength of their Iowa and New Hampshire poll numbers.
Paul's campaign made a public appeal for his inclusion on the main stage the day before the debate lineup was announced. It pointed to CNN's decision to alter the polling criteria for its last GOP debate in Simi Valley, California, which bumped Fiorina onto the main stage after a strong showing in the first Republican debate.
"Our campaign asserts that fairness in dealing with polling variances, which previously allowed for amended rules for Carly Fiorina for CNN's August Republican Presidential debate, would indicate Rand Paul should be on the main stage during Tuesday's debate," his campaign said.
His campaign also argued that Paul has a "first-tier campaign" in all 50 states and has made it onto all possible primary ballots so far. Plus, they said, poll results should be rounded up because the margins are too wide to let quarter- or half-points determine debate lineups.
Thanks for reading CBS NEWS.
Create your free account or log in
for more features.