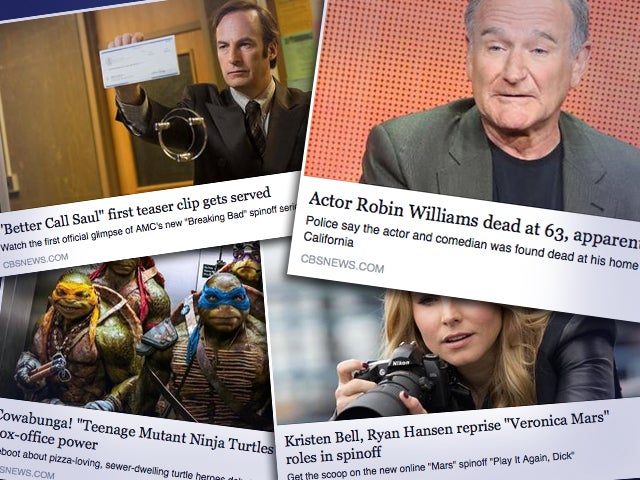 Entertainment buzz: Facebook's top 10 moments of the week
It was a sad week in the world of entertainment, as just about everyone was left reeling from the tragic news of Robin Williams' death, followed a day later by the passing of Hollywood legend Lauren Bacall.
But in between reminiscing about your favorite Williams roles and quoting Bacall's instructions on just how to whistle, other news made headlines, too -- like "Ninja Turtles" taking the box office and Discovery Channel's annual Shark Week.
Facebook has tallied the top 10 buzziest stories in entertainment this week, and all of those topics made the most-talked-about list. What had you talking? See what you missed in this exclusive list on CBSNews.com.
1. Robin Williams, beloved actor and comedian, dies at 63
The news that Robin Williams -- star of "Mork & Mindy," "Good Will Hunting," "Aladdin," "Dead Poets Society," "Mrs. Doubtfire" and many other favorites -- died Monday at the age of 63 shocked pretty much everybody, whether it was fellow actors who worked with and admired him or fans who flocked to his films. Details continue to emerge, including the revelation from his wife that he was sober at the time of his suspected suicide but was also battling depression and the early stages of Parkinson's disease.
His family released statements remembering him as a gentle, generous man, Broadway dimmed its lights in tribute and many metaphorically stood on their desks (or, literally, as Jimmy Fallon did) to offer an "O Captain! My Captain!" to the late star.
2. Lauren Bacall, one of Hollywood's most legendary actresses, dies at 89
Known for her husky voice and sultry looks, Lauren Bacall, the model-turned-actress who starred with husband Humphrey Bogart in classic movies such as "Key Largo" and "To Have and Have Not," died Tuesday at age 89. Nicknamed "The Look," many will remember what's arguably her most famous line, delivered to her future husband when she was just 19: "You know how to whistle, don't you, Steve? You just put your lips together ... and blow."
If it seems like another piece of Hollywood's golden era is now gone, here's another bit of trivia to wrap your head around: It was pointed out that, with Bacall's death, all of the screen icons named in Madonna's 1990 song "Vogue" are no longer with us.
3. Discovery Channel's Shark Week excites fans on social media, ratings hit 27-year high
Even if you don't subscribe to Tracy Jordan's "30 Rock" mantra to "live every week like it's Shark Week," you've probably caught a bite (see what we did there?) of some of the excitement surrounding Discovery's annual week dedicated to all things sharks. And if you've been tuning in, you're not alone -- the network says this year's Shark Week pulled in the highest ratings in its 27-year history.
4. Five Finger Death Punch's "Wrong Side of Heaven" music video shows military veteran's struggles
The heavy metal band Five Finger Death Punch debuted a music video this week for "Wrong Side of Heaven," and it's received praise for highlighting the struggles experienced by military veterans. The website Loudwire said it "shines a spotlight on the plight of homeless military veterans and the effects of post-traumatic stress disorder" and the band said it was "blown away" by the response to the video.
5. Teenage Mutant Ninja Turtles movie jumps to the top of the box office
Cowabunga, dudes -- "TeenageMutant Ninja Turtles" used its turtle power to grab $65 million in its opening weekend. The comic-book adaptation featuring Megan Fox alongside computer-generated renditions of the pizza-eating, sewer-dwelling superheroes lunged into first place at the box office (despitelackluster reviews from critics) and prompted Paramount Pictures to announce plans Sunday for a sequel set for 2016.
6. Fans remember Whitney Houston on her birthday, Aug. 9
Whitney Houston would have been 51 this year, and fans marked her birthday by sharing memories of the singer with the hashtag #CelebratingWhitneyHouston. You can head here to see all their tributes.
7. Viral video shows The Muppets singing the Beastie Boys' "So What'cha Want"
We're submitting this as a strong contender for the best way to spend a minute of your time today. Muppets and Beastie Boys. Do we need to explain any further? Didn't think so.
8. "Veronica Mars" characters to return in creator Rob Thomas' new web series
Veronica Mars is back on the case. Kristen Bell and the other cast members from the cult CW series will return to their roles in a new Web series centered around their co-star, Ryan Hansen. The meta-heavy premise for "Play It Again, Dick" follows a fictionalized version of Hansen as he tries to create a "Veronica Mars" spinoff centered on his character in the series, Dick Casablancas. Marshmallows (that's the nickname for "Mars" fans, in case you didn't know) will be happy to know that Bell says the new series is "HILAROUS."
9. "Sons of Guns" star Will Hayden arrested on child molestation charge
Will Hayden, who stars on the Discovery Channel reality series "Sons of Guns," was arrested in Louisiana on suspicion of child molestation this week, according to reports. The 44-year-old gunsmith and shop owner is denying the allegations, telling TMZ that a bitter ex-girlfriend went to police and claimed he molested their child as retaliation for ending their relationship.
10. First teaser released for "Better Call Saul," AMC's "Breaking Bad" spinoff
Saul Goodman is back. "Breaking Bad" fans got treated to the first teaser for that show's spinoff, the Bob Odenkirk-starring "Better Call Saul," this week. It's super short (just 10 seconds!), but that's apparently enough to make us cross our fingers that we'll get to see more ahead of the AMC show's premiere in February.
*Buzz rankings reflect the top entertainment topics being discussed on Facebook, August 11-14, in the United States. Rankings are based on both frequency and momentum: the Facebook conversations that not only got a lot of buzz during the week, but also saw a notable increase compared with the previous week.
Thanks for reading CBS NEWS.
Create your free account or log in
for more features.