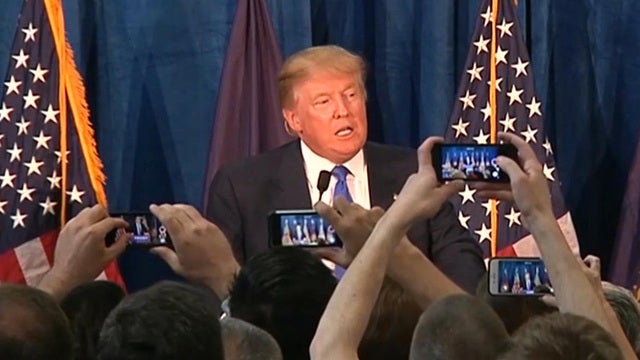 Trump up in polls, but still dogged by controversy
A new national poll by YouGov.com says Donald Trump is the frontrunner among Republican presidential candidates. Fifteen percent of GOP voters back Trump. Former Florida Gov. Jeb Bush and Kentucky Sen. Rand Paul tie for second.
But Trump is losing support elsewhere, reports CBS News correspondent Julianna Goldman.
Protestors rallied against Trump Thursday, calling on the Obama administration to remove his name from the hotel his company is constructing in a landmark building on federal land.
"We're here to ask the Department of the Interior to take that name, which no longer stands for anything except intolerance and hate speech, off our public buildings," Washington D.C. shadow Sen. Paul Strauss said.
Trump signed a 60-year lease for the $200 million renovation of the old post office pavilion in 2013.
The old post office building is owned by the General Services Administration, but under the lease's terms, Trump cannot be forced to change the name of the hotel. The lease can only be changed by mutual agreement in writing by both parties.
Behind the scenes, there were other problems for the hotel project. Food Network star Geoffrey Zakarian became the second celebrity chef to back out of opening a restaurant there.
"The recent statements surrounding Mexican immigrants by Donald Trump do not in any way align with my personal core values," Zakarian wrote in a statement.
Some critics are now also calling for a boycott.
"Spend your money somewhere else, not with Donald Trump enterprises," Arlington county board vice chairman Walter Tejada said.
The FAA announced three navigation coordinates near Palm Beach International Airport, 'DONLD,' 'TRMMP' and 'UFIRD,' would get new, less controversial names.
If he doesn't win the Republican nomination, Trump said on Fox he would "have to see who wins" before deciding to support the GOP nominee or run as an independent.
Trump is growing even more defiant and that's causing angst among the Republican establishment, presidential candidates and donors, worried his inflammatory language could set back efforts to build ties with the Hispanic community -- an important constituency for anyone hoping to win the White House.
On CNN, Trump lashed out at his fellow Republicans.
"Bush is weak on immigration ... I could be much more offensive to Ricky Perry...every time I watch Lindsey Graham he wants to bomb everybody? ... (Carly Fiorina) lost her job at Hewlett Packard. Viciously was fired. Viciously," he said.
Thanks for reading CBS NEWS.
Create your free account or log in
for more features.