'These Are Not Hoax Devices': Feds Charge Florida Man With Mailing 14 Bombs Targeting Top Dems, Trump Critics
WHAT WE KNOW:
Cesar Sayoc, 56, Arrested In Florida
Fingerprint On Package To Rep. Maxine Waters Helped Authorities Identify Him
Additional Packages Targeting Sen. Cory Booker, Sen. Kamala Harris, James Clapper And Billionaire Tom Steyer Intercepted
Authorities Say More Devices May Still Be Out There
NEW YORK (CBSNewYork) – A Florida man was arrested Friday morning in the investigation of the spate of suspected explosive devices sent to top Democrats and Trump critics around the country.
The suspect has been identified as Cesar A. Sayoc, 56, of Aventura, Florida.
Sayoc has a criminal record and was born in Brooklyn, according to authorities.
MORE: Who Is Cesar Sayoc? | Read The Criminal Complaint (.pdf)
Authorities were able to identify Sayoc through a fingerprint on a package to Rep. Maxine Waters and from DNA samples.
He was tracked through his cell phone, sources told CBS2, with authorities using it to locate him. He was taken into custody at an auto supply shop in Plantation, Florida, north of Miami, by the Joint Terrorism Task Force, which included members of the NYPD.
The JTTF was dispatched to Florida to follow up on a mail facility they believed had handled a number of the packages.
Video from the scene showed numerous law enforcement personnel at the scene of the arrest site. They could be seen covering a white van with numerous political stickers in its windows with a blue tarp. The stickers on the windows all seemed to show support for President Donald Trump and his administration and appeared to also include an image of Hillary Clinton with a bullseye over her face.
"Over the past week, more than a dozen suspicious packages have been sent through the United States Postal Service to a media outlet, a Hollywood actor, and at least seven high ranking current and former political leaders in the Democratic party. This is utterly unacceptable," Attorney General Jeff Sessions said. "Political violence or the threat of violence is antithetical to our vigorous system of self-government. It is a threat to that respect for law and process that allows our people to accept legislation, elections, court rulings with which they do not agree."
Click here for more coverage from our colleagues at CBS Miami
Sayoc is charged with interstate transportation of an explosive, illegal mailing of explosives, threats against former presidents and certain other persons, threatening interstate communications and assaulting current and former federal officers. He faces up to 48 years in prison in connection to the 14 explosive devices seized.
"This is a law and order administration. We will not tolerate such lawlessness, especially not political violence," Sessions added. "Let this be a lesson to anyone. Regardless of their political beliefs, that we will bring the full force of law against anyone who attempts to use threats, intimidation, and outright violence to further an agenda. We will find you, we will prosecute you to the fullest extent of the law."
Sessions was asked why Sayoc was targeting Democrats.
"I don't know. Other than what you might normally expect. He appears to be a partisan, but that will be determined by the facts as the case goes forward," Sessions said.
FBI Director Chris Wray said the devices all had the potential to explode and were not fake.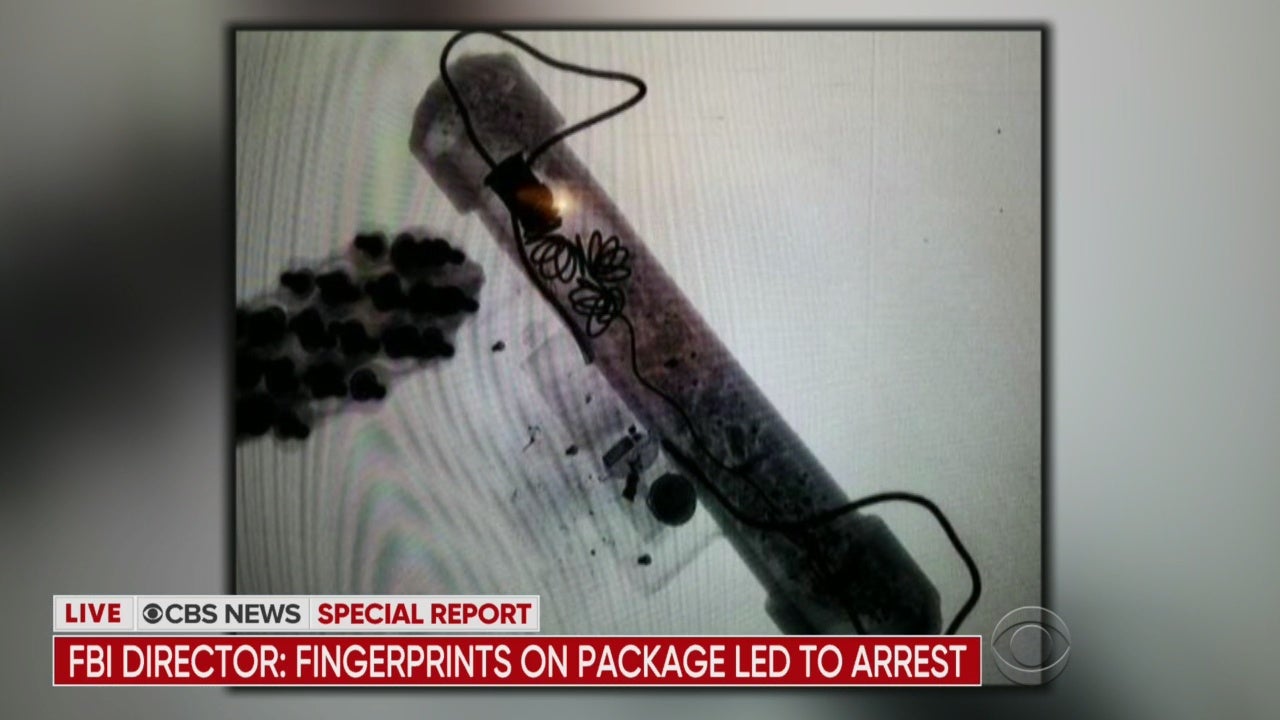 "Each device consisted of roughly six inches of PVC pipe, a small clock, a battery, some wiring and what is known as 'energetic material,' which is essentially potential explosives and material that give off heat and energy through a reaction to heat, shock or friction," Wray said. "Though we are still analyzing the devices in our laboratory, these are not hoax devices."
Wray said FBI investigators uncovered a latent fingerprint on Thursday on one of the packages sent to Rep. Maxine Waters.
"We have confirmed this fingerprint is that of Cesar Sayoc. There is also a possible DNA connection between samples collected from pieces of two different IEDs mailed in separate envelopes and a sample previously collected from Sayoc in connection with an earlier arrest down in Florida. This is phenomenal work with the greatest pressure, under an unbelievably tight time frame," Wray said. "We see unbelievable work like this on TV and in Hollywood, but to see it up close in reality is something to behold."
The arrest comes as additional packages targeting Tom Steyer, a billionaire environmental activist, Sen. Kamala Harris, Sen. Cory Booker and former Director of National Intelligence James Clapper were intercepted.
"Today's arrest doesn't mean we're all out of the woods. There may be other packages in transit now," Wray said.
Wray asked anyone with any information to contact the FBI at 1-800-CALL-FBI or by submitting a tip online by clicking here. New Yorkers with information can also contact 1-888-NYC-SAFE.
"We're focused not on the talk but on the work. The work of the men and women of law enforcement here. The work that was done over the last week is something that should make every American proud and grateful, and it's too early at this stage for us to be discussing motivation in this particular case," Wray said. "We're concerned about people committing acts of violence under any motivation."
"New York City cops were side-by-side with FBI agents and many other agencies in Florida this morning. Together, they brought justice, as they always do," said NYPD Commissioner James O'Neill. "We said from the outset that we would identify and arrest the person or people responsible for these acts. We could make that promise because of the confidence we have to investigate in a deliberate and precise out there."
"New Yorkers don't back down. They step up every single time. We've been through things like this before, and much worse. I'm never surprised by the unmatched resiliency our city always displays," O'Neill added.
"The defendant's conduct as charged is cowardly and reprehensible and totally anathema to our democracy," said Geoffrey Berman, U.S. Attorney for the southern district of New York.
A postal worker at a mail facility in Midtown Manhattan found a suspicious package addressed to former Director of National Intelligence James Clapper, care of CNN, where he is a contributor.
Authorities shut down 52nd Street between 8th and 9th Avenues while they investigated the device found at the Radio City post office. Numerous emergency vehicles could be seen on the street and people were kept from the area.
The package was safely removed and transported to Rodman's Neck in the Bronx at around 10 a.m., though police warned the area would still have a strong police presence as the investigation continued.
Authorities currently believe the mailings were staggered, and the device sent to Clapper may have been sent after the others.
Clapper, who has been outspoken against Trump, told CNN that the spate of suspicious packages will not silence critics of the administration, though he warns they should be very cautious.
"I'm really not surprised, and in some sense relieved my wife and I are away from home right now. This is definitely domestic terrorism, no question about it in my mind," Clapper said. "I think anyone who has in any way been a critic, publicly been a critic of President Trump, needs to be on extra alert."
Also Friday, investigators in Florida turned up another suspicious package targeting N.J. Sen. Cory Booker.
The package targeting Booker was reportedly found at the Opa-locka mail facility in Florida, where sources tell CBS News some of the packages were processed.
Investigators have been focusing their search for clues there in the manhunt.
"Grateful for law enforcement's work to bring those responsible to justice and for their vigilance to keep Americans safe," Booker tweeted after Sayoc was arrested. "Cowardly acts of terror will never silence or intimidate Americans - they will only strengthen our resolve to stand against fear and hatred."
New Jersey Gov. Phil Murphy tweeted he was "saddened and angered" to learn of the device sent to Booker.
The packages targeting Harris and Steyer were intercepted in California.
With the addition of the devices sent to Clapper, Booker and Harris, at least 14 suspicious packages have been sent to twelve prominent Democrats and Trump critics across the country. The complaint did not mention the Steyer package, though authorities said more charges could be forthcoming.
The packages are all said to be of similar description.
All of the packages had a return address of Florida Congresswoman Debbie Wasserman Schultz, and federal officials confirm some of them originated in the state. They say postal inspectors have been poring through millions of pieces of mail, searching for similar packages.
"In fact, it was a postal employee this morning that alerted us to one of these suspicious parcels," said U.S. Postal Inspection Service Deputy Chief Gary Barksdale. "Fortunately in this case, none of the devices detonated and there was no injuries. However, postal inspectors will remain vigilant and monitor postal facilities to determine whether there are additional mailings that have not yet been discovered."
The USPS said that it is employing a strategy that involves technology, screening and employee training to help keep the postal system safe.
"It's devastating, deeply disturbing to have my name used in that way. As you know, we received one of the packages in our office, and obviously any of the packages that had bounced back would've come to the return address. So it's disturbing, troubling, sinister," Wasserman Schultz said.
The packages were addressed to people who have been critics of Trump, and the president has been critical of them, as well.
"I am pleased to inform you that law enforcement has apprehended the suspect and has taken into him into custody," Trump said Friday. "These terrorizing acts are despicable and have no place in our country."
"We must never allow political violence to take root in America," Trump added, "and I am committed to doing everything in my power to stop it."
Trump praised law enforcement for finding "a needle in the haystack."
"The bottom line is that Americans must unify," Trump said.
Late Friday Trump said the media had been "completely unfair" to Republicans and to him.
Earlier Friday morning, the president tweeted, "Funny how lowly rated CNN, and others, can criticize me at will, even blaming me for the current spate of Bombs and ridiculously comparing this to September 11th and the Oklahoma City bombing, yet when I criticize them they go wild and scream, 'it's just not Presidential!'"
Trump also tweeted that he was concerned about how the recent spate of suspicious packages would impact Republican turnout at the elections.
"Republicans are doing so well in early voting, and at the polls, and now this 'bomb' stuff happens and the momentum greatly slows - news not talking politics. Very unfortunate, what is going on. Republicans, go out and vote!" Trump tweeted.
"This is at a torrid level that is just unpalatable," New York Gov. Andrew Cuomo said Friday. "This is whipping up people, and you will see people respond."
"We need a new political sensitivity that says 'there are boundaries,'" Cuomo added.
On Thursday morning, another device was discovered at the production offices of Robert De Niro in Tribeca, who released a statement Friday calling on Americans to vote.
"I thank God no one's been hurt, and I thank the brave and resourceful security and law enforcement people for protecting us," De Niro said. "There's something more powerful than bombs, and that's your vote. People must vote!"
None of the devices detonated, which experts say is helpful in tracing where the materials came from.
Investigators are working to determine whether the bombs were just poorly designed or if they were simply meant to scare the recipients.
The devices are now being examined at the FBI's laboratory in Quantico, Virginia. Sayoc is expected to appear before a federal judge in Miami on Monday. If convicted, he faces a maximum of 48 years in prison.
Click here for complete CBS2 coverage of the suspicious package spree.
Thanks for reading CBS NEWS.
Create your free account or log in
for more features.