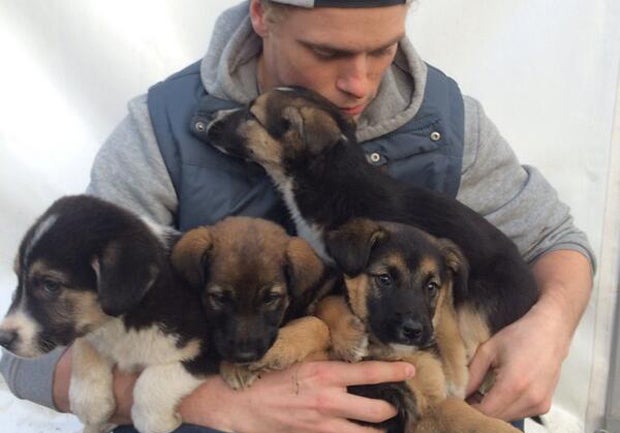 U.S. skier Gus Kenworthy stuck in Sochi, waiting to adopt puppies
KRASNAYA POLYANA, Russia -- Gus Kenworthy's party back in Colorado to celebrate his silver medal in men's slopestyle skiing is going to have to wait.

He's still waiting for Russia to let the dogs out. No, seriously.

The 22-year-old who lives in Telluride, Colo., was scheduled to return home from Sochi on Monday, nearly a week after Kenworthy was part of a historic sweep by the U.S. as slopestyle skiing made its Olympic debut.

Yet Kenworthy's medal in some ways took a backseat to his decision to adopt four puppies - along with their mother - he discovered near the media center at the base of the mountain that houses the Rosa Khutor Extreme Park.

Kenworthy wasn't kidding. He is taking all five dogs back to the U.S. with him, but getting the paperwork done is taking some time. On Saturday , he tweeted a picture of the canines eating:
A U.S. skiing official says Kenworthy had to push back his plans so the dogs can join him for the long trip halfway across the world back home.
The reaction to Kenworthy's decision to adopt the family has gotten perhaps more attention than the medal he claimed alongside gold medalist Joss Christensen and bronze medalist Nick Goepper.
Kenworthy has no shortage of admirers thanks to his devotion to the puppies. Pop star Miley Cyrus tweeted at the athlete on Sunday:
Thanks for reading CBS NEWS.
Create your free account or log in
for more features.