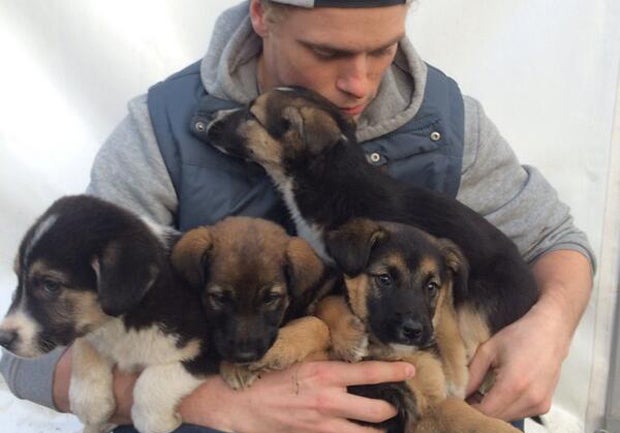 U.S. freestyle skier Gus Kenworthy adopting stray Sochi puppies
KRASNAYA POLYANA, Russia -- Who let the dogs out? Pretty much everyone in Sochi, it seems.

Who picked the dogs up? Well, that would be American freestyle skier Gus Kenworthy.

The freshly crowned silver-medal slopestyler from Telluride, Colo., picked up four puppies and their mother on the streets of Rosa Khutor and he's making arrangements to have them sent home to the United States.

"I've been around animals all my life," Kenworthy said of the hundreds of dogs roaming the streets in Sochi and the mountains above the Olympic city. "It's hard to watch."

Kenworthy tweeted a picture of himself cuddling four of the dogs. "Puppy love is real to puppies," he wrote.

He also tweeted a photo of him holding a single puppy:
He says he's arranged for kennels to carry the dogs in, and for vaccinations. Family members back home are already lining up to adopt.

"I'll keep one for myself," he said.

Kenworthy's efforts to adopt the puppies comes amid an emerging movement of animal activists in Sochi alarmed by reports that the city has contracted the killing of thousands of stray dogs before and during the Olympic Games.


Activists have been picking up dogs from the streets and putting them up at their homes or in temporary shelters before finding an owner elsewhere.


Stray dogs are a common sight on the streets of Russian cities, but with massive construction in the area the street dog population in Sochi and the Olympic park has soared. Useful as noisy, guard dogs, workers feed them to keep them nearby and protect buildings. The dogs - - friendly rather than feral - soon lose their value and become strays.



Thanks for reading CBS NEWS.
Create your free account or log in
for more features.