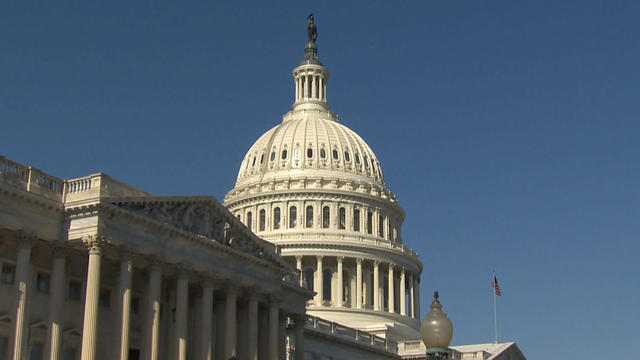 What is "chain migration"?
The White House laid out its immigration plans to Congress on Thursday. Among many factors within this plan is the Trump administration's hope to curb what it calls "chain migration." President Trump is also expected to address immigration in his first State of the Union address Tuesday night just as Congress gears up to tackle immigration reform in the coming weeks.
So…
What is "chain migration"?
"Chain migration" -- officially known as "family reunification" under federal law -- is the process by which green card holders or legal U.S. residents may sponsor a family member for immigration to the United States.
It is the most common legal form of immigration to the United States. According to the Department of Homeland Security, 238,087 immigrants were categorized as a "family-sponsored preference" in 2016, and 566,706 came as "immediate relatives of U.S. citizens" (spouses, children, or parents).
Between 60 and 70 percent of all lawful permanent immigration to the United States in the past decade has family-based roots.
The application process for the permanent residency of certain family members varies depending on the petitioners' status of green card holder vs. citizen.
Citizenship is not automatically granted to those who are sponsored by their family members in the United States, and the waiting period with U.S. Citizenship and Immigration Services can last anywhere from a few months to decades.
Why does President Trump want to end "chain migration"?
The White House's most recent immigration proposal aims to limit chain migration to only spouses and minor children while excluding sponsorship of extended family.
Mr. Trump claims that immigrants entering the country through chain migration take jobs away from U.S. citizens and pose a threat to national security. The Trump administration has expressed its goal to move away from chain migration and toward a "merit-based" means of immigration, or a system that prioritizes highly educated, english speaking immigrants.
Mr. Trump announced his administration's opposition to the system after the New York City terror attack on Halloween that killed 8 people and injured 12 more, although the suspect in that attack entered the country through the diversity visa lottery program, which is separate from chain migration.
The Trump administration re-upped its call to end the chain migration system when suspect Akayed Ullah attempted to bomb the passageway under 42nd Street connecting the subway stations at Times Square and the Port Authority Bus Terminal in December. CBS News confirmed that Ullah entered the country from Bangladesh in February 2011 through chain migration sponsorship, although he became a legal permanent resident of the United States.
The White House's website provides this infographic on chain migration that does not cite any specific numbers:
They claim that as a result of chain migration, "The large influx of predominantly low-skilled migrants has had substantial fiscal and national security consequences."
So, is it "chain migration" or "family reunification"?
While "chain migration" and "family reunification" refer to the same process, both have partisan implications. When chain migration first started appearing in academic texts in the 1960s, it was not a pejorative term. Roughly ten years later, the term family reunification entered the immigration lexicon.
Democrats and progressives says that "chain migration" has become a loaded term and have thus adopted the term family reunification, while their Republican counterparts typically stick with chain migration. The Trump administration has favored chain migration over family reunification. In fact, a Google Trends search yields a large uptick in the popularity of chain migration vs. family reunification during the first year of the Trump presidency.
Thanks for reading CBS NEWS.
Create your free account or log in
for more features.