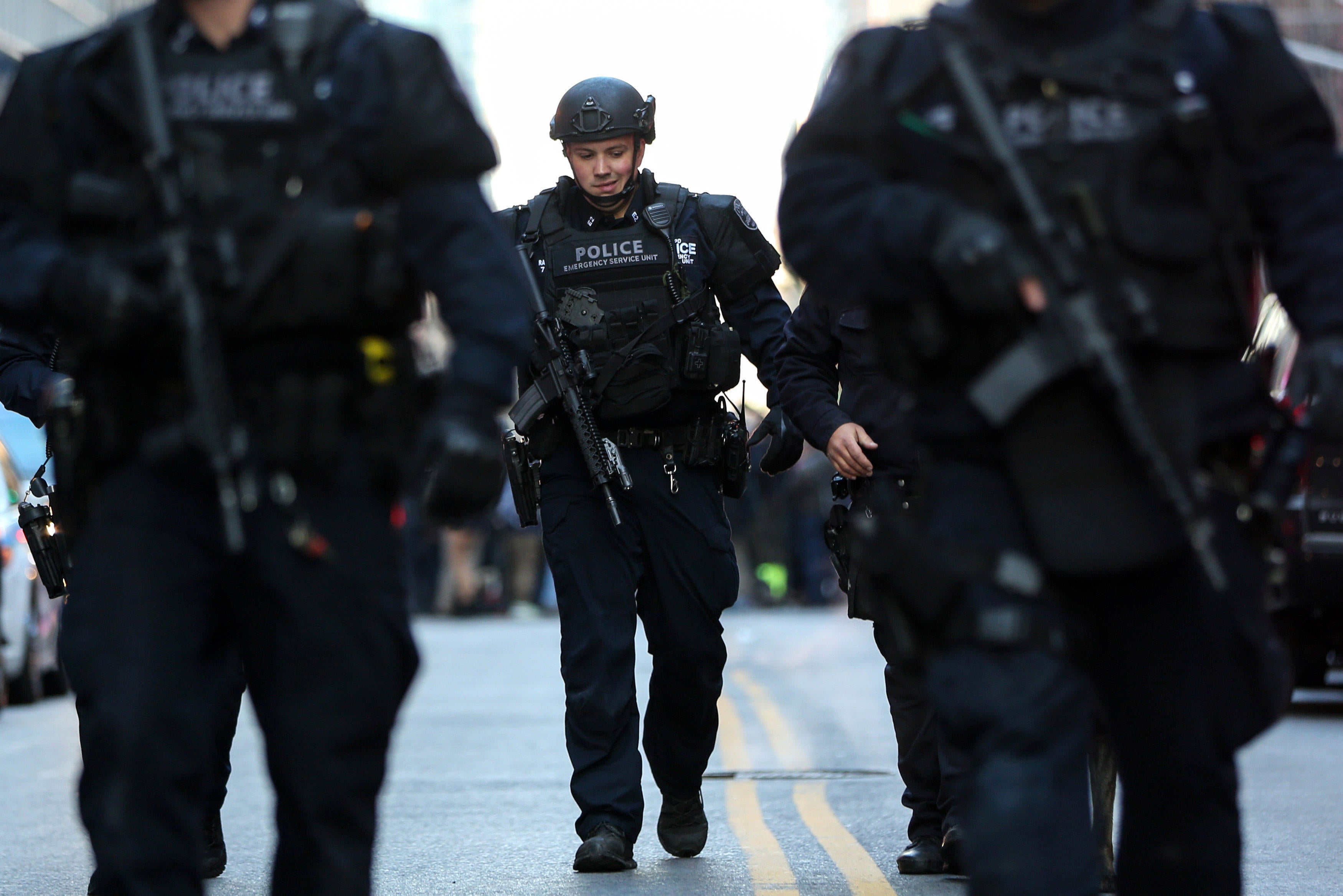 NYC terror attack suspect claims he did it for ISIS -- live updates
NEW YORK -- A man detonated an improvised explosive device in an underground passageway at a major commuter hub in New York City Monday morning, officials said. New York Police Commissioner James O'Neill identified the suspect as Akayed Ullah, 27, who sustained injuries from the blast and was in police custody. Several people near the blast suffered minor injuries.
New York Mayor Bill de Blasio said the incident was an attempted terror attack.
"Thank God the perpetrator did not achieve his ultimate goals," de Blasio said.
The suspect has been interviewed by investigators, and CBS News has learned that he claimed he carried out the attack for the Islamic State of Iraq and Syria (ISIS) and was inspired by the group.
CBS News has also learned that authorities are investigating whether he may have been in contact with known extremist individuals. Investigators are trying to determine if anyone may have assisted him in the plot.
The blast took place in a passageway underneath 42nd Street in Manhattan that connects the subway stations at Times Square and the Port Authority Bus Terminal, which is packed with commuters during the morning rush.
O'Neill said the suspect was heading toward the Times Square subway station when the device detonated at approximately 7:20 a.m. The suspect also had another device on him, sources tell CBS News.
A photo confirmed by CBS News showed a bearded man crumpled on the ground with his shirt apparently blown off and black soot covering his bare midriff. A police officer is holding the man's hands behind his back.
Another law enforcement source tells CBS News' Jeff Pegues that four Port Authority Police officers apprehended the suspect. When they encountered him, there was smoke around him and debris all over the floor. CBS News has learned that Ullah sustained a shrapnel wound. He was taken to a Manhattan hospital.
The source also says as police approached the suspect appeared to be reaching for a cellphone and he had wires protruding from his jacket and his pants.
The four officers identified as making the arrest range in age from 26 to 45 years old. Three of them served in the military, with one of them being a bomb technician, Pegues reports.
O'Neill initially said three other people in the immediate area of the blast were also injured. Fire Commissioner Daniel Nigro said they suffered minor injuries consistent with being in the area of an explosion such as ringing in the ears and headaches. They transported themselves to area hospitals.
Later in the day, Mount Sinai Health System said it had received and treated five patients with minor injuries, according to a statement. All were in stable condition. Mount Sinai says it is working with law enforcement officials.
CBS News has learned that the suspect was from Bangladesh. Ullah legally entered the U.S. in February 2011 on a family immigrant visa with his parents and eventually became a legal permanent resident. He has no criminal record.
The U.S. Department of Homeland confirmed the details in two tweets sent Monday:
A law enforcement source told CBS News that indications are Ullah had traveled overseas, including an apparent trip to Bangladesh in Sept. 2017, returning to the U.S. in Oct. 2017. He also had previous travel to the United Arab Emirates.
Authorities said the bomb was a low-tech explosive device. They were investigating how it was made, and combing through surveillance footage that captured the blast on video.
CBS News has learned from a law enforcement official that Ullah made the bomb himself, with the intention to harm others. He apparently built the device with elements he acquired at his workplace. Officials would not confirm details about Ullah's bomb-making procedures or what was contained inside of the device.
It's unclear whether he assembled explosive device at his workplace or at his Brooklyn apartment or elsewhere.
Charges against Ullah are expected to be filed in federal court in New York, possibly as early as Tuesday.
Monday evening, the New York chapter of the Council on American-Islamic Relations (CAIR-NY) issued a statement on behalf of Ullah's family that in part mentioned their outrage over law enforcement's behavior in the wake of the incident.
"We are heartbroken by this attack on our city today and by the allegations being made against a member of our family. Our Family like all families is committed to the safety and wellbeing of all New Yorkers. But we are also outraged by the behavior of law enforcement officials during this investigation," the statement read. "Today, we have seen our children, as young as 4 years old, held out in the cold, detained as their parents were questioned. One teenage relative was pulled out of high school classes and interrogated without a lawyer, without his parents. These are not the actions that we expect from our justice system, and we hope to see better in the days and weeks to come. We also ask the press to respect our privacy and to give our family time to grieve this horrific development. Additionally, we would like to note that it has been widely misreported that Akayed Ullah resides at an address on East 48th Street, Brooklyn, NY, but this is incorrect, and he has not resided there for many years."
CAIR-NY clarified that the children referenced in the statement are children of the suspect's cousins.
Meanwhile, a video posted on social media and confirmed by CBS News showed the moment of the explosion on security footage. In it, a man walks through the crowded pedestrian tunnel and the bomb suddenly going off in a plume of white smoke. Through the smoke, the suspect is then seen sprawled on the ground as bystanders flee.
Deputy Police Commissioner John Miller said that the device was based on a pipe bomb and was affixed to the suspect's body with a combination of Velcro and zip ties.
White House press secretary Sarah Sanders said that President Trump had been briefed on the incident.
At Monday's White House briefing, Sanders praised the "brave first responders and others who rushed to the scene," calling them "heroes."
She also turned to the issue of immigration. "We must ensure that individuals entering our country are not coming to do harm to our people and we must move to a merit based system of immigration," Sanders said. She said the U.S. must eliminate ISIS and the "evil ideology" behind it.
In a statement released by the White House, President Trump said, "Today's attempted mass murder attack in New York City -- the second terror attack in New York in the last two months -- once again highlights the urgent need for Congress to enact legislative reforms to protect the American people."
The president criticized the "lax immigration system" and said that those convicted of engaging in terrorism "deserve the strongest penalty allowed by law, including the death penalty in appropriate cases."
Elrana Peralta, a customer service worker for Greyhound, said she works in the Port Authority terminal complex near where the blast happened, but didn't hear the explosion.
"All we could hear was the chaos," she said. "We could hear people yelling, 'Get out! Get out! Get out!'"
John Miles, 28, from Vermont, was waiting for a bus to Massachusetts. He also didn't hear the blast, but saw police react.
"I didn't know what was going on. Officers were running around. I was freaking out," he said. There was an announcement that people should take their bags and leave. "They didn't incite panic. It was fairly orderly."
Video from above the "Crossroads of the World" showed lines of police and emergency vehicles, their lights flashing, lining the streets and no other vehicle traffic moving.
Everything around the Port Authority area was shut down - a surreal scene of still at what would ordinarily be a bustling rush hour.
New Jersey Transit buses headed to the Port Authority were diverted to other locations and resumed normal service later in the morning.
Subways were rerouted around the area, but were expected to be back to normal by the evening rush, Metropolitan Transportation Authority Chairman Joe Lhota said.
For the latest service changes and updates, visit the MTA website here.
Across town at U.N. headquarters, the secretary-general's office has been monitoring the situation and speaking with the police, CBS News' Pamela Falk reports.
Thanks for reading CBS NEWS.
Create your free account or log in
for more features.