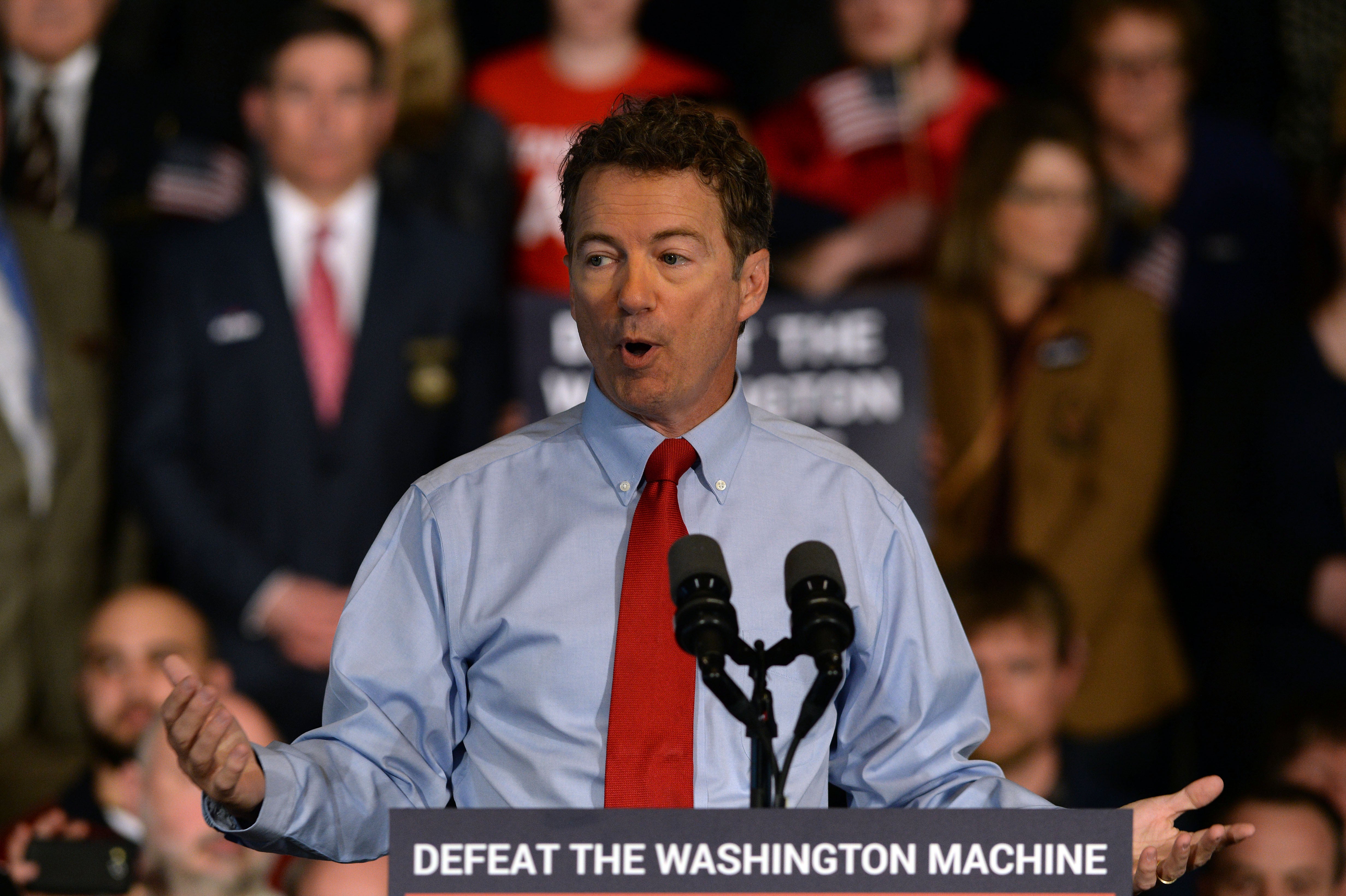 ​What do Rand Paul's venues say about his campaign launch?
CHARLESTON, South Carolina -- Kentucky senator and newly minted presidential candidate Rand Paul is in Iowa City, Iowa Friday for the second to last official event of his weeklong campaign launch: a rally at the University of Iowa, where young voters are expected to gather to embrace his signature call for smaller, less intrusive government.
Paul has been criss-crossing the country since he formally announced his bid for the White House Tuesday, to win votes and raise money. This trip -- accompanied by an aggressive online push and a slew of interviews with major media outlets along the way -- allowed him to introduce himself to those voters who will vote first - and who could make or break his campaign.
Here's a look at the venues chosen to kick off Paul's campaign and what they convey about his candidacy:
Louisville, Kentucky
Paul first formalized his bid for the White House in a hotel ballroom in his home state where, less than five years ago, he was elected into office for the first time. Dr. Dewey Clayton, a political science professor at the University of Louisville who has witnessed the freshman senator's meteoric rise, said he was initially surprised that Paul chose Louisville instead of his adopted hometown of Bowling Green. It was Bowling Green where Paul established his ophthalmology practice and became involved with local politics and his local church, which Paul was careful to mention in his remarks Tuesday. Bowling Green is also more conservative. But Louisville, with a population of more than 700,000, is the biggest city in the state.
Clayton said he expects the state to embrace Paul, whose anti-Obama rhetoric plays well in Kentucky.
"To be honest, it's somewhat exciting for the state of Kentucky," he said. The state is the birthplace of one U.S. president, Abraham Lincoln. Clayton mused, "I cannot remember the last Kentuckian who was running for President of the United States." (The name he was looking for - the last true Kentuckian to run for president - was then-Vice President Alben Barkley, in 1952.)
Paul began his speech by repeating his own words from the night he won Kentucky's Republican senate primary back in 2010 -- "[W]e've come to take our country back!" -- and he found his words were as well-received the second time around.
Milford, New Hampshire
Few Republican politicians pass up the chance to invoke the state motto of New Hampshire: "Live Free or Die." Paul, who prides himself on defending the Bill of Rights, was quick to incorporate it into his speech Wednesday when he addressed an overflowing town hall of Granite State voters.
"When the founders of New Hampshire came up with the motto 'Live Free or Die,' they didn't leave a lot of wiggle room," he said. "I come to New Hampshire to announce that I will fight for your right to be left alone."
While it's certainly convenient that Paul's message is aligned with the motto's sentiment, he is also aware of the state's importance to his aspirations in the long run. New Hampshire's primary, set for next February, is the first in the nation, and Paul told reporters at the rally that he considers winning the state's vote to be vital.
Mt. Pleasant, South Carolina
Paul traveled from New Hampshire to South Carolina for an event in view of the U.S.S. Yorktown, a World War II-era aircraft carrier. The choice raised eyebrows when it was first announced, because it seemed to move a microscope over Paul's evolving views on national defense and foreign policy. Without mentioning ISIS or Iran, Paul devoted the beginning of the third iteration of his campaign announcement to his view on war.
"I vow to judge questions of war with a solemn and profound deliberation," he said, again bucking the "isolationist" label. "If war should prove unavoidable, America will fight with overwhelming force and we will not relent until victory is ours."
The U.S.S. Yorktown also served as the backdrop for the launch of then-Sen. John Kerry's presidential campaign in 2003. The Democrat spoke at length about his military service and his plan to "restore our true strength in the world." Chris Hauff, the public information officer for the Patriots Point museum site where it is docked, called the U.S.S. Yorktown a symbol of leadership -- not just military might -- that appeals to both parties.
"Seventy years later," Hauff said, "the Yorktown represents the strength and prosperity of the United States as a whole."
Iowa City, Iowa
Paul is known for his use of social media, both to prod his political rivals and woo "the Facebook generation" of young voters. As the college student who introduced him in Mt. Pleasant said, Paul is the only candidate for the 2016 GOP nomination who uses Snapchat.
But Paul, who dropped his "Senator" title from his Twitter handle this week, will present his nascent platform to college students in person Friday on campus at the University of Iowa. It's not known for having a conservative student body, but that's fitting for Paul, who is in part running on the idea that the Republican party must broaden its reach to those in the center or even the left side of the political spectrum.
"I think we can capture some of them and I think that's key," said Alex Staudt, the treasurer of the College Republicans group at the University of Iowa. Staudt, a junior studying political science, said he feels Paul's push for personal freedoms, especially when it comes to cell phones, appeals to young people regardless of political affiliation. Staudt expects to hear one of Paul's biggest applause lines -- "I say the phone records of law-abiding citizens are none of their damn business!" -- but that he'd like to hear Paul speak about other issues like immigration.
Las Vegas, Nevada
Paul's final stop this week will be at a community center in Nevada, a state where his father, former Rep. Ron Paul, found success as a presidential candidate. In 2008 and 2012, despite his niche following, the elder Paul placed second and third in the Nevada caucuses.
And as of March of last year, the most recent numbers available, almost 300,000 of the state's 1.2 million active voters identified as "Independent," "Libertarian" or "Nonpartisan." Paul's camp is expecting one of the biggest crowds of the week in Las Vegas and Paul's speech will lean the most libertarian in return.
Paul's "tour" schedule means he'll have to skip the National Rifle Association's Leadership Forum Friday in Nashville, where fellow Republican presidential candidate Sen. Ted Cruz and most of their potential rivals for the Republican nomination are confirmed to speak. Paul is set to be back on the trail in New Hampshire on April 17 at the #FITN Republican Leadership Summit hosted by the New Hampshire GOP.
Thanks for reading CBS NEWS.
Create your free account or log in
for more features.