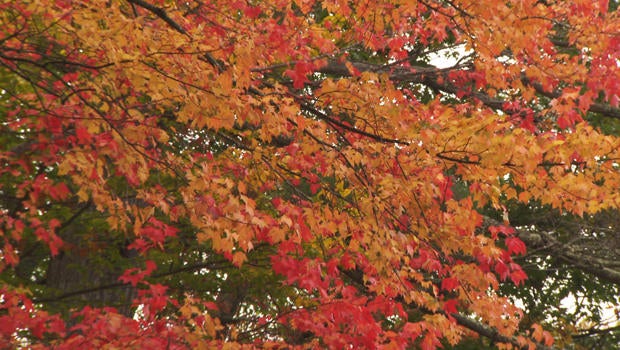 This week on "Sunday Morning" (November 4)
COVER STORY: Civics lessons: What it means to be a citizen | Watch Video
Since civics was dropped from school curriculums, awareness of our constitutional government (and our participation in it) has gone downhill. Only about 25% of Americans can name the three branches of government, 10% think that Judge Judy is on the Supreme Court, and only 30% of millennials believe that it's "essential to live in a democracy."
Mo Rocca talks with Supreme Court Associate Justices Sonia Sotomayor and Neil Gorsuch about promoting civics education. Rocca also talks with Eric Liu, who created Citizen University to help cultivate the values of good citizenship; and with Chicago social studies teacher Mary Ellen Daneels, who uses what passes for politics these days as object lessons in how not to be a good citizen.
For more info:
ALMANAC: Walter Cronkite | Watch Video
On November 4, 1916, legendary CBS Newsman Walter Cronkite was born. Jane Pauley reports.
GALLERY: Walter Cronkite
For more info:
ART: Lisbon street artist Vhils: Scraping and carving art into cityscapes | Watch Video
Instead of a paintbrush, Alexandre Farto uses drills and jackhammers to create large-scale public art that exposes layers of a city's history. Once seen as a vandal known by his tag, Vhils, he has fueled the flourishing street art scene in his native Lisbon, Portugal, where murals have added a colorful touch to the otherwise overlooked or mundane, and he has transformed buildings in cities around the world by exposing layers of history. Seth Doane reports.
GALLERY: Chiseled portraits of street artist Vhils
For more info:
TELEVISION: "Big Bang Theory" creator Chuck Lorre on his Netflix series, "The Kominsky Method" | Watch Video
Correspondent Tony Dokoupil talks with the producer of such TV hits as "The Big Bang Theory," "Young Sheldon" and "Mom," who discusses his latest streaming show, "The Kominsky Method" also with the series' star Michael Douglas. Lorre also talks about his tough childhood on Long Island and his later-in-life success in TV, and in rewriting his reputation as "The Angriest Man in Television."
WEB EXTRA VIDEO: Chuck Lorre on lessons learned from his father
Veteran TV producer Chuck Lorre, noted for creating such comedy hits as "The Big Bang Theory" and "Mom," has extended his support to a health facility, the Venice Family Clinic's Robert Levine Family Health Center, in Venice, Calif. He explained to correspondent Tony Dokoupil why he built the clinic, dedicated to his father: "It's a frightening things to be ill and not know where to go."
WEB EXTRA VIDEO: Michael Douglas on finding the humor in getting old
Oscar-winning actor-producer Michael Douglas is stepping into a rare comedic role with the new Netflix series, "The Kominsky Method." Produced by Chuck Lorre, the show is about an aging actor and his aging agent-friend, played by Alan Arkin. Douglas talked with correspondent Tony Dokoupil about why he chose to sign onto working with Lorre and develop his "comedy chops."
To watch a trailer for the new Netflix series "The Kominsky Method" click on the video player below.
For more info:
PASSAGE: The killing of "Whitey" Bulger | Watch Video
The former Boston crime boss and FBI informant, jailed in connection with 11 murders and other crimes, was slain in a West Virginia prison. Jane Pauley reports.
SEASONS: Photographer "Jeff Foliage," the pied piper of New England's fall colors | Watch Video
Jeff Folger goes by the name "Jeff Foliage," and he REALLY loves fall colors. In New England, where tourists spend around $3 billion over the course of leaf peeping season, he heads off in his red SUV in search of the most beautiful yellows and oranges and shares them with the world. He also shared his search with Conor Knighton.
For more info:
MUSIC: Max Richter's music to sleep by (Video)
British composer Max Richter's most ambitious work," Sleep," is an eight-hour "lullaby" that is to be heard while tucked into bed. Richter recently performed it under the stars in Los Angeles, at a giant slumber party with 500 guests. Tracy Smith reports.
For more info:
HARTMAN: Striking a chord for civility in politics (Video)
Zac Mayo and Lucy Rogers are Republican and Democratic candidates aggressively competing for a State House seat in Vermont. But this highly-competitive race took a dramatic turn when the two recently ended a debate by joining together in harmony. Steve Hartman reports.
SUNDAY PROFILE: Jeff Goldblum: Living life like a jazz piece | Watch Video
Jeff Goldblum's life is like a jazz piece: his acting improvisational, his style unpredictable. He's made an art of being offbeat, and is this week releasing his first album. Anthony Mason reports.
PREVIEW: Jeff Goldblum made sure his quirkiness "didn't hold me back"
To watch Jeff Goldblum & The Mildred Snitzer Orchestra (featuring Haley Reinhart) perform "My Baby Just Cares For Me," click on the video player below:
For more info:
OPINION: Jackie Speier on Jim Jones, the Peoples Temple cult, and surviving the Jonestown massacre | Watch Video
In November 1978 Jackie Speier was an attorney on the staff of Congressman Leo Ryan that was investigating human rights abuses by Jim Jones, the leader of the Peoples Temple cult in Guyana. While on a fact-finding mission, Speier was shot five times by Jones' followers, but survived. Some 900 members of the cult did not, victims of a mass murder-suicide. Speier, now a Congresswoman from California, talks about surviving the horror, and how that formative moment changed her.
For more info:
"Undaunted: Surviving Jonestown, Summoning Courage, and Fighting Back" by Jackie Speier (Little A), in Hardcover, Trade Paperback, eBook and Audio Formats, available via Amazon

MIDTERM ELECTIONS: What to watch for | Watch Video
CBS News' director of elections and surveys, Anthony Salvanto, says midterm elections are really the most important one.
For more info:
CALENDAR: Week of November 5 | Watch Video
"Sunday Morning" takes a look at some notable events of the week ahead. Jane Pauley reports.
NATURE: Wolves | Extended Video
We leave you this Sunday Morning among the wolves at Yellowstone National Park. Videographer: Judy Lehmberg.

WEB EXCLUSIVES:
FROM THE ARCHIVES: Jazz trumpeter Roy Hargrove on sharing the stage with giants (Video)
Grammy-winning jazz trumpeter Roy Hargrove died Saturday, November 3, 2018, at the age of 49. In this profile originally broadcast on "Sunday Morning" September 8, 1991, Hargrove, then 21, talked with correspondent Billy Taylor about maturing as an artist. Taylor also spoke with musician Wynton Marsalis, a mentor of Hargrove's; and with George Wein, who brought Hargrove into a new group called The Jazz Futures, which toured music festivals around the country.
NATURE UP CLOSE: Educating your eyes
A lesson in microclimates and the north-south slope effect.

---
The Emmy Award-winning "CBS Sunday Morning" is broadcast on CBS Sundays beginning at 9:00 a.m. ET. Executive producer is Rand Morrison.
DVR Alert! Find out when "Sunday Morning" airs in your city
Follow the program on Twitter (@CBSSunday), Facebook, Instagram (#CBSSundayMorning) and at cbssundaymorning.com. "Sunday Morning" also streams on CBSN beginning at 9:30 a.m. ET and at 1 p.m. ET, and is available on cbs.com, CBS All Access, and On Demand.
Full episodes of "Sunday Morning" are now available to watch on demand on CBSNews.com, CBS.com and CBS All Access, including via Apple TV, Android TV, Roku, Chromecast, Amazon FireTV/FireTV stick and Xbox. The show also streams on CBSN beginning at 9:30 a.m. ET and 1 p.m. ET.
You can also download the free "Sunday Morning" audio podcast at iTunes and at Play.it. Now you'll never miss the trumpet!
---
Thanks for reading CBS NEWS.
Create your free account or log in
for more features.