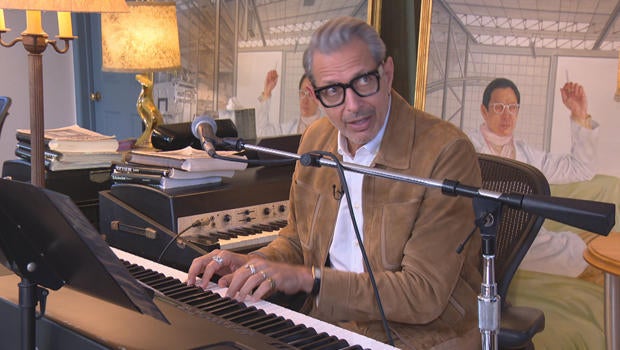 Jeff Goldblum: Living life like a jazz piece
Jeff Goldblum's life is like a jazz piece: his acting improvisational, his style unpredictable. He's made an art of being offbeat.
"I'm a strange figure," he told Anthony Mason, before turning the tables on his interviewer: "I like that hearty laugh. I'd like to hear you sing!"
"Oh, no, you wouldn't," Mason said.
"Listen to that voice. I'd like to hear you in 'South Pacific': If ever I would leave you … Some enchanted evening …"
"You've hijacked this line of questioning!" Mason laughed.
Goldblum has starred in two of the nineties' biggest blockbusters, as a computer geek who saves the planet in "Independence Day," and a math whiz who fights off dinosaurs in "Jurassic Park."
Last summer, on the 25th anniversary of the dinosaur epic, they erected a dinosaur-sized, 25-foot statue of him in London.
Mason said, "There may have been several of these over your career, but this seems to be another Jeff Goldblum moment."
"Sorta!"
Suddenly, at 66, he's become … a fashion icon, honored by In Style magazine just the night before he invited Mason into his closet, to examine his eye for the unusual, like the vintage frames he bought for his part in "Grand Budapest Hotel."
Even his skills as a musician are finally getting recognition. Goldblum, who for 20 years has played a weekly gig at an L.A. jazz club with the Mildred Snitzer Orchestra (named for a family friend), will release his first album next week.
To watch Jeff Goldblum & The Mildred Snitzer Orchestra (featuring Haley Reinhart) perform "My Baby Just Cares For Me," click on the video player below:
Mason asked, "What do you get from it?"
"What I always got from it," he replied. "Early on in Pittsburgh, I had set my sights on acting career. I was obsessed with it, but I love playing piano."
Young Jeff Goldblum frustrated his music teacher at first: "But then when he brought this arrangement of 'Alley Cat' with syncopation, which I felt inside …"
At 17 he took his musical talent and acting aspirations to New York, and almost immediately got a part in an off-Broadway play. "And then an agent saw me in that and sent me up for my first movie audition, 'Death Wish,' in 1973."
"That was your very first film audition?"
"Yes, sir. And they gave me that part." Goldblum played "Freak #1."
He said he got some lucky opportunities early on, such as "Annie Hall." He had one line, but it was a funny one: "I forgot my mantra." And there was "The Big Chill."
He got to wear chaps and a cowboy hat in "The Adventures of Buckaroo Banzai. "But I was a brain surgeon. I was a smart guy slash adventurer. Just like me!"
His first leading role was in "The Fly." The critic Roger Ebert wrote his "natural oddness makes him perfect for the part." Goldblum said, "I was interested early on in making sure that my quirks – or whatever they were – didn't hold me back."
"You call them quirks? I'm just curious how you perceive them."
"Well, look, even as I sit here now, I'd be stupid and entirely unaware if – even though I'm not trying to do anything for effect, this is authentic to me and I've developed whatever this nincompoopery is – I'd be pretending if I say I didn't know it was different than 'right down the middle.' It's a little funny here and there. And if you like it, it's just your cup of tea. And if not, it's a little too odd."
One part he almost didn't get: the role of Dr. Ian Malcolm in "Jurassic Park." As Goldblum recalled, director Steven Spielberg told him: "'We're working on the script, and this last draft didn't include your character, your character's been cut out.' And then I was like, 'Oh, no no, no! Mr. Spielberg, you know better than I do, but off the top of my head here's why I think this character might be useful dah dah dah.'
"The character wound up back in the picture. And so did I! How about that?" (And also in two sequels.)
On the wall of his walk-in closet, Goldblum has a gallery of his relatives: his father, a doctor to Pittsburgh steel workers; his mother, who worked in radio. "She died just a few years ago in her mid-80s. Here are my two brothers that are no longer with us. My brother Rick died when he was 23. I was 19 when he died, doing this Broadway show in New York."
"Did that really rock the family?"
"Oh yes. Yes, it did. … Sure, yeah, it did. …"
For the only time in the conversation, he is speechless.
Goldblum has lived in the same West Hollywood home for 30 years. High up on the hill in back, he has a bench. He brought his wife, Emily, here, just after they met: "We'd only known each other a day and we'd met at the gym. And I walked her up there and showed her, there's a great view from up there. And we kissed for the first time."
Goldblum and Emily Livingston, a 35-year old former Olympic gymnast, married in 2014.
Now at 66, he is a father for the first time. "River Joe, 18 months, and then Charlie. I get a big kick out of them," he said. "I am fascinated by them."
Mason asked, "Were you worried at all that you'd be able to keep up?"
"Well, there you go, good question. That's very graciously put!" he laughed. "There's that laugh again! … You know, when I told Albert Brooks a few years ago (whom I am lucky to know a little bit) we're gonna have a baby, he said, 'I'll give you a word of advice. Look for schools with ramps.' Ramps!"
With new kids, a new album, and a new look, Jeff Goldblum says he's just a late bloomer
"Joe Brevac, my seventh grade teacher, used to write on the blackboard a quote from Abraham Lincoln: 'I shall study and prepare myself so that when my chance comes, I will be ready.' Seventh grade, and that's still –"
"You still remember it?"
"I remember it. And I'm trying to apply it."
"And you feel ready?"
"What I'm saying is that this late-blooming business, in all aspects of my personage, I'm flowering. And I'm fuller and fruitier than ever, yeah!"

For more info:

Story produced by Gabriel Falcon.
Thanks for reading CBS NEWS.
Create your free account or log in
for more features.