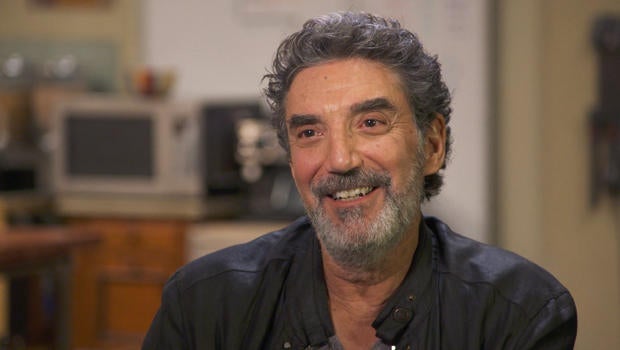 "Big Bang Theory" creator Chuck Lorre on his Netflix series, "The Kominsky Method"
If you thought the classic American sitcom was dying, Chuck Lorre's career says otherwise. He has all but single-handedly kept the sitcom genre alive, producing some of TV's biggest hits of the past three decades, including the original "Roseanne," "Cybill,""Grace Under Fire," "Mike and Molly" and "Two-and-a-Half Men."
And that's not even counting what he's got going on now. On the Warner Brothers lot in Los Angeles, they are shooting Lorre's "The Big Bang Theory," "Young Sheldon" and "Mom." Last season, those three shows averaged more than 40 million viewers a week, led by the single most-watched broadcast on television: "The Big Bang Theory" on CBS.
The show, about a group of socially-awkward scientists, is in its final season. "This is gonna be heartbreaking when we're done," Lorre told correspondent Tony Dokoupil. "This is just gonna be very, very difficult to end this after 12 years.
"'The Big Bang Theory,' for me, was about people who don't fit in, who want to fit in, who want to participate in life but don't know how. That's a story worth telling."
And that is the secret to Lorre's success: Don't only try to be funny; try to be honest. "Keep it real, real family dynamics, real family issues," he said. "Don't tell silly stories."
Which is why, perhaps, the most successful sitcom creator since Norman Lear in the 1970s hates the word "sitcom," or situation comedy.
It would be appropriate, he said, "if you marry a witch, or if you come home from being an astronaut and you have a genie with you. That's a situation, right?"
And now, the 66-year-old Lorre has a new show about the one situation we all have in common: getting older.
Lorre said, "It's an amazing thing, because internally – I'm speaking for myself – you're still this 14-year-old looking out of this old face. You walk past a window, a store window and you go 'Oh, who … oh!' It's startling."
"The Kominsky Method" stars Alan Arkin and Michael Douglas as aging Hollywood players. It starts streaming this month on Netflix.
Douglas told Dokoupil, "One of the reasons why I wanted to do 'The Kominsky Method' was humor. I love humor; it's not my natural affinity, but for me, I thought, here's an opportunity to work with the best."
And for Lorre, the format feels completely new after decades of filming in front of a live studio audience.
"There's all these seats, there's couple hundred people that sit here, and when they're not laughing, it's horrifying!" he laughed. "And we rewrite the material, we re-shoot it, we do whatever we can."
"So, how do you trust that a moment that you think is working in your edit room on 'Kominsky' is going to work in people's living rooms?"
"The word you just used is the whole thing – it's trust," Lorre replied. "You have to go on faith. This is just a matter of, 'I like this. I hope you do, too.'"
You could say Chuck Lorre's first sitcom took place on New York's Long Island, where he grew up with a volatile mother, and a father whose business was constantly in danger of failing. "This was reality, you know? This is what I knew."
Lorre revisited the old neighborhood with Dokoupil, pointing out his old house.
Has it changed? "It's actually physically the same structure," he said, pointing to the old house. "Up there on the right was my bedroom where I used to blow the pot smoke outside. 'Cause I was so clever!"
One person Lorre wishes he knew longer was his father, Robert. He died when Lorre was just 24, missing all of his son's success. "I'd give anything, anything, to have experienced some of this stuff with my dad," he said.
After his father died, Lorre drifted, spending the next decade as a struggling musician, until something had to change for the sake of his children. "There was no alternative other than make money. You must make money. You have children, it's not really an option."
To survive, he took a job selling radios door-to-door in Los Angeles. One of those doors ended up leading to an animation company. "And I walked up the flight of stairs and I walked in there, and there was a bunch of people working. And I had the temerity to say, 'Hey, this is your lucky day; I'm a writer.' 'You do comedy?' 'Yeah, sometimes.' 'Okay.' 'Great, I'm your guy!'
"There's great power in ignorance and naiveté. I didn't know I couldn't!"
Lorre's career took off. But as some doors opened, others slammed shut. He was fired, pushed out or quit many of his early jobs, and in 2006 Entertainment Weekly dubbed him "The Angriest Man in Television."
"No, I think I'm a teddy bear," he protested.
"You are a teddy bear, now, clearly! You've mellowed. What happened?"
"I'm trying to have more perspective and early on – this is more personal than I really want to get into on 'CBS Sunday Morning' – but fear for me exhibits as anger. 'Cause I'm not gonna show you fear; I'm gonna show you anger, because that's just how I grew up. And that's what you present to the world. And that maybe becomes your reputation."
Lately, though, Lorre has worked to rewrite that reputation. He even says he'd be open to shaking hands with Charlie Sheen, whose bizarre public downfall in 2011 threatened one of Lorre's hits, "Two and a Half Men."
"I'm really proud of what we did," Lorre said. "Every once in a while, I catch some reruns. The shows hold up. We did good stuff. And we had a good time. It was a horrific thing that happened. But it happened a long time ago. Moving on."
But Lorre knows that, even as he move son with "The Kominsky Method," his new perspective has limits.
He said, "I gotta stay grateful and not go down the road of whether or not I'm getting my due. I'd be some whining nonsense if I went down that road."
"Will that be your philosophy if people don't tune into 'Kominsky'?" Dokoupil asked.
"I'll be heartbroken!" he laughed.
To watch a trailer for the new Netflix series "The Kominsky Method" click on the video player below.

For more info:

Story produced by Jon Carras.
Thanks for reading CBS NEWS.
Create your free account or log in
for more features.