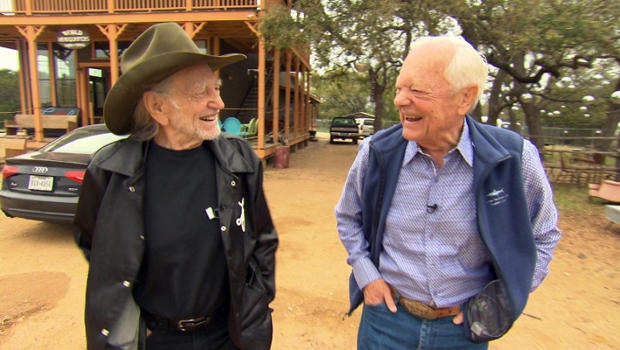 ​This week on "Sunday Morning" (April 2)
Full episodes of "Sunday Morning" are now available to watch on demand on CBSNews.com. CBS.com and CBS All Access, including via Apple TV, Android TV, Roku, Chromecast, Amazon FireTV/FireTV stick and Xbox. Now you'll never miss the trumpet!
Host: Jane Pauley

---
TO WATCH THE FULL 4/2 EPISODE CLICK HERE!

HEADLINES: Search for survivors from Colombia mudslide (Video)
There's a frantic search for survivors in Colombia after an avalanche of mud and water swept through the city of Mocoa, sparing few in its path. More than 200 are reported dead. Manuel Teodoro reports from Bogota.

COVER STORY: The Doomsday Vault: Humanity's salvation? | Watch Video
Deep beneath the barren surface of the Arctic tundra, about half-way between Oslo and the North Pole, lies the largest concentration of agricultural diversity anywhere on Earth -- an international effort to safeguard the sources of the world's food supply forever.
There are 1,700 seed banks worldwide of varied size and state of repair. But this one in Norway is known as the "Doomsday Vault" -- a back-up for the whole system, designed to last for thousands of years, protecting humanity should natural disaster or war imperil mankind's food supply.
So when a typhoon tore through a seed bank in the Philippines, or when war destroyed seed banks in Iraq and Syria, all was not lost.
Seth Doane reports from the Svalbard Global Seed Vault.
For more info:

ALMANAC: The Fountain of Youth | Watch Video
On April 2, 1513, Spanish explorer Juan Ponce de Leon first arrived in what is now Florida -- the start of a quest for a miraculous spring whose waters could reverse aging. Jane Pauley reports.
BOOKS: Mary Higgins Clark, the Queen of Suspense | Watch Video
The New York Times bestselling author Mary Higgins Clark, who has more than 50 books to her name, from suspense and historical novels to short stories, children books and a memoir, talks with Erin Moriarty.
READ AN EXCERPT: From "All By Myself, Alone"
For more info:

PASSAGE: Two distinctive artists | Watch Video
"Sunday Morning" remembers Gilbert Baker, creator of the rainbow banner of the gay rights movement, and New Yorker cartoonist Jack Ziegler.
SUNDAY PROFILE: Actor and memoirist Alec Baldwin is having the time of his life | Watch Video
The 59-year-old Oscar-nominated actor has won two Emmy Awards and three Golden Globes for "30 Rock." And with his gift for mimicry, Baldwin has made a huge impression with his appearances as President Trump on "Saturday Night Live."
The biggest thing Baldwin learned from writing his new book, "Nevertheless," is that "the past is the past. … I'm truly going to bury my past with this book." And as he explains to correspondent Rita Braver, he's not afraid of making enemies with his writing, adding that, "I try to, you know, kiss and slap in equal measure!"
WEB EXCLUSIVE VIDEO: Alec Baldwin: "I thought I was a genius" about substance abuse
In this web exclusive, the actor (who has just published a new memoir, "Nevertheless") opens up to "Sunday Morning" correspondent Rita Braver about his attitude in the 1980s when he abused drugs and alcohol until a near-fatal incident led to his sobriety at age 26.
WEB EXCLUSIVE VIDEO: Alec Baldwin on "Streetcar Named Desire"
In 1992 Alan Baldwin starred in a Broadway revival of Tennessee Williams' "A Streetcar Named Desire," playing the volatile Stanley Kowalski. In this web exclusive, he tells "Sunday Morning" correspondent Rita Braver about the painful fallout from an on-stage injury, and the acting lessons he got from Broadway stagehands as a result.
WEB EXCLUSIVE VIDEO: Alec Baldwin on the paparazzi
In this web exclusive, actor Alec Baldwin talks with Rita Braver about his run-ins with tabloid photographers, including his decision to "take the law into my own hands."
For more info:
POSTCARD FROM WINE COUNTRY: Falcons: A vineyard's winged protestors | Watch Video
If henhouses have foxes to worry about, Northern California vineyards have starlings, an invasive species that first appeared in the area in the 1930s.
At first, Rams Gate Winery in Sonoma tried traditional methods like noise makers, colored tape and netting to ward off starlings attracted to juicy grapes. None of them worked well. So they brought in reinforcements: falcons, which have also been put to work at airports and golf courses that have bird problems.
John Blackstone reports on what happens when nature is used against nature.
For more info:

HARTMAN: The worst place to live in America? (Video)
Washington Post writer Chris Ingraham got into hot water when he wrote an article in 2015 concluding that Red Lake County in Northern Minnesota was "the absolute worst place to live in America." It drew a lot of hate mail from Minnesotans, but also an invitation to Ingraham to come see the place for himself. And as Steve Hartman learned, the reception that Ingraham received was nothing like he expected.

WORLD WAR II: A German U-boat's watery grave off North Carolina | Watch Video
In 1942, in a little-known chapter of World War II history, the war came right into America's backyard, as German U-boats dominated the East Coast's shipping lanes. More than 80 cargo ships were sunk, and 1,600 lives lost, in the waters off North Carolina alone.
Mark Strassmann rides the submersible Nomad 715 feet down to the ocean floor, just 35 miles from Cape Hatteras, to the wreckage of U-576 -- unseen by human eyes in 74 years.
For more info:
FOR THE RECORD: Willie Nelson is, as the song goes, "Still Not Dead" | Watch Video
Closing in on his 84th birthday, country singer-songwriter Willie Nelson is on the road again -- performing, writing music, and releasing a new album. "God's Problem Child" is his 110th, give or take, with songs like "Still Not Dead."
"There's a theme here," said Bob Schieffer. "This is about the autumn of your life. Is that hard for you to think about?"
"No," Nelson replied. "You remember one of those deep thinkers, a guy named Seneca? He said you should look at death and comedy with the same countenance. And I believe that."
To hear Willie Nelson perform "Old Timer" from "God's Problem Child," click on the video player below:
For more info:

CALENDAR: Week of April 3 | Watch Video
"Sunday Morning" takes a look at some notable events of the week ahead. Jane Pauley reports.

NATURE: Bryce Canyon (Extended Video)
We leave you this Sunday Morning at Bryce Canyon National Park in southern Utah. Videographer: Judith Lehmberg.

WEB EXCLUSIVES:

NATURE UP CLOSE: Organ Pipe Cactus National Monument

---

Be sure to keep up-to-date: Follow "Sunday Morning" on Twitter, Facebook and Instagram.
Have a story idea? Write to us at cndsunstory@cbsnews.com.
Have a sun artwork? We'd love to see it. You can email image files (jpg or tif) to Jessica Frank at JAF@cbsnews.com.
Thanks for reading CBS NEWS.
Create your free account or log in
for more features.