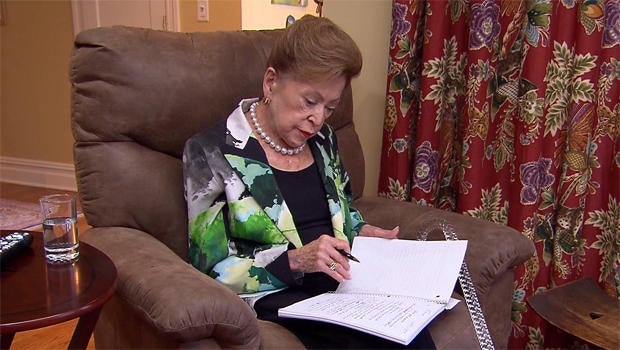 Mary Higgins Clark, the Queen of Suspense
The Queen of Suspense granted an audience to a woman who's no stranger to mystery -- Erin Moriarty of "48 Hours":
You'd never guess to look at her, but this sweet church-going mother and grandmother has a very dark side. At least 52 people have died at her hands.
"At least one a book," said Mary Higgins Clark.
She is the writer that many consider the Queen of Suspense. At 89 years of age, her dark imagination continues to fuel bestsellers.
Her latest mystery, "All By Myself, Alone," will be released this week, by Simon and Schuster (a subsidiary of CBS).
So what is her fascination with murder? "Well, there was Adam and Eve. They had two kids, Cain and Abel, and one killed the other. So it's been in our very nature since Day One."
Her stories are pure fiction, but Higgins Clark gets much inspiration from true life.
"I used to go to trials a lot," she said. "You can get more out of a trial and the sadness in it and the poignancy in it than you could ever imagine."
The sadness and poignancy of ordinary lives is a common theme, something she learned early growing up with two brothers in the Bronx in New York during the Depression
Her father, an Irish immigrant, had a successful bar and grill "before everything went sour," she said. "But he died at 54 of a heart attack 'cause the business went bad. And that's what killed him."
She was only 11 years old. "It's a heartbreak. I think any time one parent goes, it's never the same. You're flying on one wing."
Forced to work odd jobs to help support her family, she imagined one day she'd have a career as a writer. "I always thought I would make it," Clark said. "I was a telephone operator after school -- 'Hotel Shelton, good afternoon' -- and if I got downtown early enough, I would walk past Fifth Avenue and pick out the clothes I would have when I was a successful writer."
At 22, she married Warren Clark (a boy from the neighborhood who proposed to her on their very first date), and began sending short stories to magazines. She still has the rejection letters -- 40 of them.
One read:
"We are reluctantly forced, purely as a matter of timing, to decline your offering of this story to us at this time."

"That's a very nice way to turn you down," Moriarty said.
"Oh, that was the nicest I ever got," Clark said. "There was one, 'Mrs. Clark, your stories are light, slight and trite.' I thought, 'I'll get you, girl.'"
Making her writing pay off became a necessity when history repeated itself, and her own husband suddenly died. She was 37 years old, with five children to support.
Clark had to pawn her jewelry to pay bills, and began writing radio scripts for a living, and novels on the side. Her first, "Aspire to the Heavens," a romantic novel about George Washington and his wife, Martha, did not sell well.
But her second book, "Where Are the Children?" (1975), came about when Clark looked at her bookshelves, "and that's when I realized I had so many suspense novels."
"Where are the Children?" was a hit. "I think I was 43 when that book came out," she said.
"So you weren't an overnight success?"
"No, dear heart, I was not an overnight success by any stretch!"
She got her first book contract, and was able to buy back the jewelry she pawned, and more. "It became fun when I started to be successful, to get a piece of jewelry to remind myself that I had worked hard," she said.
She now has quite a jewelry collection, considering that nearly every book over more than 40 years has been a bestseller.
Moriarty asked, "When you look back with all the books you've written, is there one that you're most proud?"
"Well, 'Where are the Children,' having been the big breakthrough, is obviously very dear, 'cause it made all the difference in my life when that one came out."
And the book -- now in its 75th printing -- keeps going.
And so does Mary Higgins Clark. She is remarried, and lives on four acres in New Jersey in a home complete with an elevator that opens into her writer's studio.
Murder and mayhem may still drive her plots, but at the heart of each book is a character much like the author herself -- a hero who turns adversity into advantage, while keeping her readers on the edge of their seats.
Moriarty asked, "When your book is coming out, do you still feel some nervousness – 'Will my readers like it as much as they have in the past?'"
"Oh, of course," Clark replied, "because I have never taken a reader for granted. Never. So each book is the best I can write under these circumstances, and then, pray God that it goes over well."

For more info:
Thanks for reading CBS NEWS.
Create your free account or log in
for more features.