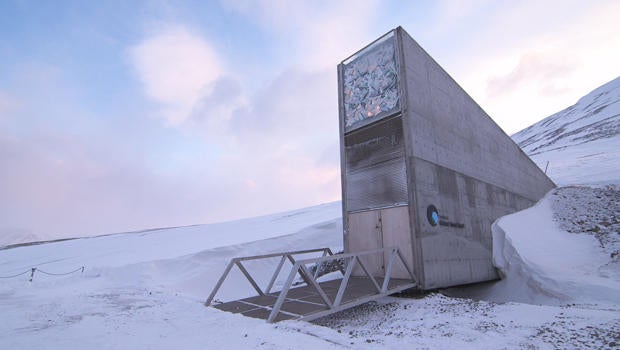 The Doomsday Vault: Humanity's salvation?
Spring is the season home gardeners plant seeds for the vegetables they hope to harvest in the fall. Unbeknownst to most of us, a team of experts is looking much further ahead -- taking extraordinary efforts to keep the world evergreen in the event of some future apocalypse. Seth Doane reports our Cover Story:
On the Arctic tundra in Svalbard, Norway, about half-way between Oslo and the North Pole, there are no gardens, no trees. Yet, deep beneath this barren surface lies the largest concentration of agricultural diversity anywhere on Earth.
The angular, concrete structure seems more "modern art museum" than "seed storage vault." It impresses even before entering.
American agriculturalist Cary Fowler heads this international effort to safeguard the sources of the world's food supply -- one designed to outlast any disaster, and ultimately, all of us.
So, why keep all of these seeds here? "First of all, it's really cold here," Fowler said. "Even colder inside, and that helps to conserve the seeds."
Behind an icy door, Fowler showed Doane racks of boxes in storage at zero degrees, sent from nearly every country. Here, at least, North Korea coexists peacefully with South Korea -- detente in deep freeze.
In one room there are seeds for more than 150,000 different varieties of wheat.
"Why do you need that much wheat?" asked Doane.
"The most important thing is that it represents everything that wheat can be in the future," Fowler said. "So, those different varieties have different traits; maybe one is higher protein and another one is resistant to a particular insect or disease. And we need that collection of traits, because we don't have a crystal ball. We don't know what's coming in the future, and we don't know which of those traits will be useful or important.
"So, the idea behind this whole venture is to save all of the pieces of the puzzle."
One piece of that puzzle is the prized possession of the Riccelli family, from Des Moines, Iowa: a thin-skinned Italian pepper that's been a part of their family dinner for centuries.
Seventy-one years ago, Theresa Riccelli got the seed from her mother as a gift when she got married, at age 21. Her grandson, Chad Ogle Riccelli, says the pepper is now a family heirloom.
"It could be that wedding dress, that diamond ring that's been passed on" Chad said. "Those things are, some of us hold dear to our heart. And this seed is definitely that type of fulfillment with us."
The family never found anyone else, anywhere, with the same pepper. So they asked their local seed bank, Seed Savers Exchange, to help preserve it.
"We represent a lot of amateur gardeners who have saved seeds in their family, or in their communities who have entrusted us with the protection of those seeds," said director John Torgrimson. "And Svalbard gives us an insurance policy where we can put our seeds there. It belongs to us. We can reclaim them at any time."
There are 1,700 seed banks worldwide of varied size and state of repair. But this one in Norway is known as the "Doomsday Vault." It's a back-up for the whole system designed to last for thousands of years.
So, for instance, when a typhoon tore through a seed bank in the Philippines, destroying everything inside, all was not lost. Or when war destroyed seed banks in Iraq and Syria, the seeds were safe here.
"We protect, yes, against some of the natural disasters -- war and civil strife and hurricanes and floods and fires," Fowler said. "But we also protect against anemic budgets and budget cuts and stupid human mistakes as well."
Cultivating land for agricultural use began about 12,000 to 15,000 years ago. But since industrialization, plant diversity has diminished dramatically, as a handful of big seed sellers control most of what's sold and planted. Since 1900, we've lost more than 75 percent of our crop diversity.
"And I just thought, 'Enough is enough,'" said Fowler. "We have the technology, we have the smarts, we know how to conserve seed, and so why can't we figure out how to have a facility somewhere that's really safe and where we can save the seeds long-term without any dangers?"
The big question was where to put it.
In 2008, that search led Fowler and the Global Crop Diversity Trust to Svalbard, far north of the Norwegian mainland. It's politically stable, cold, and -- most essentially -- remote.
Photographs from his new book, "Seeds on Ice," capture Svalbard's rugged beauty. It's a place with more polar bears than people. Folks carry rifles when leaving town as "polar bear protection," and they sled to school.
Svalbard also happens to be a spectacular place to catch the northern lights. It is the edge of the world.
Robert Johansen (who brews a good Svalbard pilsner) came up here as a coal miner. In 28 years he's adjusted to the long, polar nights -- months with no sunlight.
Doane asked, "What is this appeal with being up here?"
"Well, many people have tried to explain what it is," Johansen said. "The nearest I can tell you, it's like being a little bit in love."
Mona Barlien, who says she was star-struck by Svalbard, calls the draw to this place "polar fever." She works in the local tourism office where she fields a lot of questions about the vault.
"They ask about entering the seed vault to actually see how it's like, all the seeds, all the richness it represents," she said.
Tourists are not allowed inside the air conditioned vault, which holds more than half a billion seeds from 930,000 varieties -- and which, as of a few weeks ago, now includes the Riccellis' pepper seeds.
The Iowa bank packed up the duplicate seed, and Doane was in Svalbard to watch it be placed into the vault.
"I think a lot of people would say, 'Wow, this is incredible that there are all of those seeds up in Svalbard, good idea, but it probably doesn't really affect me, personally,'" Doane said.
"Oh, I think it clearly affects everyone," said Cary Fowler. "I mean, we're losing right now something like $160, $170 billion a year just in our wheat crop globally, just because of the temperature anomaly that we have in the world, the hotter temperatures. So we're going to need, and plant breeders are working on, heat-resistant varieties.
"So, we might not notice it right now, but all of these different conditions are affecting today's food supplies."
The answers, he says, may be in the seed vault. "If we have answers, that's where we're going to find them."
A place where history is saved to protect our collective future.

For more info:
Thanks for reading CBS NEWS.
Create your free account or log in
for more features.