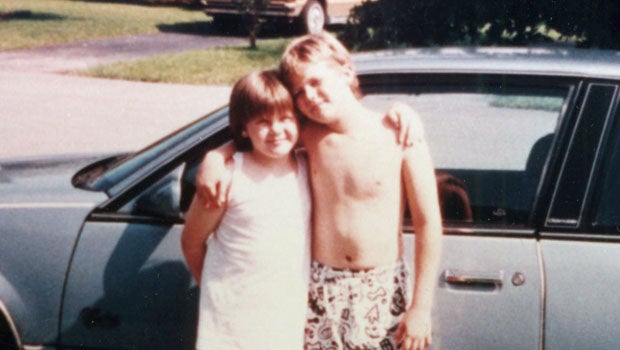 ​The other victim of an accidental shooting
How common is it for a child to accidentally shoot and kill another child? One-time presidential candidate Adlai Stevenson shot and killed a female cousin in a gun mishap when he was a boy; that was back in 1912. Martha Teichner has a more recent example:
"They were riding their bikes to school that day," remembered Lee Smith. "Erin turned around and came back. I'm like, 'What are you doing, you're gonna be late.' She goes, 'I just wanna tell you I love you, Mommy,' and gave me a nice kiss."
Those were the last words, and the last kiss, Smith and her daughter, Erin, would ever share.
"I always tried to make her laugh every chance I could," said her brother, Sean. "She was definitely the best kid sister I could have."
And his mother recalled, "Whenever I said, 'Erin, I want your picture,' he would put his arm around her."
On June 5, 1989, she was eight; he was ten. His was the little voice on the excruciating 911 call:
SEAN: "Honest, I didn't know my dad's gun was loaded, and I shot her!"
911 OPERATOR: "OK listen, who did you shoot?"
SEAN: "My sister! I didn't mean to!"
Nationwide there are no definitive counts, but according to multiple sources, 100 or more kids are killed accidentally every year.
Sean and Erin were home alone after school in a South Florida suburb. Hunting for video games, Sean found the gun in his father's dresser.
"I thought of it like any other toy gun that I had, 'cause it looked very similar," he told Teichner. "I remember her backing away to the wall. And I remember at that point, aiming it out the front window, and the trigger went off, just as she was running out of the room."
SEAN: "She's dead!"
911 OPERATOR: "She's dead?"
SEAN: "Yes! Please get my mom and dad! Oh my God!"
"I remember picking her up and putting her in my lap and looking down at her, and it's almost like she wasn't there. You could see the light was just out of her eyes."
A tragedy, yes. Unexpected behavior, hardly. Everything that Sean Smith did matches, detail for detail, the results of a landmark 2001 study showing a potentially fatal attraction of boys to guns.
Dr. Hal Simon, a professor at Emory University Medical School in Atlanta, explained: "We put eight- to 12-year-old boys in a room, where there was an actual handgun, a .38 handgun. And that handgun was modified so that the magazine was removed and a radio transmitter was put in so you could actually know if they had pulled the gun with enough force to have fired it, then we would be able to monitor it."
The boys were brought in groups of two or three to the room, where the .38 was hidden in a drawer.
While the university blurred the boys' faces and bodies on the video taken during the test, it's still possible to see them firing the gun, at themselves and each other.
"So, out of the 64 kids, 48 of them actually found the handgun, and 16 of the children actually pulled the gun with enough force that it would've discharged the weapon," said Simon. "When we looked at those that actually found the gun, almost half of those kids could not tell if it was real."
It could be argued that a child shot by a child isn't the only victim. Sean Smith got into drugs and alcohol, dropped out of high school.
His mother's response? "I'm not gonna lose another child. I'm tougher than that. I'm gonna save him."
The birth of his son, Dylan, was what finally turned Sean around.
"Now, you know what? You gotta be responsible for another life," he said. "I was given a second chance."
Today, he manages an auto parts warehouse. Divorced, he lives with his parents. Dylan lives there, too. Lee Smith buys another angel, every year around Erin's birthday.
And, finally, Sean can look at family photos.
His favorite? "Mine is the one where we're walking hand-in-hand to the beach," Sean said.
His mother explained Erin was always nervous about going into the water. "So I would hold her hand and we'd go in," he said.
Now he can remember his sister's life.
For more info:
More from "Guns and America":
Thanks for reading CBS NEWS.
Create your free account or log in
for more features.