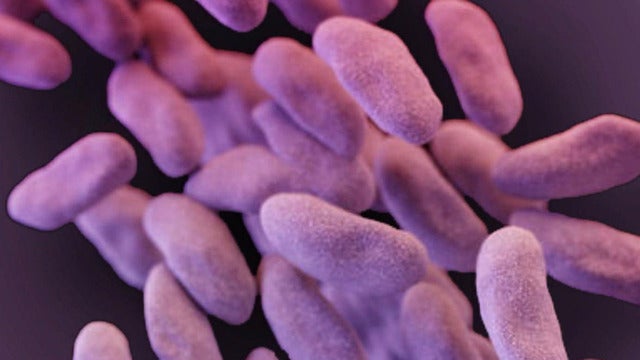 Superbugs could kill more people than cancer, report warns
A new report on the dangers of antibiotic-resistant superbugs warns that if major steps aren't taken to combat the threat, by 2050 such infections could kill 10 million people a year worldwide -- an average of one death every three seconds.
The report, commissioned by the U.K. government and headed by British economist Jim O'Neill, analyzes the global threat of antimicrobial resistance and lays out strategies to help reverse the deadly trend.
Now, after 19 months of consultation and eight commissioned studies -- each focusing on a specific aspect of antimicrobial resistance -- the final recommendations have been made public.
The Review on Antimicrobial Resistance reports that up to 50,000 lives are currently lost each year to antibiotic-resistant infections in the U.S. and Europe alone, and that across the globe, at least 700,000 people a year die due to drug-resistant illnesses -- bacterial infections including tuberculosis and MRSA.
If left unchecked, the spread of these lethal infections could lead to "an extremely disturbing 10 million [deaths] every year, more people than currently die from cancer," the report said.
The overuse of antibiotics means more bugs are developing resistance to the drugs and can't be wiped out through standard treatment. If antibiotics lose their effectiveness to fight infections, routine operations such cesarean sections, joint replacements, and gut surgeries will carry higher risks including death. Cancer patients with suppressed immune systems will be further compromised. Low and middle-income countries will be especially at risk, the report said.
Among the proposed solutions laid out in the report:
Create a global public awareness campaign to help people understand the problem
Reward developers of successful new antibiotic drugs
Improve and develop new technologies for the rapid diagnosis of bacterial infections
The report also stresses the need to improve sanitation and hygiene; reduce pollution from agriculture and the environment; and increase global surveillance of superbugs. The use of vaccines, and the development of new ones, could also reduce antibiotic resistance by preventing infections in the first place.
"Tackling AMR [antimicrobial resistance] is absolutely essential. It needs to be seen as the economic and security threat that it is, and be at the forefront of the minds of heads of state, finance ministers, agriculture ministers, and of course health ministers, for years to come," O'Neill said in the report.
The paper also looks at how the solutions can be funded and ways to build political consensus around them.
Dr. Lance Price, director of The George Washington University's Antibiotic Resistance Action Center at the Milken Institute School of Public Health, told CBS News, "I think that people are taking this seriously. I'm really impressed with the content of the report and agree with 99 percent of what I'm seeing."
"A massive global public health awareness campaign -- I love it. There's this lack of literacy around what antibiotic resistance is. They think people are becoming resistant to antibiotics, not that bacteria are becoming resistant to antibiotics and infecting people," said Price.
Social media such as Twitter, Facebook, and Instagram could be harnessed to educate the average consumer about their role in "preserving these amazing drugs for future generations," said Price, whose Antibiotic Resistance Action Center uses such tools to put out similar messages.
It's critical to promote new rapid diagnostics to reduce the unnecessary use of antibiotics, too, Price said.
In-office swabs and blood tests, for example, are needed to tell health care providers whether a patient has a bacterial infection or a virus, because bacterial infections will respond to antibiotics but viral infections won't.
"There was a great quote in the report about finding it incredible that doctors still prescribe antibiotics based on an immediate assessment" and not a diagnostic test, Price added.
Doctors Without Borders' Dr. Grania Brigden told CBS News that another big challenge will be getting those diagnostic tests to everyone who needs them, not just doctors and patients in developed countries. There need to be diagnostics tools that don't require complex lab infrastructures, she said.
"We're concerned it's coming for a very high-income country perspective," Brigden said of the solutions outlined in the report. "Diagnostic tools and drugs developed for antimicrobial resistance not only need to work for Europe and the U.S., but also need to be suitable for the context where we work."
Brigden believes vaccines could also be part of the solution for developing countries, but said the economics of vaccine development and dissemination need to be addressed by governments and world health officials.
"The priorities of the developing world context are at the forefront [of this crisis] and access and cost need to be borne in mind from the start," Brigden said. She noted that she is especially concerned about tuberculosis.
"Resistant forms of TB are incredibly common," she said.
Dr. Bruce Farber, chief of infectious diseases at North Shore University Hospital in Manhasset and at Long Island Jewish Medical Center in New Hyde Park, in New York, took issue with the O'Neill report's prediction that the death toll from superbugs could hit 10 million a year by 2050.
"No one can predict how many people are going to die in 2050," he said.
But Farber added, "The reality is, there is a serious problem with antibiotic resistance and it's related to many factors, some under control and some not. Targets for new antibiotics are few and far between. It's much more difficult to come up with novel antibiotics than to not become resistant."
He said the pharmaceutical industry has not invested in antibiotics as heavily as they have for other drugs because they're not as big a moneymaker as, say, medicines for chronic illnesses such as diabetes, depression, congestive heart failure, hypertension and impotence -- medicines taken long term.
"There's just not the same degree of profit margins in the use of antimicrobials," said Farber.
He said there are also many countries where antibiotics can be easily bought over the counter and those practices need to be reined in.
Price said we need to look for guidance to countries that have healthier models for antibiotic use -- where resistance is lower -- such as the Nordic countries.
"These are not insurmountable challenges. I work on this every day and I'm not hopeless. I don't think the global community should be hopeless. This is something we can fix, and very quickly actually," he said. If the right efforts are made -- and quickly -- around the world.
Thanks for reading CBS NEWS.
Create your free account or log in
for more features.