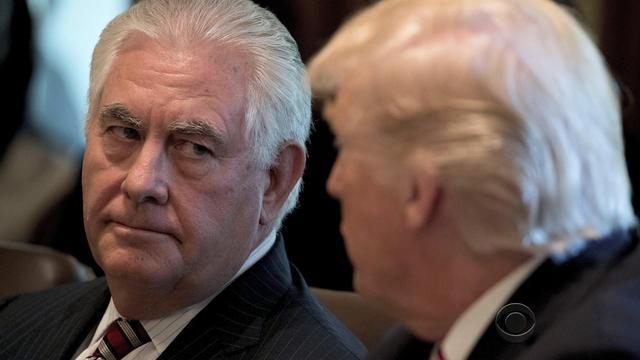 State Department feels the pain of vacancies
Wrapping his sixth month on the job, Secretary Rex Tillerson's restructuring of the State Department is taking root. But numerous vacancies within the department's leadership have created what some State employees characterize as a leadership vacuum that is diminishing the department's impact and productivity.
Another major vacancy will open up later this week: Bill Miller, the State Department Acting Secretary for Diplomatic Security, will leave the department on Friday. Miller himself is also retiring, but officials familiar with the situation say that retirement was not his first choice.
A career foreign service officer, Miller has led the office since 2014 and previously worked in Iraq, Egypt, Pakistan, Jerusalem and the Philippines. The diplomatic security office, which oversees the security for every U.S. embassy in the world, also has a number of lower-level officials that are preparing to retire, according to State Department employees familiar with the office. No appointee has been announced to fill Miller's shoes.
The State Department says Christian Schurman, a current State Deputy Assistant Secretary for International Programs, will assume the role of Acting Assistant Secretary for the Bureau of Diplomatic Security.
"State Department bureaus that are not going to be eliminated deserve to have solid leadership with the validity that comes from senate confirmation," says Tom Countryman, a former State Department assistant secretary who left earlier this year. He adds that without filling out deputy positions Tillerson is "handicapping himself" while helping other countries, friends and adversaries alike, set the international agenda.
Other than Tillerson, only one of the 32 top State Department leadership positions has been filled with a Senate-confirmed appointee. And only 5 individuals have yet been officially nominated or selected to fill these positions.
In the interim, acting career civil servants have filled many of the top leadership positions. But that's not true in every case: 39 positions are marked vacant on the State Department's webpage listing the Assistant Secretaries and other senior officials.
And the foreign policy leadership vacuum continues beyond the confines of Foggy Bottom: only 30 ambassadors have been officially nominated for a total of 188 positions, according to the American Foreign Service Association. Last week, a flurry of ambassador nominations came through, including one for Russia and Afghanistan. Yet a top Democratic congressional staffer is quick to point out that many of the ambassadors selected are heading to non-priority countries, such Portugal, the Vatican, Bahamas and Guatemala.
Some of the departments that do not yet have appointed leadership will also assume greater responsibilities in the coming months. For example, the top cyber diplomat, Christopher Painter, will leave the department at the end of the week. The cyber security office will be folded into the Economic bureau, according to State Department employees.
Earlier in the year, President Trump signed an executive order to strengthen the cyber security of all federal networks, and this bureau does have experience in interagency work in that realm.
The move has attracted mixed feelings. "[Painter's] office didn't do anything," says one State Department employee who says it will be "payback time" when the office falls under the umbrella of a bigger bureau where it has less autonomy. "He was a big talker and went to meetings and talked to cyber security officials but he did not act on the issues." The State Department, meanwhile, says that cyber security "continues to be a priority" for Foggy Bottom.
Yet Tom Malinowski, a former State Department assistant secretary, says Painter was the key U.S. government official to lead the "rich process" of resisting Chinese-led efforts a few years ago to set global rules on regulating the internet.
"The U.S. won support for the principle that people had the same free speech rights on the internet as they do offline. Chris did that," says Malinowski. Now "decisions will be made in other bureaus that are currently unable to make decisions because they have no leadership. Even if your ultimate aim is to shift those responsibilities, one would think you would wait until you actually appoint assistant secretaries to those bureaus."
Last week, 24 Democratic members of congress sent Tillerson a letter telling him not to close the cyber office because it plays a "vital role in cyberspace interactions with other nations."
At this point, the Trump administration lags behind any other recent White House in filling jobs at the State Department. Efforts focused on Venezuela, Iran, arms control and nuclear non-proliferation are just a few of foreign policy focal points that have been left without an administration-approved leader.
Foreign diplomats in Washington say that the acting leadership keeps the work on track, but ultimately they slow down diplomacy because they can't make decisions. This is because are not a direct line to or a trusted voice of the Trump administration.
"I'd like it to go faster," Tillerson told reporters when asked him about the slow pace of the staffing. State Department officials blame it on a backlogged process and nominations being held up by Congress.
Some State Department employees blame Tillerson for not having a bigger staff. State employees say the way to get him to sign on to something is to give it directly to Brian Hook, Director of the Secretary's Policy Planning Staff. He will put it on a notecard for hand-delivery to Tillerson and an answer will be written on the card, explained one State Department official.
This scrappy approach sidelines the traditional routes of approval and leaves many inquiries that come in that way left unanswered.
Tillerson has longed for the corporate culture he knew so well, and which his restructuring effort looks to mimic. "It allows you to accomplish a lot," Tillerson says of "highly structured" corporate environments grounded in "long-standing disciplined processes and decision making."
Yet according to State spokesman R.C. Hammon, Tillerson "is not trying to superimpose any sort of existing corporate structure onto the State Department. He is trying to help guide the State Department to finding a more efficient way to organizing itself." Hammond points to changes that will be made in the restructuring, such as speeding up the approval processes, updating technology, and getting rid of envoys that no longer are needed.
Inside the department, the former CEO is trudging ahead on his restructuring plans. As part of that effort, Deputy Secretary John Sullivan sent a department-wide memo last week explaining that Tillerson has asked him to chair a committee, consisting of five committees with about a dozen full-time people on each, tasked with finding ways to improve the department.
As this restructure takes place, State Department spokesperson Heather Nauert says that the functions and priorities of the State Department will remain in place.
The department is also keeping a consulting firm around to help with restructuring: Insigniam, a smaller consulting company, has now signed their second State Department restructure contract.
Thanks for reading CBS NEWS.
Create your free account or log in
for more features.