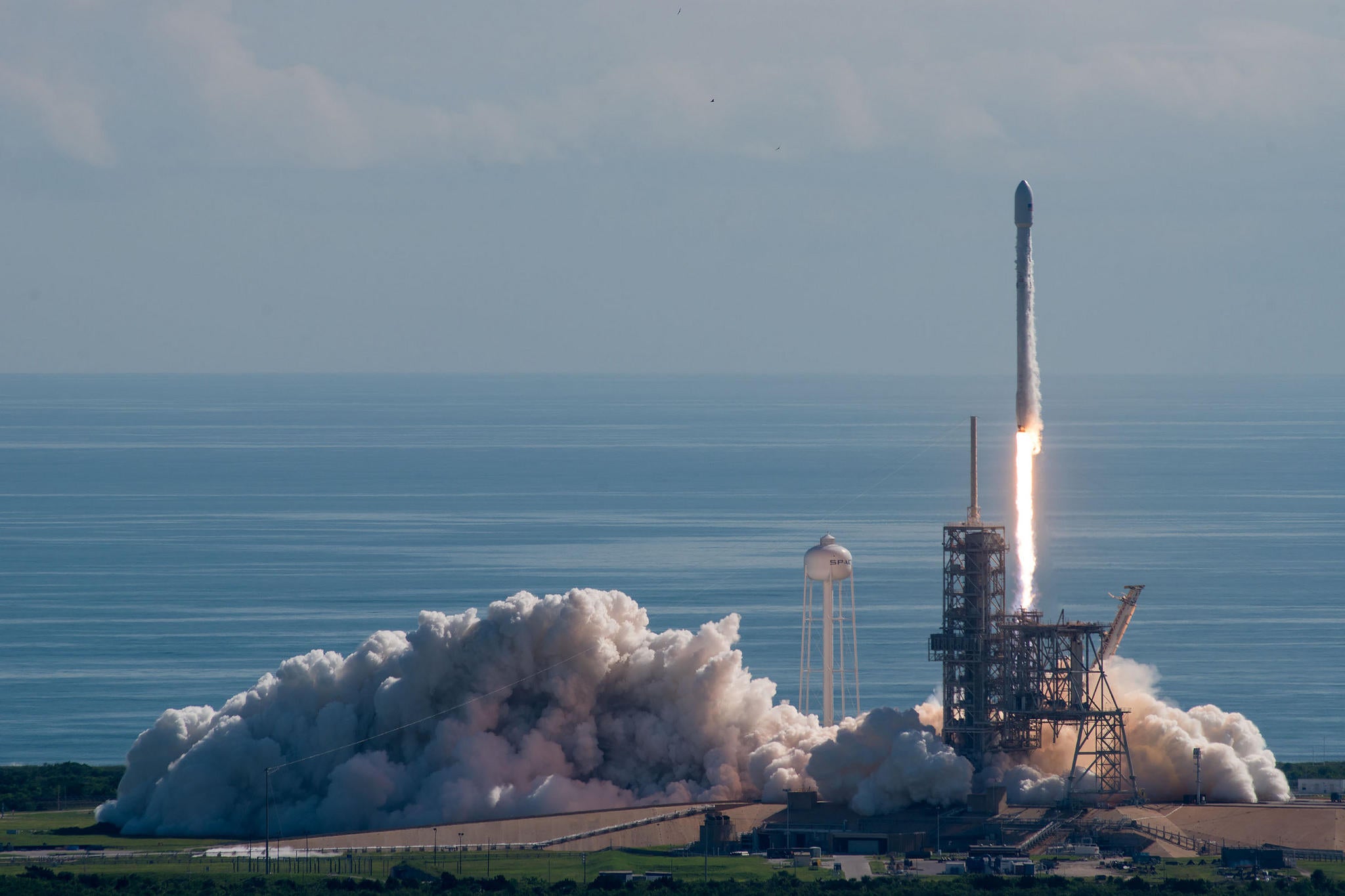 SpaceX launches secret Air Force spaceplane
A SpaceX Falcon 9 rocket thundered away from Florida Thursday just ahead of Hurricane Irma, boosting an Air Force spaceplane into orbit on a classified mission, the fifth flight of an unpiloted X-37B spacecraft and the secretive program's first launch atop a SpaceX rocket.
While details were classified, the unpiloted X-37B spaceplane was believed to be bound for a relatively low orbit, leaving the Falcon 9's first stage with enough left-over propellant to fly back to Florida, landing at the Cape Canaveral Air Force Station about eight minutes after launch.
While the Falcon 9's second stage steadily pushed its Air Force payload toward orbit, the first stage flipped around, fired three of its nine engines to reverse course, slowed for atmospheric entry and then descended atop a brilliant jet of exhaust from a single engine, extended four landing legs and touching down at the center of the landing pad.
It was SpaceX's 16th successful booster recovery in 21 tries and its seventh on land, the latest milestone in company founder Elon Musk's ongoing drive to lower launch costs by recovering, refurbishing and relaunching rocket stages that otherwise would be lost.
But as always, the primary goal was to put the X-37B into the proper orbit. But given the classified nature of the mission, SpaceX did not say when the spacecraft was to be released from the second stage and no orbital parameters were provided.
Two Boeing-built X-37Bs, also known as OTVs, or orbital test vehicles, are known to exist. OTV-1 flew the program's first and third missions while OTV-2, flew the second and fourth, which began with launch atop an Atlas 5 rocket at the Cape Canaveral Air Force Station on May 20, 2015.
That flight ended May 17 with an un-announced landing at the Kennedy Space Center's old shuttle runway to close out a record 718-day mission. Two former shuttle processing hangars have been taken over by Boeing to service the OTVs after landing and to prepare them for launch.
The spacecraft are believed to fly as orbital test beds for advanced technology sensors and other systems but the program is classified, and the Air Force provides almost no details on the nature of the spaceplane's missions, what might have been accomplished or when the reusable craft might fly again.
Boeing's Phantom Works division worked with NASA on the initial design of an unpiloted spaceplane. But in 2004, the program was turned over to the Pentagon's Defense Advanced Research Projects Agency, or DARPA. Two years after that, the Air Force took over.
The unmanned orbiters are based on the same lifting body design used for the space shuttle and they fly a similar re-entry trajectory to a runway touchdown. Like the space shuttle, the X-37B also features a scaled down 4-foot by 7-foot payload bay. But unlike the much larger shuttle, the smaller spaceplane relies on a deployable solar array for power.
The Air Force orbiters feature improved heat-shield tiles, lightweight composite materials and improved wing insulation, along with advanced avionics capable of fully autonomous operations, including re-entry operations and landing.
The first X-37B took off on the program's initial orbital test flight April 22, 2010. The spacecraft spent nearly 225 days in orbit before gliding to a computer-controlled touchdown at Vandenberg Air Force Base, Calif.
A second X-37B was launched on March 5, 2011. It spent 469 days in space, landing June 16, 2012, at Vandenberg. The third flight, the second for the original OTV-1, took off on Dec. 11, 2012 and landed in California on Oct. 17, 2014, after logging nearly 675 days aloft.
Thanks for reading CBS NEWS.
Create your free account or log in
for more features.