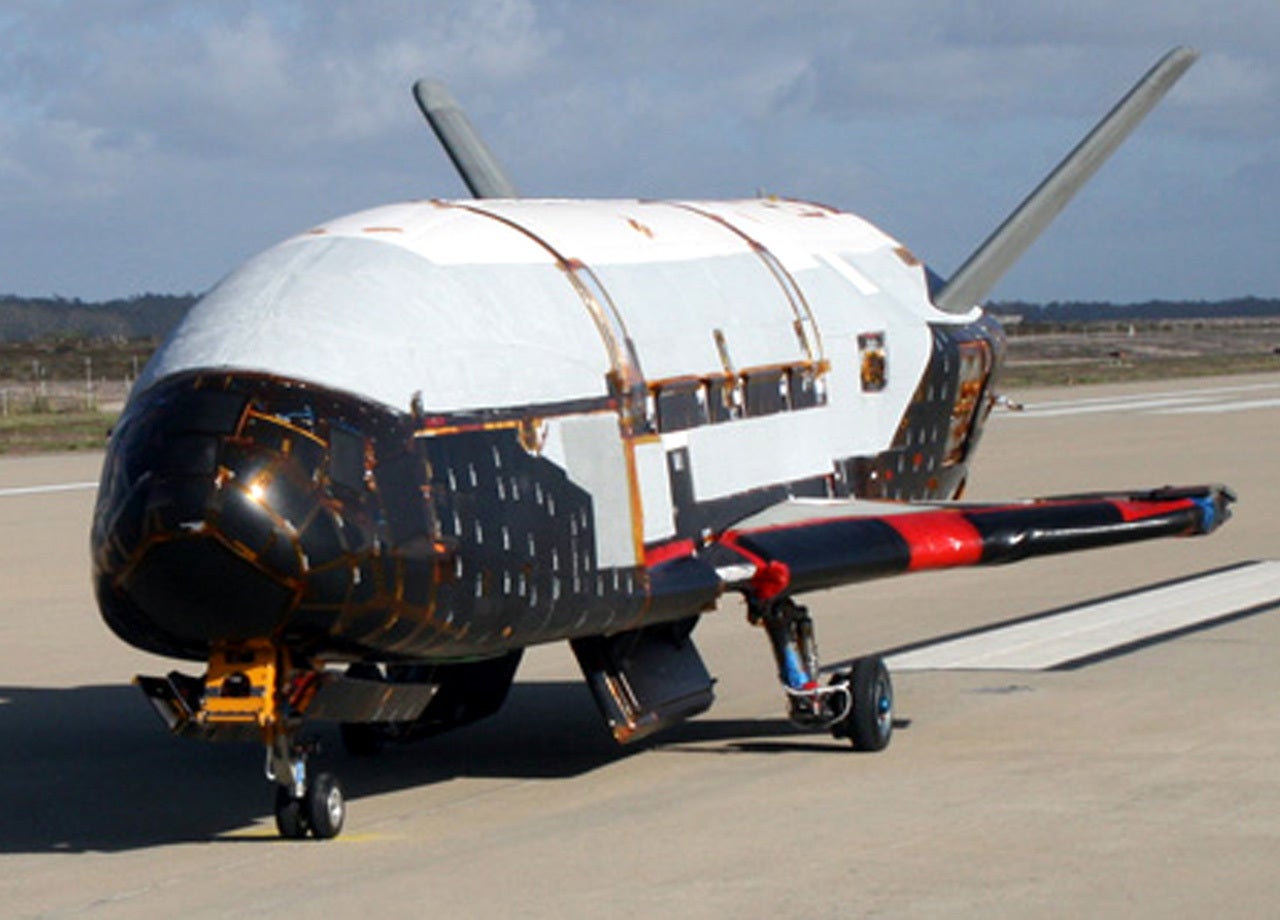 Air Force set to launch another mysterious X-37B space plane mission
The U.S. Air Force is set to launch the fourth flight of its X-37B space plane on May 20, and new details are unfolding about the upcoming mystery mission.
For this latest flight of the X-37B space plane, also known as the Orbital Test Vehicle (OTV), the Air Force Rapid Capabilities Office has teamed up with several partners, including NASA, to test experimental space technologies.
"With the demonstrated success of the first three missions, we're able to shift our focus from initial checkouts of the vehicle to testing of experimental payloads," Randy Walden, director of the Air Force Rapid Capabilities Office overseeing the flight, said in a statement. [The Air Force's X-37B Space Plane Explained (Infographic)]
The forthcoming mission will test an experimental propulsion system jointly developed by the Air Force Research Laboratory and Space and Missile Systems Center. In addition, the X-37B craft will carry a NASA advanced materials investigation.
"We're very pleased with the experiments lined-up for our fourth OTV Mission OTV-4," Walden said. "We'll continue to evaluate improvements to the space vehicle's performance, but we're honored to host these collaborative experiments that will help advance the state-of-the-art for space technology."
According to a recent statement by launch provider United Launch Alliance (ULA), an Atlas V 501 rocket will loft the next X-37B flight as part of the "AFSPC-5" mission. AFSPC stands for Air Force Space Command.
"This mission will be launched in support of the national defense, ULA representatives wrote of the mission.
Building on success
The reusable X-37B space plane looks like a miniature version of NASA's now mothballed space shuttle fleet. This military space plane is 29 feet (8.8 meters) long and 9.5 feet (2.9 m) tall, and has a wingspan of nearly 15 feet (4.6 m). The space plane's payload bay is the size of a pickup truck bed.
The X-37B program completed its most recent mission on Oct. 17, landing after 674 days in orbit. That flight extended the total time in space for the X-37B space plane fleet to 1,367 days spread over three missions flown by two different vehicles.
The first OTV mission launched April 22, 2010 and concluded on Dec. 3 of that year, spending 224 days in orbit. The second OTV mission followed on March 5, 2011, and landed on June 16, 2012, after 468 days on orbit.
Each of the three X-37B missions to date ended with an autopilot landing at the Vandenberg Air Force Base in California - but that may change.
Built by Boeing
The X-37B is built by Boeing Network & Space Systems, the same unit that designs and delivers satellites used for communications, navigation, intelligence, and weather monitoring. To date, only two X-37B vehicles have been confirmed as being built. [Evolution of the Space Plane (Infographic)]
While details of the X-37B project (such as its contract value, and the number of Boeing employees assigned to the program) are classified, work on this program is performed in California at Boeing's Huntington Beach, Seal Beach, and El Segundo sites.
Recently, the Space Foundation selected the U.S. Air Force-Boeing X-37B Orbital Test Vehicle Team to receive one of its top honors, the 2015 Space Achievement Award. The award was presented on April 13 during the opening ceremony of the 31st Space Symposium at The Broadmoor in Colorado Springs, Colorado.
The prestigious award was given "for significantly advancing the state of the art forreusable spacecraft and on-orbit operations, with the design, development, test and orbital operation of the X-37B space flight vehicle over three missions totaling 1,367 days in space," said Elliot Pulham, Space Foundation Chief Executive Officer.
Florida landing?
Early in 2014, it was announced that Boeing Space & Intelligence Systems has consolidated its space plane operations by using NASA's Kennedy Space Center in Florida as a landing site for the X-37B.
Boeing has expanded its presence in Florida by adding technology, engineering and support jobs at the space center. As part of that Boeing plan, investments were made to convert the former space shuttle facility, Orbiter Processing Facility (OPF-1), to a structure that would enable the U.S. Air Force "to efficiently land, recover, refurbish, and re-launch the X-37B Orbital Test Vehicle (OTV)," according to Boeing representatives.
At the time of the announcement in 2014, this construction was to be completed by the second quarter of 2015, Boeing representatives said.
In response to an Inside Outer Space query regarding the space plane winging its way back to Florida, "the future landing location will be determined by a variety of factors," said Air Force spokesperson, Captain Chris Hoyler.
"Work is still ongoing to stand-up Florida as a landing site for the X-37B, and Vandenberg AFB is still being maintained as a landing location," Hoyler advised.
Fly-a-little, test-a-little
In terms of technology, the Air Force is following a prudent fly-a-little, test-a-little plan, observes Joan Johnson-Freese, a professor of National Security Affairs at the U.S. Naval War College in Newport, Rhode Island.
"With the program goals and mission goals classified, we're left to guess, but it appears that with each mission they find how far they can push the envelope in some areas, and where they can keep pushing -- or new areas to explore -- in others," Johnson-Freese told Inside Outer Space.
Johnson-Freese said that she found it interesting that a mission objective for the upcoming flight noted that it was "in the interest of national defense."
"I can imagine that will be interpreted in some countries as the U.S. again trying to push toward 'domination' of space, especially if read in conjunction with $5 billion in new money being allocated for counterspace programs," Johnson-Freese said, noting her views are her own.
"Hopefully the U.S. will actively pursue all tools of power, including diplomacy, in conjunction with technology toward protecting U.S. assets and the sustainability of the space environment," Johnson-Freese concluded.
Thanks for reading CBS NEWS.
Create your free account or log in
for more features.