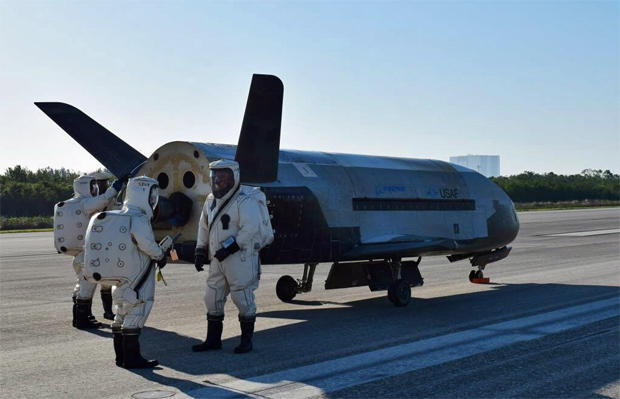 Air Force space plane lands after secret mission
An unpiloted military space plane, launched by an Atlas 5 rocket in May 2015, glided to an unannounced landing on the long shuttle runway at the Kennedy Space Center on Sunday, closing out a 718-day mission. It was the first Florida landing of a returning spacecraft since Atlantis flew home in the program's final mission in 2011.
Sonic booms rumbled across central Florida around 8 a.m. and a few minutes later, the Air Force tweeted that the Boeing-built X-37B space plane -- a compact, delta-wing craft equipped with a payload bay, a solar power boom and a sophisticated computer control systems -- had returned from orbit and landed safely.
"Today marks an incredibly exciting day for the 45th Space Wing as we continue to break barriers," Brig. Gen. Wayne Monteith, 45th Space Wing commander, said in a statement. "Our team has been preparing for this event for several years, and I am extremely proud to see our hard work and dedication culminate in today's safe and successful landing."
It was the fourth clandestine flight of the X-37B, the longest in the program and the first to end in Florida, where Boeing has taken over two former shuttle processing hangars that have been modified to handle the secret spycraft. The first three missions ended with landings at Vandenberg Air Force Base northwest of Los Angeles.
Total time in space by both vehicles across four flights now stands at 2,085 days.
"This mission once again set an on-orbit endurance record and marks the vehicle's first landing in the state of Florida," Lt. Col. Ron Fehlen, X-37B program manager, said in the Air Force statement. "We are incredibly pleased with the performance of the space vehicle and are excited about the data gathered to support the scientific and space communities."
The program's fifth launch is expected later this year.
Two X-37Bs, also known as OTVs, or orbital test vehicles, are known to exist. OTV-1 flew the program's first and third missions while OTV-2, flew the second and fourth, which began with launch atop an Atlas 5 rocket at the Cape Canaveral Air Force Station on May 20, 2015.
The spacecraft are believed to fly as orbital test beds for advanced technology sensors and other systems but the program is classified, and the Air Force provides almost no details on the nature of the space plane's missions, what might have been accomplished or when the reusable craft might fly again.
But before OTV-2 took off on its just-ended flight, the Air Force acknowledged two experiments: a NASA materials science project and one to test an Aerojet Rocketdyne Hall-effect thruster, which generates low but steady thrust by accelerating electrically charged xenon ions. The thrusters are used aboard Advanced Extremely-High Frequency military communications satellites.
But in general, the X-37 program is conducted in near total secrecy.
Joan Johnson-Freese, a space policy analyst at the Naval War College, said before the most recent launching that the X-37B appears to be what the Air Force claims, a technology demonstrator and testbed. But she said the secrecy surrounding the program likely will continue fueling interest among potential adversaries.
"What's interesting to me is it's being done in such an opaque manner," she said. "If the Chinese were doing this, oh my God, there would be congressional hearings on a daily basis and programs being ginned up to respond to it. It has capabilities that other countries aren't sure about, and so they're going to be very nervous about them. If it's a highly maneuverable space vehicle, that has some pretty significant implications."
The original idea for a small unmanned orbiter was developed by NASA and built by Boeing's Phantom Works division. But the program was turned over to the Pentagon's Defense Advanced Research Projects Agency, or DARPA, in 2004.
Two years later, the Air Force took over. The first X-37B took off on the program's initial orbital test flight April 22, 2010. The spacecraft spent nearly 225 days in orbit before gliding to a computer-controlled touchdown at Vandenberg Air Force Base, Calif.
A second X-37B, the same one that landed Sunday, was launched on March 5, 2011. It spent 469 days in space, landing June 16, 2012, at Vandenberg. The third flight, the second for the original OTV-1, took off on Dec. 11, 2012 and landed in California on Oct. 17, 2014, after logging nearly 675 days aloft.
The unmanned orbiters are based on the same lifting body design used for the space shuttle and they fly a similar re-entry trajectory.
But the X-37B features more lightweight composite materials, improved wing insulation and tougher heat-shield tiles that "are significantly more durable than the first generation tiles used by the space shuttle," according to a Boeing website description. "All avionics on the X-37B are designed to automate all de-orbit and landing functions."
The X-37B is equipped with a scaled-down 4-foot-by-7-foot payload bay. But unlike the space shuttle, which relied on fuel cells for electrical power, the Air Force spaceplane is equipped with a deployable solar array that permits it to remain in orbit for long-duration missions.
But exactly what the X-37B does in orbit remains a mystery.
Thanks for reading CBS NEWS.
Create your free account or log in
for more features.