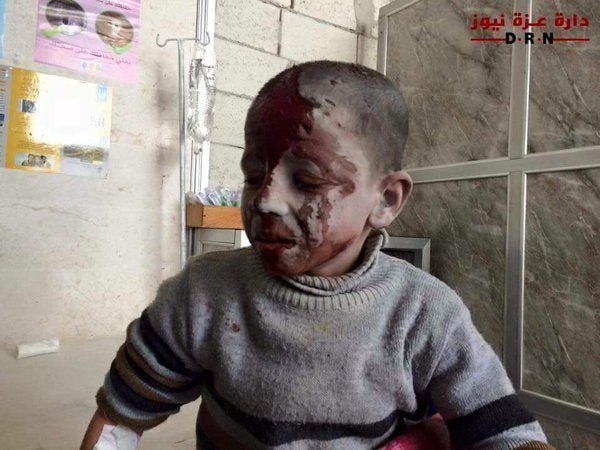 Russian airstrike allegedly hits class full of Syrian kids
Activists in Syria have posted graphic images of children allegedly wounded by a Russian airstrike in rebel-held territory near the sprawling, front-line city of Aleppo.
The Syrian Observatory for Human Rights, a U.K.-based monitoring group that relies on an extensive network of activists on the ground in Syria, said at least 12 children and one teacher were killed when a bomb dropped by a fighter jet destroyed a classroom in Ain Jara, about 9 miles west of Aleppo.
Photos posted on social media by Syrian activists showed children with serious injuries to their heads and bodies. There were also images of what appeared to be a classroom reduced to rubble. Bloodstains were visible among crumpled bench seats. A video, broadcast by an Arab network but seemingly shot by activists, showed several children being treated for injuries at a makeshift hospital.
The activists blamed the carnage on Russian warplanes, but CBS News could not immediately verify those claims, nor the authenticity of the images posted online.
Riad Hijab, the coordinator for the Western-backed Syrian opposition, said in Paris that three schools were hit in total near Ain Jara and that 35 children were killed in all, according to the Reuters news agency.
Hijab called the strikes in Ain Jara a "massacre" and ruled out any negotiations for peace with the Syrian government while there were still "foreign forces bombing the Syrian people."
Russian planes have hammered rebels and rebel-held areas since September in a clear effort to shore-up President Bashar Assad's beleaguered military, which had been losing ground to the opposition prior to Moscow's intervention.
Russia insists it chooses its targets carefully to avoid civilian casualties, but rescuers on the ground, human rights groups, and Western governments have all chastized Moscow for bombarding crowded public places in opposition territory since its campaign in Syria began.
The U.S. says Russia's strikes use far less precise weaponry than the missiles launched by the American-led coalition fighting against the Islamic State of Iraq and Syria (ISIS). Both sides, however, have been accused of killing civilians.
Thanks for reading CBS NEWS.
Create your free account or log in
for more features.