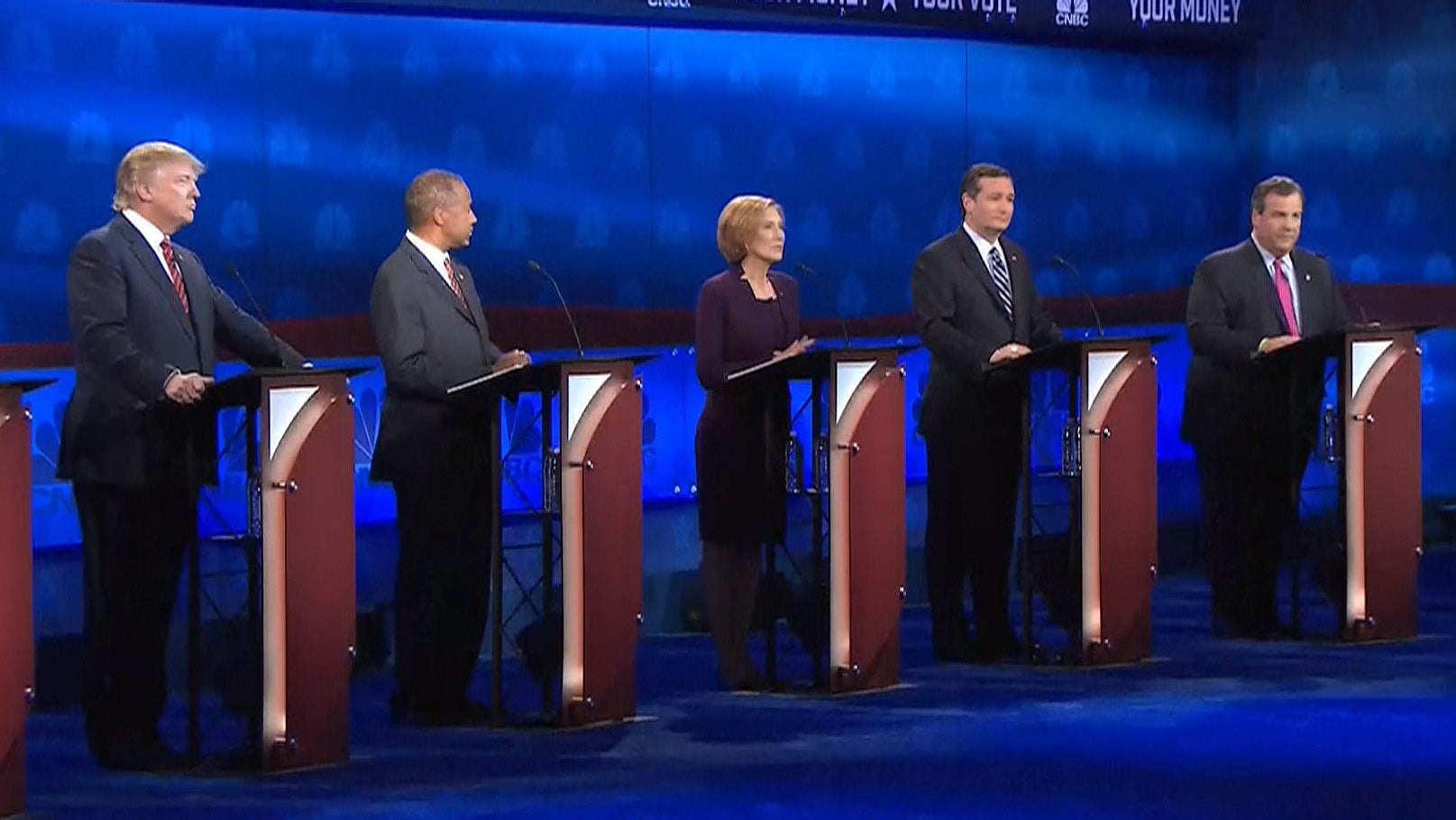 Top-tier GOP candidates face off on jobs, economy in third primary debate
10:10 p.m. The candidates gave their final remarks after CNBC's two-hour debate.
Rand Paul: The Kentucky senator summed his pitch for the presidency to say that he wants a "government so small I can barely see it."
Chris Christie: "Are you fed up with how Washington taxes you?" the New Jersey governor asked debate viewers. "Are you serious about this election? If you are, you need to elect someone who's deadly serious about changing this culture." Christie points to himself as a "deadly serious" candidate.
Ted Cruz brought up his fights in Congress over Obamacare, amnesty for illegal immigrants, and Planned Parenthood. He added that for him, "freedom is personal."
Carly Fiorina pitched herself as "Hillary Clinton's worst nightmare." To voters, she said, "In your heart of hearts, you cannot wait to see a debate between Hillary Clinton and Carly Fiorina."
Ben Carson spoke to people "waking up" in the United States -- "because it is going to be us who will determine the direction of the country."
Donald Trump bemoaned that "our country doesn't win anymore." He added that, like his negotiations with CNBC over limiting the length of their debate so everyone "can get the hell out of here" in two hours, he would also be a strong negotiator on behalf of America. ("Just for the record," a CNBC moderator interrupted, "the debate was always going to be two hours.")
Marco Rubio brought his personal upbringing into his closing statement. "America doesn't owe me anything," Rubio said. Instead, the reason he was running for president was because he felt he owed America.
Jeb Bush promises to "change the culture in Washington -- just as I changed the culture in Tallahassee" as Florida governor.
Mike Huckabee pledged that he would "get our country back on track" with his campaign for the White House.
John Kasich stressed the need to rebuild families and communities in order to bring America back from the bottom up. "The bottom up is us," the Ohio governor said. It's "in our families, in our communities, in our neighborhoods."
10:05 p.m. GOP contenders weigh in on reforming government programs like social security, Medicare, and Medicaid.
Trump promised that "we're going to cut costs. We're going to save social security. We're going to save Medicare."
Carly Fiorina proposed to go to zero-based budgeting for the federal government, which would force it to justify all spending and expenses made for each new fiscal period.
9:57 p.m. Chris Christie doesn't want the government involved in regulating activities like fantasy football leagues.
He became visibly frustrated when candidates were posed the question of whether daily fantasy sports should be considered gambling. Listing off threats like extremist terror groups ISIS and al-Qaeda, Christie said that the government should prioritize those concerns before anything else.
"Are we really talking about getting the government involved in fantasy football? We have -- wait a second -- we have 19 trillion dollars in debt, we have people out of work, we have ISIS and Al Qaeda attacking us, and we're talking about fantasy football. Can we stop?" Christie said. "Enough on fantasy football -- who cares!"
Responding to a question about what the U.S. can do on climate change, Christie said the answer is not to tax oil and gas companies.
Rather, the New Jersey governor touted what his own state did to promote alternative energy sources: "We worked with the private sector" on solar energy, Christie said.
9:48 p.m.Mike Huckabee defends Donald Trump as a "good man."
"I'm wearing a Trump tie tonight," the former Arkansas governor said to loud applause from the audience. "Get over that one."
Jeb and others chimed in to ask, "Was it made in Mexico?"
Trump snarked back that his rivals posed "a nasty question" but thanked Huckabee for the support regardless.
9:46 p.m. On the gun control debate, Trump said that "yes, I might feel more comfortable" if his employees carried guns to their workplace.
"I like to be unpredictable," Trump added. He pointed out that he has a concealed carry permit in the state of New York, which he said "is very unusual" in the state.
The real estate mogul also slammed gun-free zones, like the one at Oregon's Umpqua Community College, saying they're "target practice for the mentally ill, the sickos."
He added that he would change the policies on Trump properties that don't allow guns.
9:38 p.m. Ohio Gov. John Kasich, whose state will vote on ballot initiative that would legalize medical and recreational marijuana use, called drug use "one of the greatest scourges of this country."
Former Nixon aide Roger Stone went on Twitter to accuse Kasich of "hypocrisy":
A Kasich spokesperson told CBS News that Stone's charge was "totally B.S."
9:31 p.m. Former Arkansas Gov. Mike Huckabee compared the star of Wednesday's news cycle, a military blimp that broke loose from its tether in Maryland, to the federal government.
"If you saw that blimp that got cut loose in Maryland today, that's a perfect example of government," Huckabee said. "I mean what we had was something the government made, basically a bag of gas that cut loose, destroyed everything in its path, left thousands of people powerless. But they couldn't get rid of it because we had too much money invested in it, so we had to keep it. That is our government today.
9:30 p.m. Candidates promote their tax plans as good for the middle class.
Florida Sen. Marco Rubio said that his tax proposal is "the most pro-growth tax plan" of the GOP field, and that for the lower- and middle-income brackets, the "greatest gains percentage-wise will be at the lower end of our plan."
Kentucky Sen. Rand Paul proposes to get rid of the payroll tax, in addition to cutting income taxes, which he said would "spread the tax cut to all socio-economic" brackets.
9:24 p.m.Trump pushes back against CNBC moderators that say the businessman had criticized Facebook's Mark Zuckerberg for the tech entrepreneur's immigration proposals.
"I was not at all critical of" the Facebook co-founder, Trump said. Of high-skilled immigrants, he added that he was "all in favor of keeping these talented people here so they can go to work in Silicon Valley."
He added a critique of super PACs, which he called "a disaster" and "a scam."
"You better get rid of the super PACs because they're causing a big problem with this country," the business mogul said. "Not only with dishonesty and what's going on but also with a lot of bad decisions that are being made for the benefit of lobbyists and special interests."
Sen. Rubio hit Democrats over what he called the "ultimate super PAC" -- the mainstream media.
9:16 p.m. Ben Carson defends his history of serving on corporate boards, including Costco, a brand known to be "pro-gay."
Carson says that "the constitution protects everyone," despite his belief that "marriage is between one man and one woman."
"There's no reason that you can't be perfectly fair to the gay community," the Republican said.
He also pushed back against accusations that he had been a spokesperson for a controversial nutritional supplement company Mannatech.
"I didn't have an involvement with them," Carson said. "That is total propaganda. And This is what happens in our society. Total propaganda. I did a couple of speeches for them. I did speeches for other people. They were paid speeches. It is absolutely absurd to say I have any relationship with them."
9:08 p.m. When questioned on his own troubled personal finances, Florida Sen. Marco Rubio dismissed the concerns as a "litany of discredited attacks" from Democrats.
He added that he "didn't inherit any money" and knows for himself "how expensive it is to raise a family."
8:51 p.m. Chris Christie promises to save a trillion dollars with his entitlement reform platform over the next ten years. He adds that the government hasn't kept senior citizens informed about social security funds.
"The only way we're going to keep our promises to seniors," Christie said, was to "tell the truth."
8:48 p.m. Rand Paul defended his plans to filibuster the recently negotiated budget deal, saying budget negotiations "should be leveraged to try and reform government." He added that he doesn't believe that "there will be much change" in the House of Representatives, even with a new leader like Rep. Paul Ryan, R-Wisconsin.
8:45 p.m. Drawing loud applause, Texas Sen. Ted Cruz criticized CNBC moderators for the queries posed to the GOP candidates.
"The questions that have been asked so far in this debate, illustrate why the American public don't trust the media," Cruz said. "This is not a cage match, and you look at the questions: Donald Trump are you a comic book villain, Ben Carson can you do math, John Kasich can you insult two people over here, Marco Rubio why don't you resign, Jeb Bush why have your numbers fallen. How about the substantive issues people care about?"
8:40 p.m. Carly Fiorina defended her record at Hewlett-Packard, where she was fired after the company took a nose dive.
"I was recruited to HP to save a company," Fiorina said. "As an outsider, I cut the bureaucracy down to size... we saved 80,000 jobs... I had to make some tough calls in some tough times."
She mentioned that the board member who held her accountable and voted for her firing at the company, Tom Perkins, actually came out and endorsed her run for the presidency.
8:35 p.m. Sen. Marco Rubio was asked about a recent editorial from Florida newspaper, the Sun-Sentinel, calling for his resignation from his Senate seat. Rubio pointed to his voting record in the upper chamber saying that he's performed well at his job and that the Sun-Sentinel was guilty of liberal bias.
"This is another example of the double standard that exists in this country between the mainstream media and the conservative movement," Rubio said.
Former Florida Gov. Jeb Bush jumped in to criticize Rubio for leaving his Senate seat before his six-year commitment to Floridians was up.
"He got endorsed by the Sun Sentinel because he was the most talented guy in the field," Bush said. "He is a gifted politician. But Marco when you signed up for this, this was a 6 year term and you should be showing up to work."
Bush joked, "I mean literally the Senate, what is it like a French work week? You get like three days where you have to show up."
Rubio didn't seem willing to engage in a fight with his former mentor, saying instead, ""I'm not running against governor bush... I'm running for president."
8:27 p.m. When Ben Carson was pressed by CNBC moderators on his tax plan being unrealistic and would eventually put the U.S. economy into a trillion-dollar debt spiral, the retired neurosurgeon says that "when we put the facts down, you'll see that it's not true."
Kasich interrupted to say that tax plans like Carson's and Trump's "were a fantasy."
"These plans would put us in trillions and trillions of dollars in debt," the Ohio governor said. "We cannot elect somebody that does not know how to do the job."
In response, Trump attacked Kasich's own record, saying the governor "got lucky with a thing called fracking" in Ohio, referring to the state's booming energy industry. The billionaire also attacked Kasich's record as a banker for Lehman Brothers.
Texas Sen. Ted Cruz weighed in on the tax code debate and said he would institute a simple flat tax of ten percent, with a business flat tax of 16 percent.
Carly Fiorina added that in order to simplify the tax code, she would restrict its length to just three pages.
8:24 p.m. The first question was directed at Donald Trump: Does the billionaire businessman believe the race reads like a comic book?
Trump says that "it's not a very nicely asked question," going on to defend his plans on immigration and taxes.
8:17 p.m. Candidates were asked what their "biggest weakness" was:
Kasich: Going off on a tangent, the Ohio governor said his biggest "concern is that we are on the verge perhaps of picking someone who cannot do this job."
Huckabee: "I don't really have any weaknesses," but the former Arkansas governor says that he plays by the rules.
Bush: "I can't fake anger."
Rubio: Though he doesn't know it's a weakness, the Florida senator says that he has "a sense of optimism about America"
Trump: "I trust people too much" and that he never forgives those who let him down
Carson: When it comes to being president of the United States, Carson says his biggest weakness is "not really seeing myself in that position until hundreds of thousands of people tell me to do it."
Fiorina: "I was told after the last debate that I didn't smile enough," the former tech executive said. She held her grin for a few more seconds.
Cruz: "I'm too agreeable," Cruz said sarcastically. But in fact, he says that his weakness is that he's "a fighter"
Christie: He doesn't see much weakness on the GOP stage, but he pointed to the several "pessimist, socialist, and isolationist" on the Democratic stage
Paul: "Enough's enough, no more debt."
8:11 p.m. The top 10 candidates in the polls took the stage Wednesday night in Boulder, Colorado in their attempt to become the 2016 GOP nominee. They are: businessman Donald Trump (with a national polling average of 26.8 percent, according to RealClearPolitics), retired neurosurgeon Ben Carson, former Florida Gov. Jeb Bush, former Arkansas Gov. Mike Huckabee, Texas Sen. Ted Cruz, Florida Sen. Marco Rubio, Kentucky Sen. Rand Paul, New Jersey Gov. Chris Christie, former tech executive Carly Fiorina, and Ohio Gov. John Kasich. Read about how the candidates have been preparing for the debate here.
CNBC moderators John Harwood, Rebecca Quick, and Carl Quintanilla are expected to question the candidates about the economy, jobs, and the recently negotiated budget deal.
Thanks for reading CBS NEWS.
Create your free account or log in
for more features.