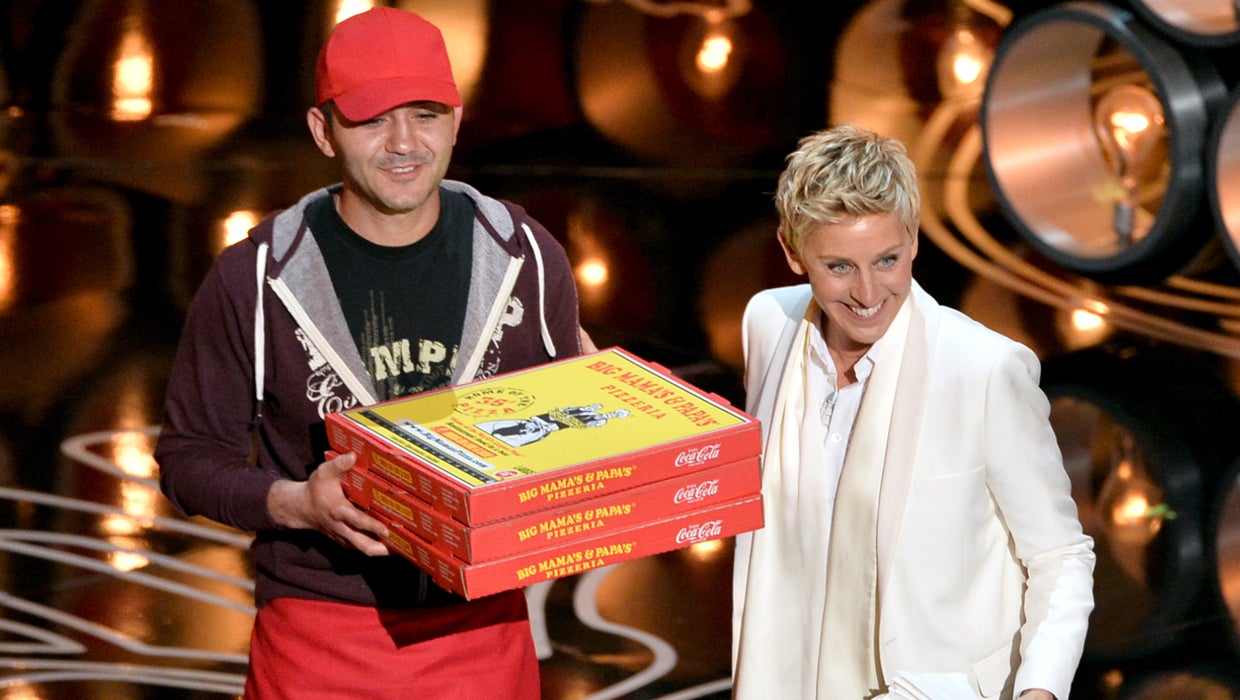 Top 5 social moments of the 2014 Oscars
The 2014 Oscars ceremony wasn't short of memorable moments. The best-picture race alone had some viewers on the edge of their seats until the very end.
Plenty of performers hit the stage, and host Ellen DeGeneres even had pizza pies delivered straight to the stars. And of course, there's the now-famous selfie that has everyone buzzing.
Check out the top five social moments of the 86th Academy Awards, according to Facebook:
1. "12 Years a Slave" Wins Best Picture
Steve McQueen's "12 Years a Slave" ended up snagging the night's coveted prize: best picture. Brad Pitt, one of the stars in the film, took the mic first, telling the audience, "Thank you all. Thank you for this incredible honor you bestowed on our film tonight." He added, "I know I speak for everyone standing behind me that it has been an absolute privilege to work on Solomon's story. And we all get to stand up here tonight because of one man who brought us all together to tell that story. And that is the indomitable Mr. Steve McQueen."
McQueen relied on notes for his portion of the acceptance speech. "Oh wow. I'm sorry, I apologize for the paper but otherwise I'll just bore you all. Well, maybe I'll do the same now but I'll try not to. I'd first like to thank the Academy. Thank you so much. There are a lot of people for me to thank so I'll just push on," he said before rattling off a list of people to thank.
2. Jared Leto Wins Best Supporting Actor and Thanks His Mom
It wasn't too surprising to hear Jared Leto's name called in the supporting actor category for his role as a transgender AIDS patient in "Dallas Buyer's Club." The Thirty Seconds to Mars frontman has been swooping up honors all awards season long.
He thanked his family, including his mother, saying, "In 1971, Bossier City, Louisiana, there was a teenage girl who was pregnant with her second child. She was a high school dropout and a single mom, but somehow she managed to make a better life for herself and her children. She encouraged her kids to be creative, to work hard and to do something special. That girl is my mother and she's here tonight. And I just want to say, I love you, Mom."
Leto, 42, later added, "We're thinking of you tonight...And this for the 36 million people who have lost the battle to AIDS and to those of you out there who have ever felt injustice because of who you are or who you love, tonight I stand here in front of the world with you and for you."
3. Matthew McConaughey Wins Best Actor
Leto's "Dallas Buyers Club" co-star Matthew McConaughey took home his first-ever Oscar for his stirring role as Ron Woodroof for which he lost 40 pounds.
"There's a few things, about three things to my account that I need each day," he said onstage. One of them is something to look up to, another is something to look forward to, and another is someone to chase. Now, first off, I want to thank God. 'Cause that's who I look up to."
He then gave a shout-out to his family ("who and what I look forward to"), including his wife and kids, along with his dad: "To my father who, I know he's up there right now with a big pot of gumbo. He's got a lemon meringue pie over there. He's probably in his underwear. And he's got a cold can of Miller Lite and he's dancing right now."
Lastly, the 44-year-old actor spoke about his hero, whom he says he still chases: "Now when I was 15 years old, I had a very important person in my life come to me and say 'who's your hero?' And I said, 'I don't know, I gotta think about that. Give me a couple of weeks." I come back two weeks later, this person comes up and says "who's your hero?' I said, "I thought about it. You know who it is? It's me in 10 years.' So I turned 25. Ten years later, that same person comes to me and says, 'So, are you a hero?" And I was like, 'not even close. No, no, no.' She said, 'Why?' I said, 'Because my hero's me at 35.' So you see every day, every week, every month and every year of my life, my hero's always 10 years away. I'm never gonna be my hero. I'm not gonna attain that. I know I'm not, and that's just fine with me because that keeps me with somebody to keep on chasing."
4. Bette Midler Sings "Wind Beneath My Wings"
Bette Midler gave a moving performance of her hit song "Wind Beneath My Wings" as part of the evening's in memoriam segment. She took the stage after the academy paid tribute to the stars Hollywood lost over the past year, including James Gandolfini, Philip Seymour Hoffman, Peter O'Toole, Paul Walker and Shirley Temple.
"Wind Beneath My Wings" appeared on the soundtrack to the 1990 film "Beaches" and won Grammys for record of the year and song of the year.
It marked the first time Midler had ever performed at the Oscars.
5. Pizza at the Oscars
Host Ellen DeGeneres had some funny bits throughout the night, but probably one of her best moments involved a pizza delivery. And last night proved, even celebrities get excited about impromptu pizza.
Earlier in the night, DeGeneres mentioned how she would be getting some pizza delivered -- and it turns out a little while later, a pizza delivery guy arrived with several pies from Los Angeles-based Big Mama's & Papa's Pizzeria.
"Guess what?" DeGeneres said. "Pizza's here." "Is it hot?" she asked the delivery guy.
DeGeneres and the deliveryman then headed into the crowd to hand out a slices to some A-list audience members, including "12 Years a Slave" star Chiwetel Ejiofor, Brad Pitt and Angelina Jolie. Jared Leto was also spotted grabbing a slice.
DeGeneres then tried to solicit money from the crowd (using Pharrell Williams' hat for the collection) to pay the pizza man. Pitt and Ejiofor each tossed in $20 bucks, and Lupita Nyong'o gave up her lip balm. That's probably worth a little something now that she's an Oscar winner.
Thanks for reading CBS NEWS.
Create your free account or log in
for more features.