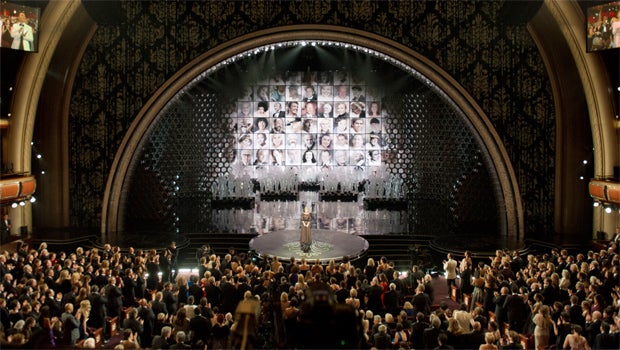 Oscars 2014: In memoriam tribute honors Hoffman, skips Monteith
Actors Corey Monteith, Dennis Farina, Jonathan Winters and Lee Thompson Young; innovative New Wave director Alain Resnais ("Last Year at Marienbad"); and Richard Sarafian, director of the cult film "Vanishing Point," were among those missing from the Academy Awards' In Memoriam segment of Sunday's ceremony, honoring industry luminaries who have passed away during the previous year.

This year's In Memoriam, which was introduced by Glenn Close and featured a performance by Bette Midler of the song "Wind Beneath My Wings," comprised 47 names, including James Gandolfini, Philip Seymour Hoffman, Peter O'Toole, Paul Walker and Shirley Temple. [For a complete listing see below.]
The segment ended with an on-screen banner memorializing Sarah Jones, a crewmember who was recently killed in a train accident during pre-production of the film "Midnight Rider." Jones was the subject on an online petition and social media campaign to have her included in this year's In Memoriam segment.
For the dozens of actors, directors, craftspeople and industry executives who had died since last year's awards ceremony who were not mentioned during the broadcast, the Academy directed viewers to an online gallery of more than 100 people at oscar.com. The Academy also maintains a Memorial page for its members at its website, oscars.org.

Among those not mentioned on air: directors Bryan Forbes ("Seance on a Wet Afternoon," "The Stepford Wives"), Antonia Bird ("Ravenous"), and Juan Jose Bigas Luna ("Jamon, Jamon"); producers Harvey Bernhard ("The Omen") and James Jacks ("The Mummy"); screenwriters Mike Gray (an Oscar-nominee for "The China Syndrome") and Vincenzo Cerami (Oscar-nominee for "Life is Beautiful"); and author Tom Clancy (whose numerous bestselling novels inspired numerous blockbuster movies).
Also: editors William T. Cartwright ("Four Days in November") and two-time Oscar-nominee Frank E. Morriss ("Romancing the Stone," "Blue Thunder"); costume designer Ha Nguyen ("The Mask"); publicists Julian Myers and Eddie Michaels, and animators Michael Sporn (an Oscar-winner for "Doctor DeSoto") and John David Wilson ("Gerald McBoing Boing").
Also: actors Milo O'Shea, Jean Stapleton, Ralph Waite, Michael Ansara, Roger Hill, Russell Johnson, Dale Robertson, Eric Lawson, Maxine Stuart, Alicia Rhett, and Ruth Duccini (one of the last surviving "Wizard of Oz" Munchkins).
In Memoriam
Brian Ackland-Snow -- Art Director (Oscar-winner, A Room With a View")
Frederic Back -- Animator
Karen Black -- Actress, "Five Easy Pieces" (Oscar nomination), "The Day of the Locust," "Nashville"
Les Blank -- Documentary filmmaker ("Burden of Dreams")
Eileen Brennan -- Actress, "The Last Picture Show," "The Sting," "Private Benjamin" (Oscar nomination)
Sid Caesar -- Comedian/Actor, "It's a Mad, Mad, Mad, Mad World," "Silent Movie"
Charles L. Campbell -- Sound Editor, three-time Oscar winner ("E.T.: The Extra-Terrestrial," "Back to the Future," "Who Framed Roger Rabbit")
Eduardo Coutinho - Documentary filmmakers
Ray Dolby -- Sound engineer, developer of innovative stereophonic sound systems for theatrical production and exhibition
Deanna Durbin -- Actress-singer, "One Hundred Men and a Girl," "First Love, "Spring Parade"
Roger Ebert -- Pulitzer Prize-winning film critic, author and blogger
Joan Fontaine -- Academy Award-winning actress, "Suspicion"; also, "Rebecca," "Letter From an Unknown Woman," "Ivanhoe"
Stuart Freeborn -- Makeup Artist, "2001: A Space Odyssey," "Star Wars"
Annette Funicello -- Actress, "Babes in Toyland," "Muscle Beach Party"
James Gandolfini -- Actor, "The Man Who Wasn't There," "In the Loop," "Enough Said"
Richard Griffiths -- Actor, the Harry Potter series, "Withnail and I," "Hugo"
Gerry Hambling - Film Editor, six-time Oscar nominee ("Midnight Express," "Fame," "Mississippi Burning," "The Commitments," "In the Name of the Father," "Evita")
Julie Harris -- Actress, "East of Eden," "The Member of the Wedding" (Oscar nomination)
Ray Harryhausen -- Special effects master, "Jason and the Argonauts" and "The 7th Voyage of Sinbad"; special Oscar recipient in 1991
Philip Seymour Hoffman -- Actor, "Caopte" (Oscar winner), "Doubt," "Charlie Wilson's War," "The Master"
Ruth Prawer Jhabvala -- Screenwriter, Oscar-winner for "A Room With a View," "Howards End"
Fay Kanin -- Screenwriter, "Teacher's Pet" (Oscar nomination), "The Outrage"
Jim Kelly -- Actor, "Enter the Dragon"
Stefan Kudelski - Sound engineer
Tom Laughlin -- Actor, writer, director, the "Billy Jack" series
Elmore Leonard -- Author, screenwriter, "The Moonshine War," "52 Pick-Up"
A.C. Lyles -- Producer
Richard Matheson -- Author, screenwriter, "House of Usher," "Burn Witch Burn," "The Last Man on Earth"
Stephenie McMillan -- Set Decorator, "The English Patient" (Oscar winner), four nominations for the Harry Potter series
Juanita Moore -- Actress, "Imitation of Life" (Oscar nominee)
Mickey Moore -- Assistant Director, "Raiders of the Lost Ark"
Hal Needham -- Stunt man, director, "Smokey and the Bandit"; Governors Award recipient in 2012
Riz Ortolani -- Composer, two-time Oscar nominee for Best Song (from "Mondo Cane" and "Madron")
Peter O'Toole --Actor, eight-time Oscar nominee (including "Lawrence of Arabia," "The Lion in Winter" and "My Favorite Year"); Honorary Oscar recipient in 2003
Eleanor Parker -- Actress, three-time Oscar nominee ("Caged," "Detective Story," "Interrupted Melody")
Harold Ramis -- Actor, writer and director whose credits include "National Lampoon's Animal House," "Ghostbusters," "Caddyshack," "Groundhog Day"
Maximilian Schell -- Actor (Best Actor winner, "Judgment at Nuremberg"; nominee, "The Man in the Glass Booth"); director (Oscar-nominated documentary "Marlene")
Sir Run Run Shaw -- Producer, "Blade Runner"
Richard Shepherd -- Producer, "Breakfast at Tiffany's"
Tom Sherak -- Producer, former president of the Academy of Motion Pictures Arts & Sciences
Gilbert Taylor -- Cinematographer, "Star Wars"
Shirley Temple -- Actress, singer, "Little Miss Marker," "The Littlest Rebel," "Bright Eyes"
Petro Vlahos -- Six-time winner of technical achievement awards
Paul Walker - Actor, the "Fast & the Furious" series
Esther Williams -- Actress, swimmer, "Neptune's Daughter,' "Million Dollar Mermaid"
Saul Zaentz -- Producer, three-time Best Picture Oscar-winner ("One Flew Over the Cuckoo's Nest," "Amadeus," "The English Patient")
Carmen Zapata -- Actress, "Sister Act"
Thanks for reading CBS NEWS.
Create your free account or log in
for more features.