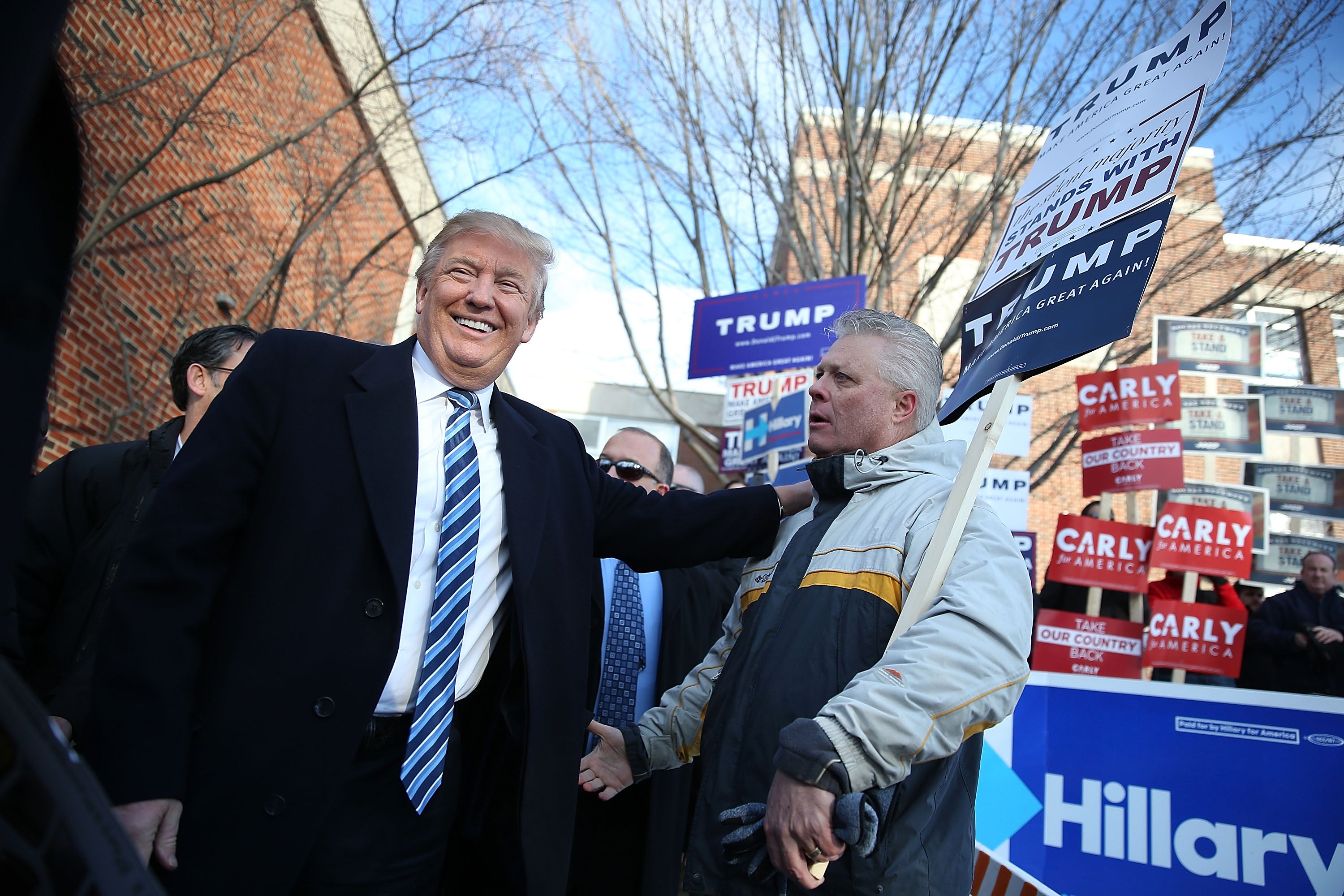 On a street in Ohio, defiant Democrats flock to Trump
STRUTHERS, OHIO — On a recent Saturday, standing in her driveway, Halle Minchin Skook could not fathom why her neighbor was pissing on Youngstown's Democratic tradition and voting for Donald Trump this election cycle.
"He literally pees out his window," Skook said, gesturing toward the house next door on Como Street, occupied by a Trump backer.
The 26-year-old special education teacher at Struthers Middle School didn't even want to mow the strip of grass between her home and that of her neighbor.
"The stench of urine on the grass is awful," her mother piped in.
Standing in the driveway outside her hunter green wood paneled childhood home where she still lived, Skook was scornful of the following that Trump has developed in Struthers, a traditionally Democratic stronghold in the heart of working class Mahoning County, along the eastern flank of Ohio.
"I don't understand how any educated person who watches all of the political things on TV can vote for him," Skook complained. "He's getting nuclear launch codes if he gets elected. He would just blow up somewhere. I just don't see him being a good leader."
In case it wasn't already clear, Skook is voting for Hillary Clinton.
But here on Como Street in Struthers, where CBS News spent a recent weekend knocking on every door on the block, Skook was in the minority. All around her, the community was ditching their Democratic roots and flocking to Trump.
Paul Sracic, who has lived in the area for years and is chair of the department of politics and international relations at Youngstown University, described Trump's "blue-collar billionaire" identity as the perfect cocktail to attract onetime Democrats here.
"They know he's not really a Republican, and that Mitt Romney hates him, so that helps," Psaric said of the voters in his community. "So instead it's like, 'I'm not becoming a country club Republican, I'm a part of Trump's party.'"
The story of these defections goes back to March when over 6,171 registered Democrats voted in the GOP primary that was a showdown between Trump and Ohio Gov. John Kasich. Even the Democratic mayor of Struthers was caught with a Trump For President sign in his front yard.
But the Democrats here have not come back home. Instead, many of them are still looking to Trump.
"I've been a lifelong union guy, a working guy," said Jeff Kulow, a 25-year member of the Teamsters who recently retired. "Can you imagine people like me going to Trump or going Republican?"
Kulow said President Obama, a politician "against everything I believe in," has been the tipping point. He blamed a $650 increase in his health care premiums directly on the Affordable Care Act​.
"They just don't get it anymore with us," Kulow said of the Democratic Party. "Maybe in an upscale area or downscale, maybe they'll resonate. But around here — all working class and middle class, everyone has left the Democratic party. I can't see myself ever going back."
Struthers was once known as the "cradle of steel west of the Alleghenies." But the industry has struggled in a technology-driven economy: Since January 2015, Ohio has lost nearly 1,500 steel jobs, most of them here in northeastern Ohio.
Despite positive national indicators, perceptions of economic stagnation have damaged Obama's reputation here - and it's been a drag on Clinton.
Citing issues of the Democrat's trustworthiness​ – most voters here called her "a liar" — and Trump's blunt promises to disrupt Washington, the voters of Struthers are the kind of disaffected Democrats who threaten to block Clinton's path in a state where Obama narrowly beat Mitt Romney in 2012.
Obama won the state by just 103,481 in the last election, but he won Mahoning County handily, with a nearly a 2-1 margin over Romney – a crucial pad in a tight race. But the trends this year suggest Clinton might not have the same cushion here: In the Ohio primaries last March, 21,468 votes were cast for Clinton in Mahoning, but 17,394 votes were cast for Trump.
The Mahoning Valley is also where the disgraced and imprisoned former Democratic Congressman Jim Traficant​ – an iconoclastic Trump-esque Democrat who had strong appeal to working class constituents -- once won 30,556 votes from his prison cell.
Democrats dispute suggestions that the area will go for Trump.
"If Traficant was still alive, he would never tell people in this Valley to vote for someone who manufactured goods outside of this country," said David Betras, the chair of the Mahoning County Democratic Party, told CBS News.
Democrats say that even if there is a significant migration of votes to Trump, it will not have much impact in a state where Democrats rely on big turnout in more populous areas, like Cleveland and Columbus. Still, it's not just Mahoning – Trump has also charmed former Democrats in surrounding blue-collar counties where Obama won in 2012.
"Of course his rhetoric is trying to appeal to voters in my district, but his actions have never aligned with the people in my district and that's why I'm fighting so hard to make sure they know that," Rep. Tim Ryan, a popular Democrat who represents Mahoning Valley, told CBS News. "Our building and construction and trade folks, plumbers, pipe fitters, cement masons, our small business people that we have in our community -- their counterparts in Atlantic City got their eyes screwed out by Donald Trump."
Despite Trump's ominous descriptions of depressed, hollowed-out cities across the so-called "Rust Belt," Struthers is far from a post-industrial wasteland. The town, a 10-minute drive from downtown Youngstown, resembles any quaint street in America.
Screen doors were left ajar, with football on television, music tinkling out of an ice cream truck and echoes of children shrieking across well-manicured backyards.
On Como Street, some voters were too bashful to discuss their support for Trump, a candidate they knew was widely reviled -- despite offering cinnamon hard candies or a glass of water to a reporter in their neighborhood.
For others, as in most places around the state, a Sunday in September was not an ideal time to talk politics: one couple was busy replacing a broken toilet, while a man in a Pittsburgh Steelers jersey was busy playing corn hole with friends and watching football.
Most voters on this street, though, welcomed the opportunity to share their strongly held opinions on the election.
"I would be an old Democrat, maybe a new Republican," said Carmen Larubbio, a 50-year-old registered Democrat turned Trump supporter. "We'll see what the new Republicans are like."
Some held the belief that Trump was a madman -- but that did not necessarily mean they were planning to vote for Clinton. Several had withdrawn from an election altogether, describing it as a "circus."
For the voters Trump had won over, their support for him had less to do with policy and more with a disdain of the status quo and a cultural connection he has established despite his millionaire Manhattan pedigree.
"There is just a cultural divide and Hillary Clinton hasn't found a way to talk to people in this kind of situation," said Ned Hill, an economist at Ohio State University.
In Struthers, 82-year-old James Burrell fit the profile of a registered Democrat: an affable Army veteran-turned-steelworker-turned-truck driver, he is a lifelong Teamster. Yet when he chatted with CBS News on his front porch, he excitedly waxed about the wonders of Trump.
"He's my main man," Burrell said before flashing a thumbs up. "He's gonna get the right people around him. He's gonna get the right generals. He's an intelligent man. Sometimes he gets bent out of shape but you know he'll come through."
With a chuckle, Burrell listed the ways the Democratic Party had failed him. He was paying more for his medications than ever before and every factory he had ever worked in had closed, forcing him into truck driving, a job he never liked.
"It takes you backwards when you lose your good paying jobs," Burrell added, before heading into his house to switch on his neon blue "Jesus Loves You" sign in bedroom window.
"I definitely think Trump will bring back jobs," he said with a smack of the lips.
Terry Lynn Stephenson, a retired 61-year-old registered Democrat who voted for Obama, said she had pondered the ways Clinton could change her mind about her: better explain the Benghazi attacks and her email controversy. Until then, Stephenson said wasn't planning on voting in November.
"I don't believe in either of the candidates," she said, swaying on her porchfront rocking chair after waking up from a nap. "I'm disappointed that it's turned into a circus. It's just not representing what our government needs to improve the nation."
Just the day before, Stephenson received a letter in the mail from the Trump campaign asking her for money; the nerve of a billionaire candidate asking HER for a check, she thought. Naturally, she picked up the phone to call her daughter who lived across town to vent. That's when she learned the news: her own daughter — a professional, college educated nurse — was voting for a man who made her "uncomfortable."
"The whys are so hard to come out of you: the reason is just…I'm uncomfortable with him," Stephenson said. "It's a hard spot where I'm at, where I can't vote. I always vote. It's not easy to try to find sense in it."
Thanks for reading CBS NEWS.
Create your free account or log in
for more features.