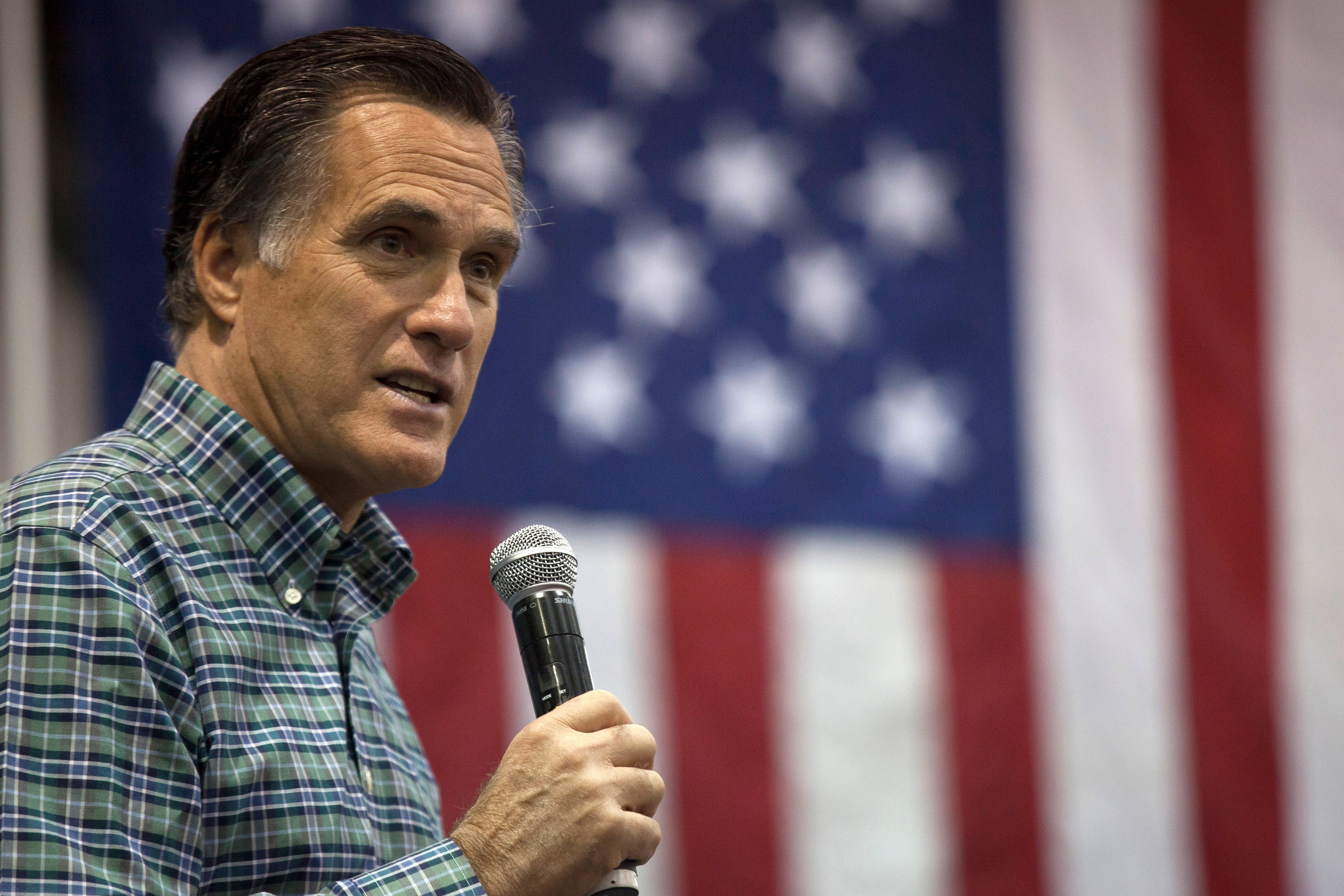 Mitt Romney: No Donald Trump, no Hillary Clinton, no independent bid
Mitt Romney didn't back down from his opposition to presumptive GOP nominee Donald Trump on Wednesday, telling "Face the Nation" moderator John Dickerson that he still can't see himself voting for Trump or the presumptive Democratic nominee, Hillary Clinton.
"I'd love to see someone run who I could vote for or feel good about," Romney said during an interview at the Aspen Ideas Festival. "For me, it's a matter of personal conscience, and I can't vote for either one of those two people."
Romney, the 2012 GOP nominee, declared before Trump secured the nomination in May that he couldn't vote for the controversial businessman, criticizing Trump's business background and his character.
Senate Republican Leader Mitch McConnell suggested this week that Trump could alleviate some concerns about his campaign if he used teleprompters and prepared speeches more often. When Romney was asked whether he agreed, he replied with a quick "no."
"It might help electorally. It might get more people to say, 'I'm going to sign on,'" Romney explained. "I think Mr. Trump has demonstrated who he is by virtue of what he said in the process to this point... what he says from this point forward may paper over that."
Romney said the most important trait in a presidential candidate is "character," and "on the basis of temperament and character... I simply can't vote for him."
"Our nominee is saying, 'Hey look it's these people here. It's these Mexicans coming across the border... it's them, and it's Muslims," Romney said. "And unfortunately, I'm afraid that the things Mr. Trump has said have been unfortunately branding of our party in a negative way."
There is some polling evidence to back up Romney's fear: According to a CBS News Battleground Tracker poll released Sunday, only 9 percent of voters in Wisconsin, a swing state, said Trump's campaign made them think better of the Republican Party. Another 59 percent said it made them think worse.
On Clinton, Romney declared, "I disagree with her on so many things I can't possibly vote for her," but he seemed to cast his opposition in less dramatic terms than he did with Trump. He said she's "not an ideal person to be president" and paraphrased conservative writer P.J. O'Rourke's joke: "Hillary Clinton is wrong on every issue, but she's wrong within the normal parameters."
Romney did have kind words for at least half of the Libertarian ticket, though. He said he's not very familiar with Libertarian presidential nominee Gary Johnson, a former GOP governor of New Mexico, and he's not endorsing the Libertarians "at this point." But he praised Libertarian vice presidential nominee Bill Weld as a "great" former governor of Massachusetts, saying he wished Weld and Johnson could switch places on the ticket.
Trump's dominant performance in the GOP primary surprised almost everyone, observers and political players alike, and Romney was no exception -- he admitted Wednesday that Trump's rise was a "total complete surprise."
"I didn't think he'd run in the first place because I assumed he'd never put out his tax returns. So I got half of that," Romney said. Trump has broken with the decades of bipartisan tradition and refused to release his tax returns, claiming he can't do so as long as he's under audit by the IRS.
After Trump decided to run, Romney said he thought the billionaire's campaign would be "swept aside easily." But Trump was "far more effective... than I'd expected," Romney added. He said certain circumstances worked in Trump's favor, like the large primary field, the sniping Trump's opponents directed at each other rather than the front-runner, and the gobs of media exposure Trump received.
All in all? "A very successful nomination process, and one I would not like to see repeated," Romney said.
The former GOP nominee admitted he still receives entreaties to run as an independent in 2016. "My wife and kids wanted me to run again this time, interestingly enough," he said. "I got an email from one of my sons yesterday saying, 'You've gotta get in, Dad. You've gotta get in."
Romney said that option remains off the table. "You can think about things like that from time to time," he allowed. But he added, "I don't think the independent candidate can win."
"That door is closed unless both candidates come to me and ask me to please save them," he joked.
Romney blamed his party's woes, in part, on a primary process that forces candidates to court conservative, most white activists, making it more difficult to eventually tailor their message for a broader general election audience.
"Millennials, minorities, women -- until we can connect with those populations, we're going to have some difficulty electorally," Romney said. "To win the nomination, you speak to people who vote in Republican primaries. And they tend not to be millennials or minorities... When I win the nomination and show up at a black church, they say, 'Where have you been Mr. Romney?'"
Looking forward, Romney predicted the Republican Party will be able to sustain any damage caused by Trump: "I don't think the party is forever changed. I think the party goes on." He said he'd work this fall to elect Republicans in statewide and congressional races who share his vision.
Still, Romney suggested leaders and insiders can only exert so much influence. It was the voters, not the "toothless" party committees, who selected Trump as the GOP nominee, he pointed out. And it's the voters who will ultimately bear responsibility for righting the ship, he added, offering a dark warning about what might come to pass if 2016 becomes a new normal.
"Every democracy commits suicide," Romney said, invoking John Adams. "There never was a democracy yet where the people didn't vote themselves into oblivion."
Thanks for reading CBS NEWS.
Create your free account or log in
for more features.