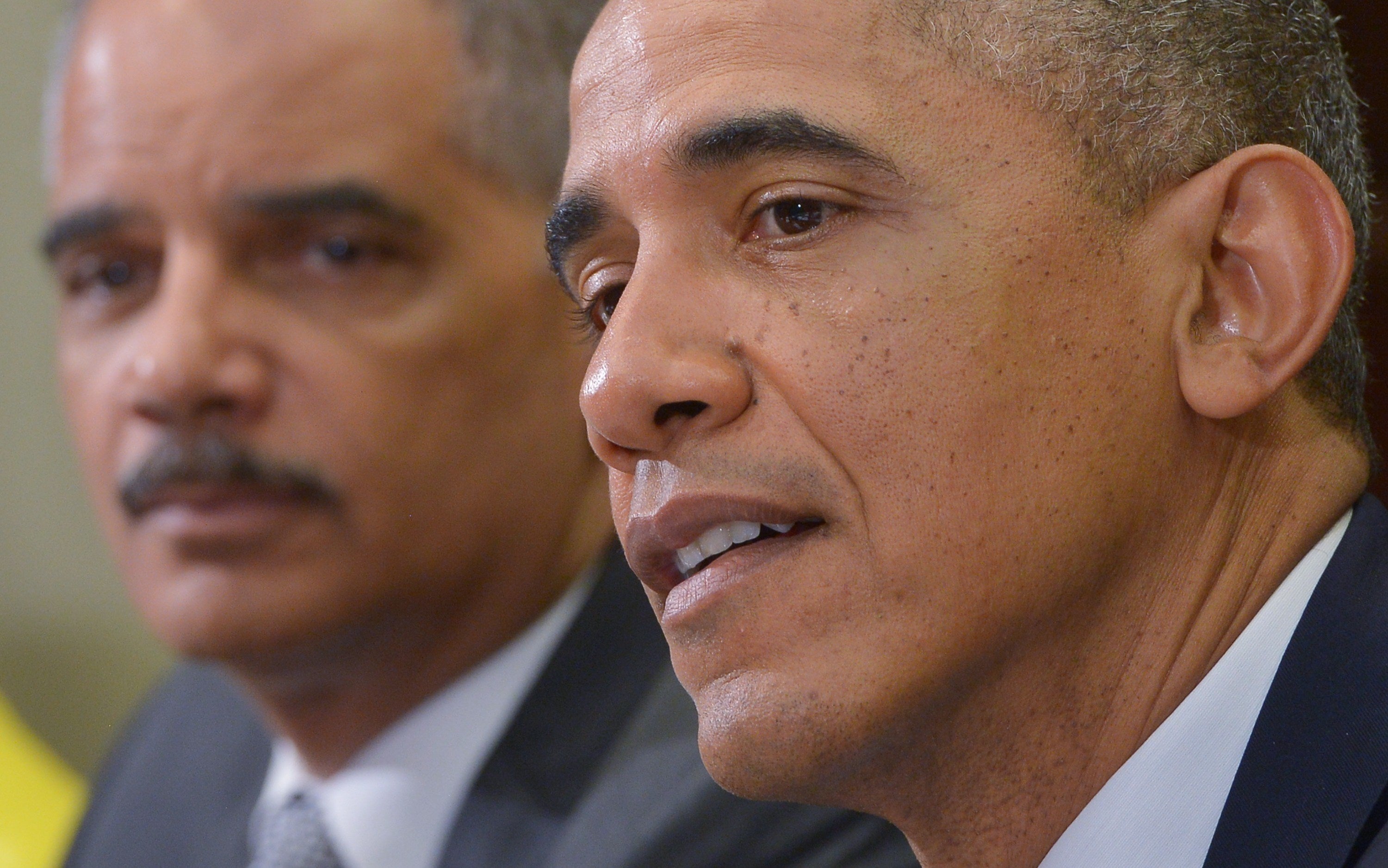 Obama dispatches Eric Holder to Ferguson in wake of shooting
Attorney General Eric Holder will travel to Ferguson, Mo., Wednesday, President Obama announced Monday, making him the first high-level U.S. official to visit the St. Louis suburb after more than a week of public outrage at the death of unarmed teenager Michael Brown.
Holder will meet with FBI agents and Justice Department personnel conducting the federal criminal investigation into the shooting, as well as other community leaders "whose support is so critical to bringing about peace and calm in Ferguson," the president told reporters.
Mr. Obama returned from his vacation in Martha's Vineyard Sunday night for two days of meetings in Washington. On Monday, he received an update on the latest developments in Ferguson from Holder as well as a briefing from his national security team on Iraq.
Over the weekend, Holder ordered the Justice Department -- which is looking into possible civil rights violations in the case -- to arrange for an additional autopsy on Brown's body to be performed by a federal medical examiner.
The clashes between police and protesters in the St. Louis suburb have continued for more than a week as authorities have struggled to find a response that does not provoke more anger. Mr. Obama urged people to "seek some understanding rather than simply holler at each other."
"We have all seen images of protesters and law enforcement in the streets. It's clear that the vast majority of people are peacefully protesting. What's also clear is that a small minority of individuals are not," he said.
"While I understand the passions and the anger that arise over the death of Michael Brown, giving into that anger by looting or carrying guns and even attacking the police only serves to raise tensions and stir chaos. It undermines rather than advancing justice."
"Let me also be clear that our constitutional rights to speak freely, to assemble and to report in the press must be vigilantly safeguarded especially in moments like these. There is no excuse for excessive force by police, or any action that denies people the right to protest peacefully," he added.
Over the weekend, Gov. Jay Nixon, D-Missouri, tried nightly curfews to convince people to leave the streets, with limited success. He announced Monday that the curfew would be lifted but that there would be a ban on static assembly. He also called up the state's National Guard.
"Those are real emotions. People need to grieve and they need to speak, but we also need to keep the rule of law and peace, and I think we need to balance all three of those," Nixon said in an interview on CBS' "Face the Nation" Sunday.
During his press conference Monday, Mr. Obama declined to reflect on the specifics of the Ferguson case because of the ongoing Justice Department investigation but did reflect broadly on the issues that young black men can sometimes face.
"In too many communities around the country, a gulf of mistrust exists between local residents and law enforcement. In too many communities too many young men of color are left behind and seen only as objects of fear," the president said, noting that young African American and Hispanic boys often have much higher rates of school suspension, frequent interactions with the criminal justice system and even different treatment during trials and sentencing.
He talked about how initiatives like the White House's "My Brother's Keeper," which looks at the best public and private efforts to connect young men with mentoring networks and to help them cultivate skills to get ahead, can help get young men on a better track.
"There are young black men that commit crime and we can argue about why that happens...but if they commit a crime then they need to be prosecuted because every community has an interest in public safety," Mr. Obama said. "What is also true is that given the history of this country where we can make progress in building up more confidence, more trust, in making sure that our criminal justice system is acutely aware of the possibilities of disparity in treatment, there are safeguards in place to avoid those disparities, where training and assistance is provided to local law enforcement who may just need more information in order to avoid potential disparity, all those things can make a difference."
The president also addressed the situation in Iraq during the news conference and announced that Iraqi and Kurdish forces, with the help of the U.S., had taken a major step forward in retaking the Mosul dam which had been captured by the Islamic State of Iraq and Syria (ISIS).
Thanks for reading CBS NEWS.
Create your free account or log in
for more features.