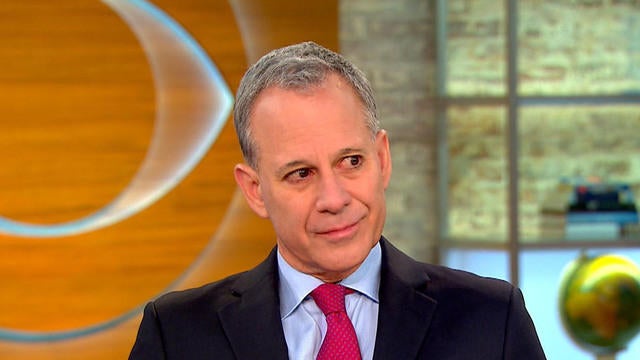 NY AG Eric Schneiderman: Trump Foundation inquiry not "political"
New York Attorney General Eric Schneiderman, a Hillary Clinton supporter, on Wednesday said that his investigation into the Trump Foundation isn't "political," and he's looking into whether the organization followed state rules.
"This is not political," Schneiderman said in an interview with "CBS This Morning." "I regulate the nonprofits in New York state. I have a charities bureau [that looks] at every nonprofit that does business in New York state to see if they are following the rules."
Schneiderman said his office began communicating with the Trump Foundation in June.
"There were allegations that they had made contributions to political committees which is illegal, there had been allegations that they made contributions to charities that now say they've never received the money," he said.
Schneiderman was then asked if he could appreciate the optics. In response the New York attorney general drew a comparison to a policeman. "If I'm a traffic cop, but I'm a Democrat, if he speeds by men, I have to give him a ticket," Schneiderman said.
"Charities have to follow the rules. You can't say I gave the money to a charity and not give the money to a charity and report it on the forms you file with my office. You can't give money to a political campaign from a charity. I'm just following the rules as I do with any other charity," he continued. "This is just me doing my job."
Schneiderman explained that the initial line of inquiry involved the breaking of tax laws by his foundation when it made a $25,000 political contribution to Florida Attorney General Pam Bondi. The Washington Post recently reported that the Trump might have also violated IRS rules by spending his nonprofit's money to buy a $20,000 portrait of himself and a $12,000 autographed football helmet.
Asked if those purchases are illegal, Schneiderman said, "It might be. In certain circumstances there self-dealing regulations." He added that the IRS might be conducting its own inquiry.
Asked if he has also scrutinized the Clinton Foundation, he said, "Absolutely." But the difference between the Clinton Foundation and the Trump Foundation, he said, was that the issue raised involving the Clintons is one of whether they had been required to disclose donations from foreign governments. In New York, he explained, the concern has been about expenditures of the state and city, whether graft and corruption were working through nonprofits. No other nonprofit in New York, Schneiderman said, has ever been asked "to disclose contributions of foreign governments. To single out the Clinton Foundation would be grossly unfair."
Schneiderman has already sued Trump University​ for defrauding consumers.
Thanks for reading CBS NEWS.
Create your free account or log in
for more features.