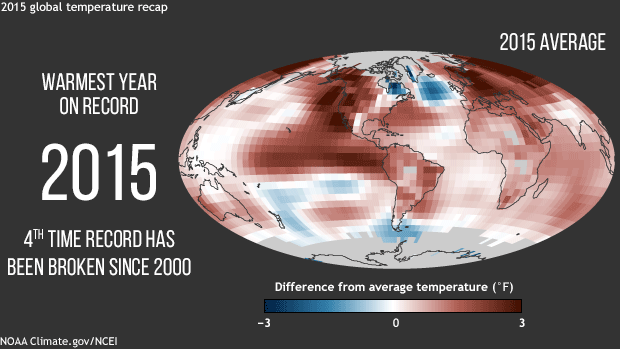 NOAA: 2015 was hottest year on record, by wide margin
After month after month of record high temperatures, the final tally is in and 2015 has officially been declared the hottest year since modern record keeping began in 1880.
Last year's temperatures burned through the previous record, with 2015 topping 2014 by 0.23 degrees Fahrenheit, the National Oceanic and Atmospheric Administration (NOAA) announced Wednesday. For context, the only other time that a new record has been greater than the old record by this large a margin was in 1998, officials said.
The conclusions were determined by independent analyses by both NASA and NOAA. Allowing room for error, NASA estimates these findings with 94 percent certainty.
"Climate change is the challenge of our generation, and NASA's vital work on this important issue affects every person on Earth," NASA Administrator Charles Bolden said in a statement. "Today's announcement not only underscores how critical NASA's Earth observation program is, it is a key data point that should make policy makers stand up and take notice -- now is the time to act on climate."
The report found that Earth's average surface temperature has risen about 1.8 degrees F since the late 19th century, driven mainly by increased man-made emissions like the increased presence of carbon dioxide being pumped into the atmosphere. This news is especially timely in that it comes right after the 2015 Paris climate talks, where representatives from 195 countries agreed to address climate change by curbing carbon emissions.
Historically, most of the Earth's warming took place in the past 35 years, with 15 of the 16 warmest years on record occurring only since 2001.
While El Niño, a periodic phenomenon that heats up temperatures in the tropical Pacific Ocean, impacted global temperatures in 2015, Gavin Schmidt, director of the Goddard Institute for Space Studies (GISS) at NASA said that it was the "cumulative effects" of long-term climate trends that led to this level of warming.
"This record year really is just emphasizing the fact that there is a very, very strong long-term trend in temperature that we have associated very strongly with the human emissions of greenhouse gases," Schmidt said. "While one degree might not mean very much to you basically on a daily cycle, it really gets noticed by the planet and the systems on the planet."
Schmidt suggested that we can expect a similar headline a year from now.
"We actually anticipate that 2016 might also be a record warm year, and that will be the first time that we've had three record warm years in a row in the whole record," he said. "When NASA first started talking about global warming, it was in 1988. 1988 was also a record year. But with the record in now for 2015, 1988 is not even in the top 20 of warmest years."
Thanks for reading CBS NEWS.
Create your free account or log in
for more features.