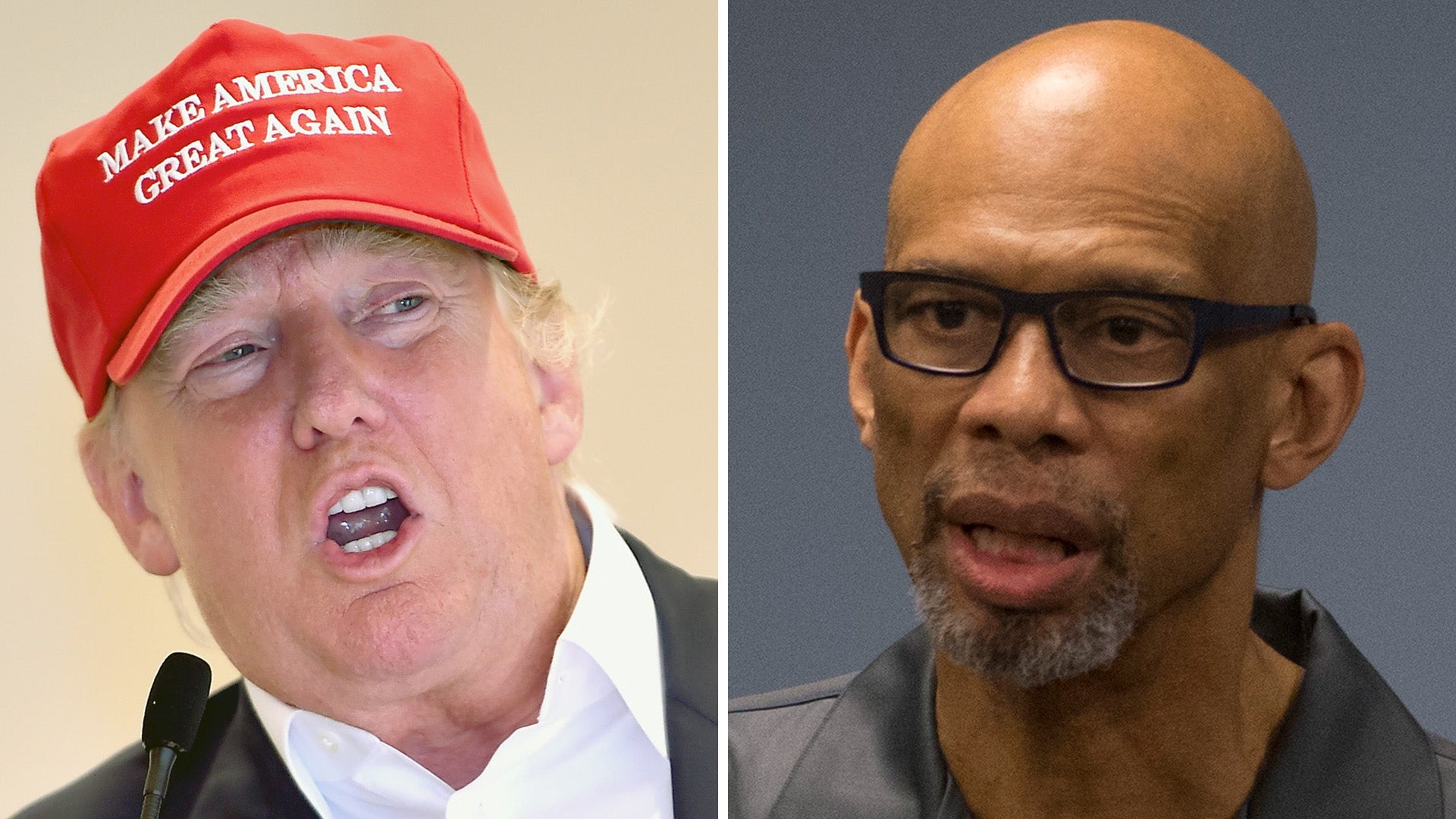 Kareem Abdul-Jabbar and Donald Trump trade barbs
Former pro basketball player Kareem Abdul-Jabbar got a taste of the Donald Trump treatment when he wrote an op-ed criticizing the Republican businessman for his demeanor on the campaign trail.
"Americans may flirt with the preppy life of the frathouse partier because he's poked sacred cows, said stuff we all wish we could say (except that reason keeps us from doing it), and acted buffoonishly entertaining," Abdul-Jabbar wrote in a Washington Post op-ed published Wednesday. "But when you wake up the next morning and he's saying you're now in a four-year relationship, reason comes rushing in, and it is time for the 'it's me, not you' speech."
The op-ed was written to contrast Trump's treatment of the press with Democratic presidential candidate Bernie Sanders, who has been confronted by activists from the Black Lives Matter movement at several campaign stops. Abdul-Jabbar recalled Trump's spat with Fox News debate host Megyn Kelly, the time he ejected Univision reporter Jorge Ramos from a campaign event and the insults he hurled at the Des Moines Register after they called on him to quit the presidential race.
"Attempting to bully the press to silence criticism of him is anti-American," Abdul-Jabbar wrote. "He followed up this salvo on the First Amendment with a strike at the 14th Amendment, asserting that he'd like to deny those born in the country their citizenship. The biggest enemy to the principles of the Constitution right now is Trump."
Later, he wrote, "If you don't have time for political correctness, you don't have time to be the caretaker of our rights under the Constitution." He also called Trump "a man whose money has made him arrogant to criticism and impervious to feeling the need to have any actual policies" and "a last-call candidate who looks good in the boozy dark of political inebriation."
Trump, never one to take an insult lying down, printed a copy of Abdul-Jabbar's article and sent it back with a handwritten note.
"Dear Kareem," he wrote. "Now I know why the press always treated you so badly -- they couldn't stand you. The fact is that you don't have a clue about life and what has to be done to make America great again! Best wishes, Donald Trump."
As The Atlantic documented in 2011, the handwritten-insult-on-top-of-the-article is Trump's favorite format for dissing journalists he believes have slighted him.
Thanks for reading CBS NEWS.
Create your free account or log in
for more features.