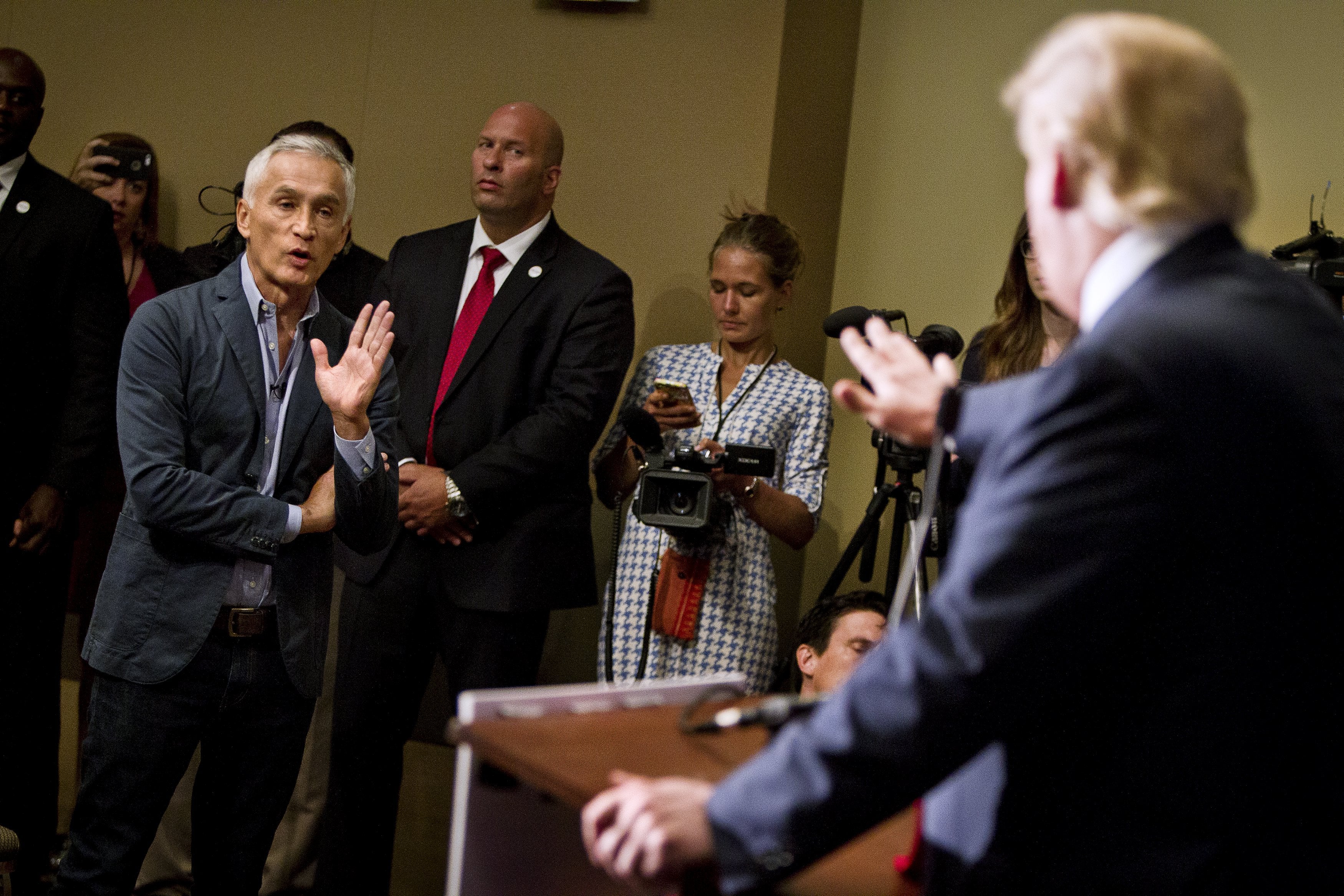 Donald Trump tells Jorge Ramos: "Go back to Univision"
Republican presidential nominee Donald Trump, who already has a dismal reputation among U.S. Hispanics, found himself in a confrontation Tuesday with Spanish media's most well-known journalist, Jorge Ramos of Univision.
Trump, who has proposed deporting the nation's roughly 11 million undocumented immigrants, told Ramos to "go back to Univision" when the journalist stood up and attempted to get in the first question to Trump at an Iowa press conference. The GOP candidate insisted that Ramos sit down as he tried to call on other reporters, and when Ramos refused to stay quiet, the journalist was escorted out of the room.
Other reporters immediately questioned Trump as to whether he made the right move. When asked whether it was appropriate to rebuke Ramos like that, Trump said "certainly he was not chosen" to ask the first question. "He just stands up and starts screaming," he said. "If he wanted to come back in, I'd love to have him. ... He's obviously a very emotional person."
Shortly thereafter, Ramos was allowed back in the room and had another opportunity to pepper the GOP frontrunner with questions. He asked Trump how he plans to deport 11 million people, to which Trump replied, "The one thing we're going to start with immediately is the gangs." Undocumented criminals, he said, are "going to be out so fast, your head will spin."
Acknowledging that "most" immigrants are good people, Trump added that he'd like the Mexican immigrants he plans to deport to come back legally. "We'll have a wall, and the wall's going to have a big, beautiful door where people can come in legally," he said.
When Ramos pressed for specifics of his plan to deport undocumented immigrants and build a wall at the U.S.-Mexico border, Trump insisted, "I'm a great manager, I know how to manage things."
He added, "I've given you specifics -- great management, and they'll hopefully come back very soon."
Ramos and Trump also sparred over calling undocumented immigrants "illegal," with Ramos insisting, "No human being is illegal."
Trump rebutted that they are "when they cross the border, from a legal standpoint."
The billionaire businessman also pointed out to Ramos that he's suing Univision for $500 million.
In a written statement, Univision chief executive officer Isaac Lee responded by saying, "We'd love for Mr. Trump to sit down for an in-depth interview with Jorge to talk about the specifics of his proposals."
Thanks for reading CBS NEWS.
Create your free account or log in
for more features.