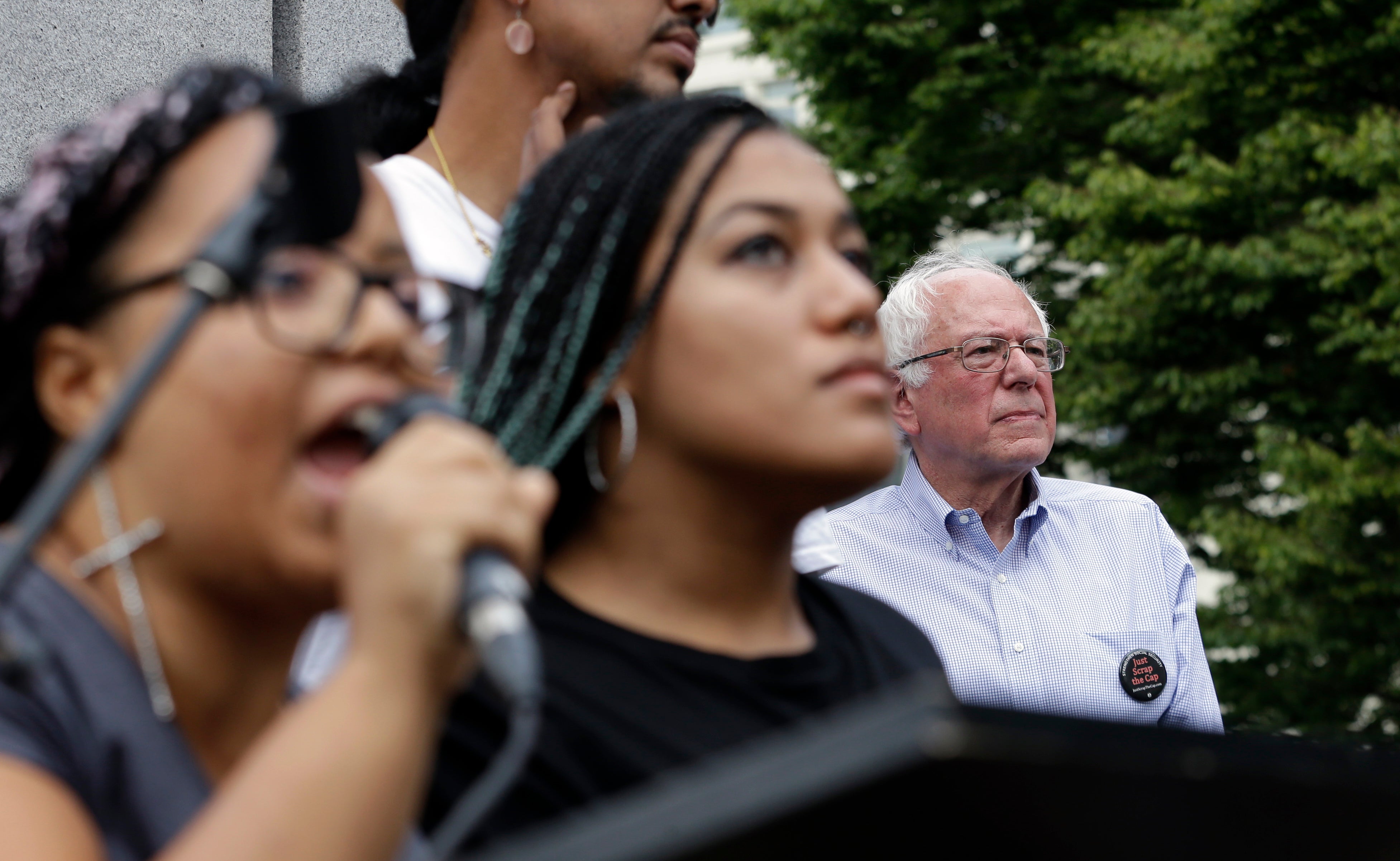 Activists force out Bernie Sanders at Seattle rally
Black Lives Matter activists forced out Democratic presidential candidate Bernie Sanders at a Seattle rally on Saturday, shutting down the event shortly after the Vermont senator took the stage.
"Thank you, Seattle, for being one of the most progressive cities in the United States of America," Sen. Sanders told a crowd gathered at Seattle's Westlake Park. The rally was meant to celebrate the anniversary of social security, Medicare, and Medicaid programs.
But before the progressive candidate could get further than his introduction, two protesters rushed the stage and attempted to take over the podium.
"We want an opportunity on the mic," one activist, a co-founder of Seattle's Black Lives Matter movement, said.
"If you do not listen to her, your event will be shut down right now," a second protester yelled as she crowded the podium, seeking to take over the microphone. "Your decision. Make a decision now."
While Sanders stepped off to the side, an event organizer responded to the activists, saying "we are going to let you on the mic."
"We are going to give you the mic," the organizer said. "We are trying to be reasonable."
Event attendees yelled to "Let Bernie speak," but the presidential contender eventually stood back and allowed the demonstrators on the stage. The two protesting women spoke about Ferguson and Michael Brown, a year after he was killed by police office, and held a four-minute moment of silence.
Sanders left soon after without speaking, exiting the stage with a raised fist salute. He addressed a crowd of approximately 12,000 late Saturday evening at the University of Washington campus, reaffirming his positions on criminal justice reform and income inequality.
Later, Sanders said he was "disappointed" at the outcome of the disrupted Seattle rally.
"I am disappointed that two people disrupted a rally attended by thousands at which I was invited to speak about fighting to protect Social Security and Medicare," Sanders said in a statement. "I was especially disappointed because on criminal justice reform and the need to fight racism there is no other candidate for president who will fight harder than me."
This isn't the first time Sanders has been interrupted by demonstrators in the Black Lives Matter movement. Last month at Netroots Nation, an annual gathering of liberal activists, protesters disrupted the speeches of Sanders and fellow Democratic contender for the White House Martin O'Malley.
Thanks for reading CBS NEWS.
Create your free account or log in
for more features.