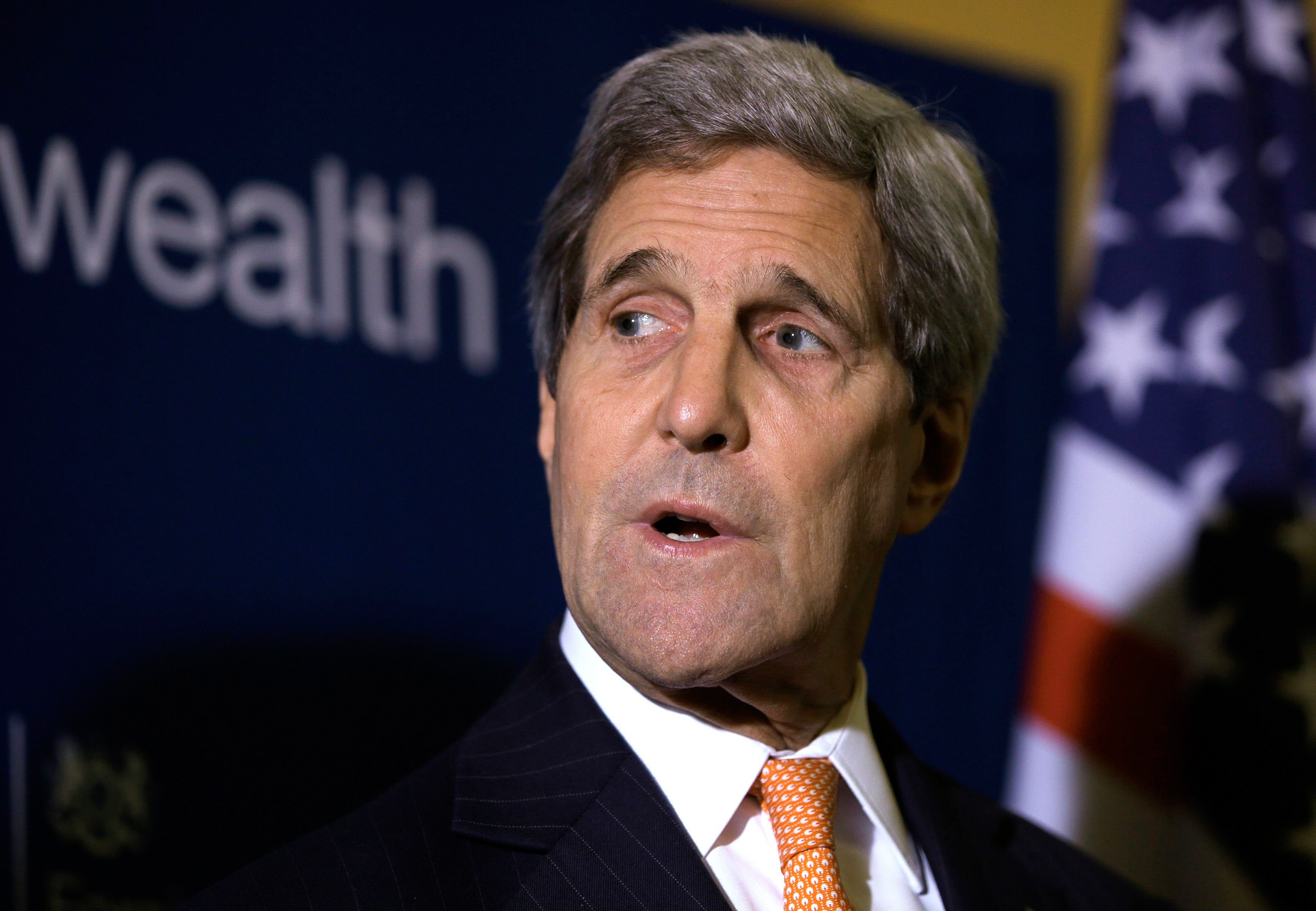 John Kerry: Half of ISIS leaders killed by Iraq and allies
LONDON -- Iraq and its allies have made significant gains in battling militants from the Islamic State of Iraq and Syria (ISIS), killing thousands of fighters and 50 percent of the group's top commanders, U.S. Secretary of State John Kerry said Thursday as an international coalition promised stronger efforts to stop the group and squash the spread of its extremist ideology.
At an anti-ISIS coalition meeting in London, Kerry said Iraqi ground troops backed by almost 2,000 air strikes had retaken 270 square miles of territory and deprived the militants of the use of 200 oil and gas facilities. He said the number of militants killed was in the "single digit" thousands.
But the top US diplomat said the international coalition "can do better" at stopping the militant group's flow of funds and foreign fighters and the reach of its extremist ideas, which have been cited by terrorists, including the gunman who killed four hostages at a kosher grocery in Paris this month.
Kerry met British Foreign Secretary Philip Hammond, Iraqi Prime Minister Haider al-Abadi and officials from 21 countries at the one-day conference that aimed to seal cracks in the often-divided coalition against the extremist group, which controls a large swath of Syria and Iraq.
Abadi has complained that weapons and ammunition have not been reaching Iraqi forces fast enough and accused the world of stalling on commitments to train Iraqi troops.
"There is a lot being said and spoken, but very little on the ground," he told The Associated Press on Wednesday.
But after Thursday's meeting he said, "I have asked people for more support and I think my call didn't go unnoticed."
Earlier Thursday, Defense Secretary Chuck Hagel took issue with Abadi's assertion that "we are in this almost on our own."
Hagel told reporters, "I do disagree with the prime minister's comments. I would say even further, I don't think they're helpful. We have a coalition of over 60 countries that have come together to help Iraq. And I think the prime minister might want to be a little more mindful of that."
The London talks brought together officials from several Arab and Gulf states, European nations, Turkey, Australia and Canada, as well as the U.S. and Britain. They focused on what can be done to cut off the militant group's funding, stop the spread of its propaganda and stem the flow of foreign fighters into its ranks.
The meeting also allowed Iraq and its allies to present a united front after Abadi's complaints and Hammond's remarks earlier Thursday that Iraqi forces were in a "state of disarray," unprepared to start significant combat operations against the extremists.
Speaking alongside Hammond and the Iraqi premier, Kerry said ISIS had been "definitively" halted in Iraq, despite the fact that a large area and the major city of Mosul remain in the militants' control.
But, he said, "we have decided there are things we can do more of," including beefing up efforts to halt foreign fighters, curb ISIS' finances and publicly counter the group's social media presence.
He said the U.S. and its allies were training Iraqi forces "as fast as possible," with a goal of creating 12 new Iraqi brigades. Iraq was also receiving equipment, including 250 mine-resistant armored vehicles and a "very significant number" of M16 assault rifles, Kerry said.
Hammond said the goal was to defeat both the group and its ideology "however long it takes and wherever it leads us."
But the leaders gave few details of new commitments of arms, troops or money for the effort.
Abadi said falling oil prices had been "disastrous" for Iraq's budget.
"We don't want to see a reverse of our military victory due to our budget and fiscal problems," he said.
Hammond assured him that would not happen.
"This campaign is not going to fail for the want of some guns or some bullets in the hands of the Iraqi security forces," he said.
Kerry's comments echoed those of the U.S. Ambassador in Baghdad, who was quoted as saying U.S.-led airstrikes have killed "more than half" of the terror group's leadership.
The Al Arabiya News Channel quoted Ambassador Stuart Jones in an interview published Thursday as saying U.S. estimates were that "the airstrikes have now killed more than 6,000 ISIS fighters in Syria and Iraq."
Jones reportedly told the network the statistics were "not so important in themselves," but argued "they do show the degradation of ISIS."
President Obama, in his annual State of the Union address Tuesday, pledged to work with Congress on a new authorization for military action against ISIS.
Thanks for reading CBS NEWS.
Create your free account or log in
for more features.