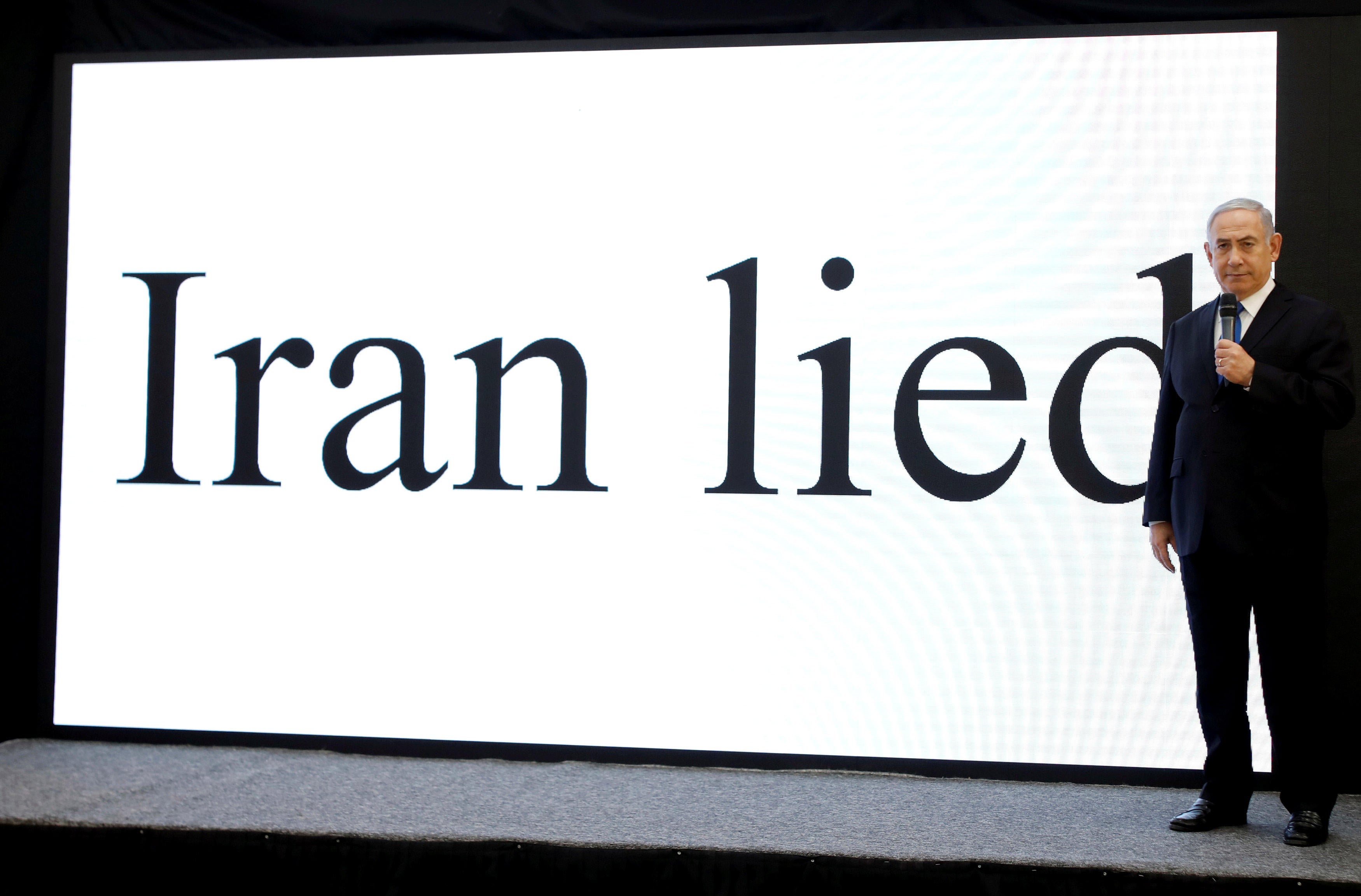 What do Israel's details on Iran nuclear program prove?
WASHINGTON -- Israel has tried to shake up the debate over the Iran nuclear deal by showing off alleged evidence of Iran's past nuclear weapons program. Prime Minister Benjamin Netanyahu said flatly in a dramatic presentation, in English, on Monday that "Iran lied" about its nuclear ambitions.
He claimed that a secret archive taken from a warehouse in Tehran includes plans to build atomic warheads.
But Iran's Foreign Minister Mohammed Javad Zarif mocked Netanyahu on Twitter early Tuesday, saying, "the boy who can't stop crying wolf is at it again." Meanwhile, key U.S. ally France -- a signatory to the 2015 Iran nuclear deal -- said that far from proving its illegitimacy, Israel's revelations actually highlight the need to keep the international agreement in place.
French foreign ministry spokeswoman Agnes von der Muhll called the nuclear deal, formally known as the Joint Comprehensive Plan of Action (JCPOA), among the "most comprehensive and robust in the history of nuclear non-proliferation."
"It is essential that the IAEA (International Atomic Energy Agency) can continue to verify Iran's respect for JCPOA (nuclear deal) and the peaceful nature of its nuclear program," she said. If anything, she said the Israeli evidence bolstered the argument for an extension of the current 10-year nuclear agreement, rather than for an abandonment or renegotiation of it.
Britain's Foreign Minister Boris Johnson agreed, saying the Israeli leader's "presentation on Iran's past research into nuclear weapons technology underlines the importance of keeping the Iran nuclear deal's constraints on Tehran's nuclear ambitions."
"The Iran nuclear deal is not based on trust about Iran's intentions; rather it is based on tough verification, including measures that allow inspectors from the International Atomic Energy Agency unprecedented access to Iran's nuclear programme," Johnson said.
The IAEA -- the entity tasked with inspecting and verifying Iran's compliance with the terms of the agreement -- issued a statement Tuesday indicating that Israel's trove of Iranian archives did not immediately appear to change the understanding of what the Islamic Republic did, or when.
"The Agency's overall assessment was that a range of activities relevant to the development of a nuclear explosive device were conducted in Iran prior to the end of 2003 as a coordinated effort, and some activities took place after 2003. The Agency also assessed that these activities did not advance beyond feasibility and scientific studies, and the acquisition of certain relevant technical competences and capabilities," the agency said in its written statement. "The same report stated that the Agency had no credible indications of activities in Iran relevant to the development of a nuclear explosive device after 2009."
But on Monday, a White House spokesman said the information obtained by Israel, "provides new and compelling details about Iran's efforts to develop missile-deliverable nuclear weapons."
"Face the Nation" moderator and senior foreign affairs correspondent Margaret Brennan says the U.S. still believes that Iran has kept its nuclear program frozen since the 2015 nuclear agreement was reached. But standing next to the intelligence seized by Israeli spies from a warehouse in Tehran, Netanyahu said it proved Iran had lied about its efforts to build a nuclear weapon.
"Even after the deal, Iran continued to preserve and expand its nuclear weapons knowledge for future use," argued the Israeli leader, who wants the U.S. to pull out of the nuclear deal which has frozen Iran's nuclear program in exchange for sanctions relief.
Last week the leaders of France and Germany lobbied President Trump to stick with it, rather than tear up the deal as he promised to do while on the campaign trail.
President Trump must make his decision on whether to continue putting his stamp of approval on the nuclear deal by May 12. If he doesn't ratify it, as required by U.S. law, the U.S. would essentially become non-party to the agreement, and Iran has warned of "grave consequences" -- suggesting it could return quickly to its nuclear research and development -- if he takes that step.
On Monday, Mr. Trump suggested he could instead choose a third option: Craft a new version of the agreement.
"On or before the 12th, we'll make a decision; that doesn't mean we won't negotiate a real agreement," he said at the White House.
Brennan says most of the intelligence Netanyahu cited on Monday was from before the 2015 deal was signed by the U.S., Iran, China, Britain, France, Germany and Russia, and he did not present any evidence that Iran had violated it since that signing.
Speaking to reporters on his plane, Secretary of State Mike Pompeo said the newly revealed details do show that Iran has not been honest about the nature of its past nuclear research, and he believes they, "will, I think, spell out the scope and scale of the program that they undertook there."
But he said that so far, there does not appear to be evidence to contradict his testimony in April that Iran has remained faithful to the deal.
Israel's evidence from the Iranian warehouse, however, indeed contradict Iranian Foreign Minister Zarif's claim, made on "Face the Nation," that Iran's past nuclear program had been for entirely peaceful purposes.
"Iran was never racing towards a bomb and it will not be racing towards a bomb," Zarif said last month.
Thanks for reading CBS NEWS.
Create your free account or log in
for more features.