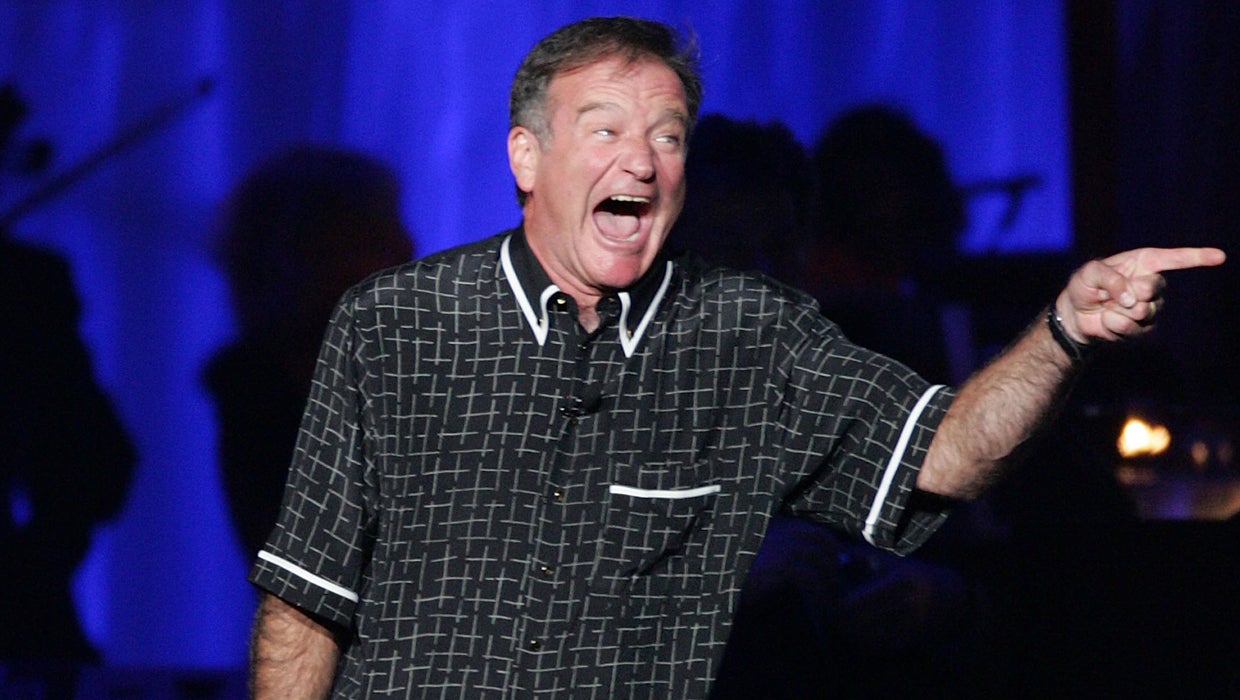 How Robin Williams forever changed the world of stand-up comedy
Robin Williams is being remembered by many for his work in big-budget Hollywood films like "Mrs. Doubtfire" and "Aladdin," but there are others who are instead focusing on the impact the late actor had in the world of stand-up comedy.
Williams, who was found dead Monday in his Northern California home after committing suicide at 63, got his start on the comedy club circuit in the 1970s before becoming a household name on the hit sitcom "Mork & Mindy."
Even in the early days, many of Williams' peers took notice of his talents, particularly when it came to improvisation. Stand-up comics are often known for re-using the same material in their acts night after night, but with Williams, you never really knew what you were going to get.
"Every night was different," said James Dulworth, a manager at Dangerfield's Comedy Club in New York, who divulged one of the secrets to Williams' knack at improv.
"He developed cards pretty much in his brain for any situation for every single night," Dulworth revealed, "He already had those ready for almost any situation."
Dulworth told CBS News that he was a booker for the famed Comedy Store in Los Angeles when Williams was first getting his start in Hollywood.
"The owner of the Comedy Store was Mitzi Shore, Pauly Shore's mother," Dulworth explained, "I was working for her in the very beginning and she found [Williams] in San Francisco and brought him down [to Los Angeles]."
Williams would close out each of his Comedy Store performances by walking around the audience with a candle held up to his face while pretending to be an old man. He would then pull out jokes off the top of his head based on the audience members' responses to his geriatric persona.
Dulworth added that even in those early days, he could see Williams was a brilliant, yet tortured, talent.
"I'll never forget how sensitive he was," said Dulworth, who claims to have personally witnessed the actor's issues with substance abuse at that time. Williams himself spoke openly over the years about his battles with cocaine and alcohol, especially at the beginning of his iconic career.
"You could see how maybe he would become depressed. It probably wasn't easy to be him. He couldn't go out there and not be jovial and energetic. He probably needed some of those 'boosters' to help maintain that fast-paced, energetic persona," Dulworth revealed. "He almost had to do the drugs to maintain that level of performance. It's almost like steroids with ball players."
Williams was able to quell his addictions long enough to become a TV star as the lovable alien Mork, on the series, which allowed him to work with his childhood hero, Jonathan Winters, who had also achieved fame with his unique brand of unpredictable humor.
"Jonathan taught me," Williams once told "60 Minutes" correspondent Ed Bradley, "that the world is open for play, that everything and everybody is mockable, in a wonderful way."
Just as Winters inspired his "Mork & Mindy" co-star, so too did Williams leave his mark on a generation of comedians and performers who came after him.
Williams proved that a comedic actor could headline more dramatic fare, like 1989's somber "Dead Poets Society" and 1997's contemplative "Good Will Hunting" -- a film that landed him his first and only Academy Award win. He helped pave the way for comedic actors like Jim Carrey and Adam Sandler who wanted to step away from the laughs every now and then.
But, even as he took on darker film projects like 1999's Holocaust-set "Jakob the Liar" or 2002's creepy "One Hour Photo," Williams would always come back to his primary passion -- comedy.
In 2002, he made his debut on the Great White Way in a one-man stand-up act, "Robin Williams: Live on Broadway," which was turned into a well-received HBO comedy special.
"He had the possibility to fully create a world from scratch and take us there while standing alone onstage using only his gifts," said actor/comedian Will Vought ("The Good Wife," "Bones"), who played Williams' role of the Genie in Disney California Adventure's stage production of "Aladdin."
"He was a brilliant joke writer but also a master of voices, physical comedy and creating characters that we've never seen before," Vought said of Williams' appeal. "A Mozart of voices that redefined stand-up comedy, no one ever saw or heard anything like Robin Williams and likely never will again."
Thanks for reading CBS NEWS.
Create your free account or log in
for more features.