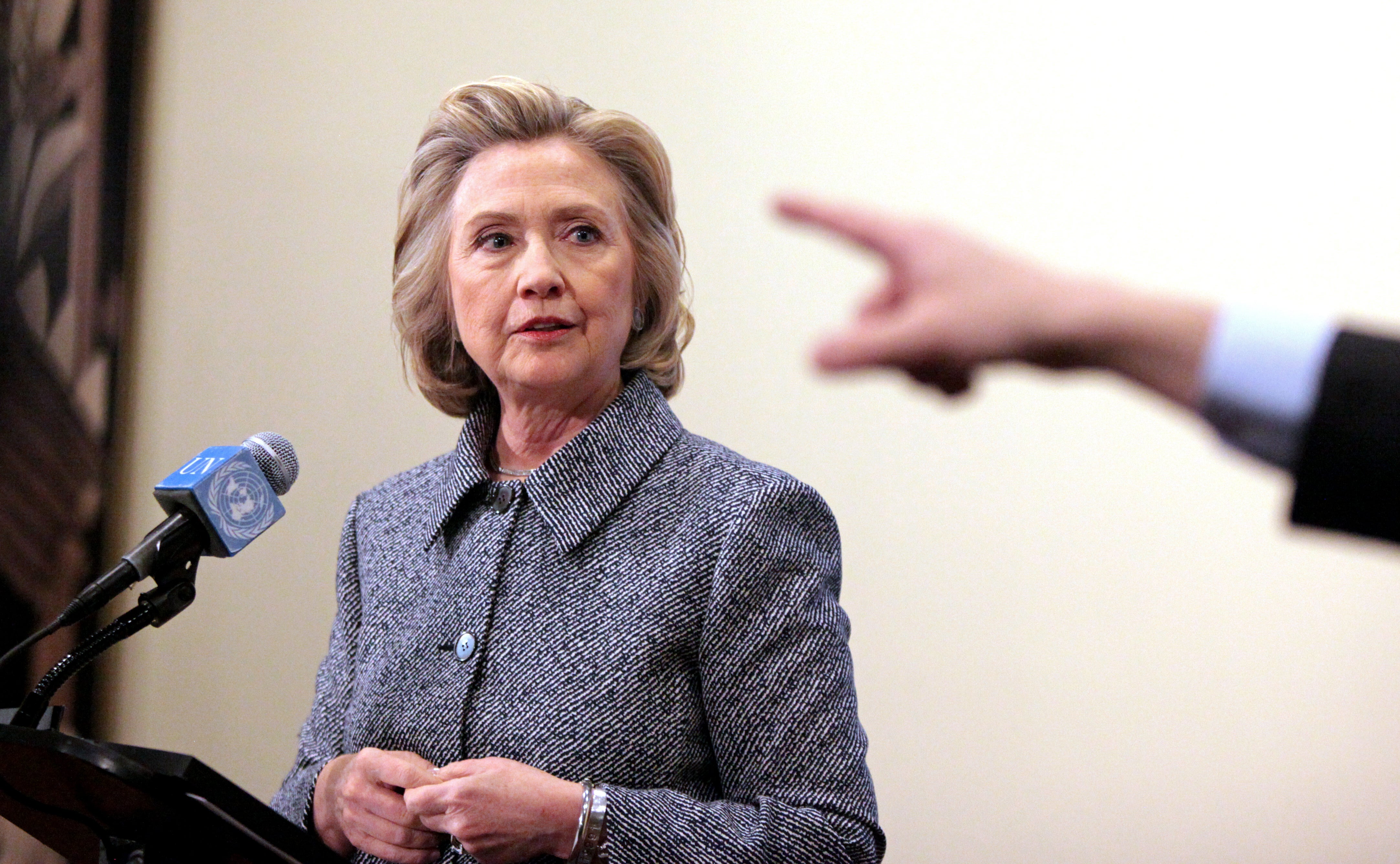 GOP to Clinton: Hand over your email server
Republicans are casting a wider net in their investigation of Hillary Clinton's use of a private email address during her time as secretary of state.
In the GOP's weekly address Saturday, Indiana Rep. Susan Brooks, who is a member of the House Select Committee in charge of scrutinizing the events leading up to the 2012 attack on a U.S. compound in Benghazi, Libya, is calling for Clinton to pass on the actual email server that hosted her private address, rather than just copies of the relevant electronic messages.
"Right now there is no way for us to know whether we have all of the State Department communications that rightfully belong to the American people. The only way to truly know is by having access to Secretary Clinton's personal server," Brooks said in a new video. "That is why we are asking Secretary Clinton to turn her server over to a neutral, third-party arbiter."
Citing the need for the surveyor to be "completely impartial and independent," Brooks also called on a third party to sift through the thousands of pages accumulated over Clinton's tenure in President Obama's Cabinet.
"After a complete inventory, this arbiter can make a determination as to which emails should be public and which should remain private," the Indiana congresswoman said. "By handing her server over to a neutral, third-party arbiter, Secretary Clinton can help us move forward with figuring out what happened to our people."
What this "independent" arbiter might look like is still anyone's guess. While South Carolina Rep. Trey Gowdy, who chairs the House Select Committee, and Sen. Lindsey Graham have said they've lost confidence in the State Department to make determinations about what should be made public, no formal steps have been announced for another lawyer or federal judge to handle the matter.
A neutral third-party is not entirely unheard of, but the appearance of politicizing the results could be detrimental to the integrity of the investigation itself.
The House Select Committee issued a subpoena for Clinton's emails last week following the original email revelations. The subpoena asked for "all communications of former Secretary of State Hillary Clinton related to Libya and to the State Department for other individuals who have information pertinent to the investigation," according to a committee statement.
"There are gaps of months and months and months," Gowdy said Sunday on CBS' "Face the Nation," unsatisfied with the emails his committee has received.
The subpoena drew the wrath of several Democrats on the Benghazi committee, who called the move "completely unnecessary and unfounded."
"You rushed to issue a unilateral subpoena to Secretary Clinton with no debate, no vote and no deliberation whatsoever by committee members," a letter from committee Democrats to Gowdy read.
House Democrats' quick defense of Clinton assured Gowdy that the former secretary was in full cooperation with the federal standards existing at the time.
But conservative groups are not the only ones seeking this information. Though Mr. Obama has staunchly defended Clinton's record as a Cabinet member, veterans of the Democratic Party like California Sen. Dianne Feinstein have deemed Clinton's secrecy on the matter damaging to a potential 2016 run for the White House.
"From this point on ... the silence is going to hurt her," Feinstein said last week. "She is the leading candidate, whether it be Republican or Democrat, to be the next president."
The Associated Press is additionally suing the State Department over the email controversy. The news agency filed a lawsuit last week in an attempt to force the release of Clinton's email correspondence, after repeated attempts to secure that information from numerous failed U.S. Freedom of Information Act requests.
In the meantime, the State Department's own review of Clinton's emails is only in the first phases of an appraisal that could take "several months."
Despite the directives from Clinton to the State Department instructing a release of unclassified information, Republicans aren't wavering in their criticism of the former first lady.
"It was not out of a sense of transparency that she acted," Brooks charged in her address. "It was our select committee's oversight that compelled Secretary Clinton to hand over some of her e-mails."
Mr. Obama, in his own address this week, urged the nation to support a new "Student Aid Bill of Rights."
"It's a simple declaration of values - what I call a Student Aid Bill of Rights," the president said in a video. "It says that every student deserves access to a quality, affordable education. Every student should be able to access the resources to pay for college. Every borrower has the right to an affordable repayment plan. And every borrower has the right to quality customer service, reliable information and fair treatment, even if they struggle to repay their loans."
The president, who used a visit to Georgia Tech earlier this week to speak on the need for higher education accessibility, also asked Americans to sign a declaration stating those principles of affordable schooling and reasonable loan plans.
The nation's chief executive asserted his own steadfast support of higher education and also said that he would take the issue to members of Congress, as well as to leaders in the private sector.
"Making sure that students aren't saddled with debt before they even get started in life is in all our interests," the president said.
Thanks for reading CBS NEWS.
Create your free account or log in
for more features.