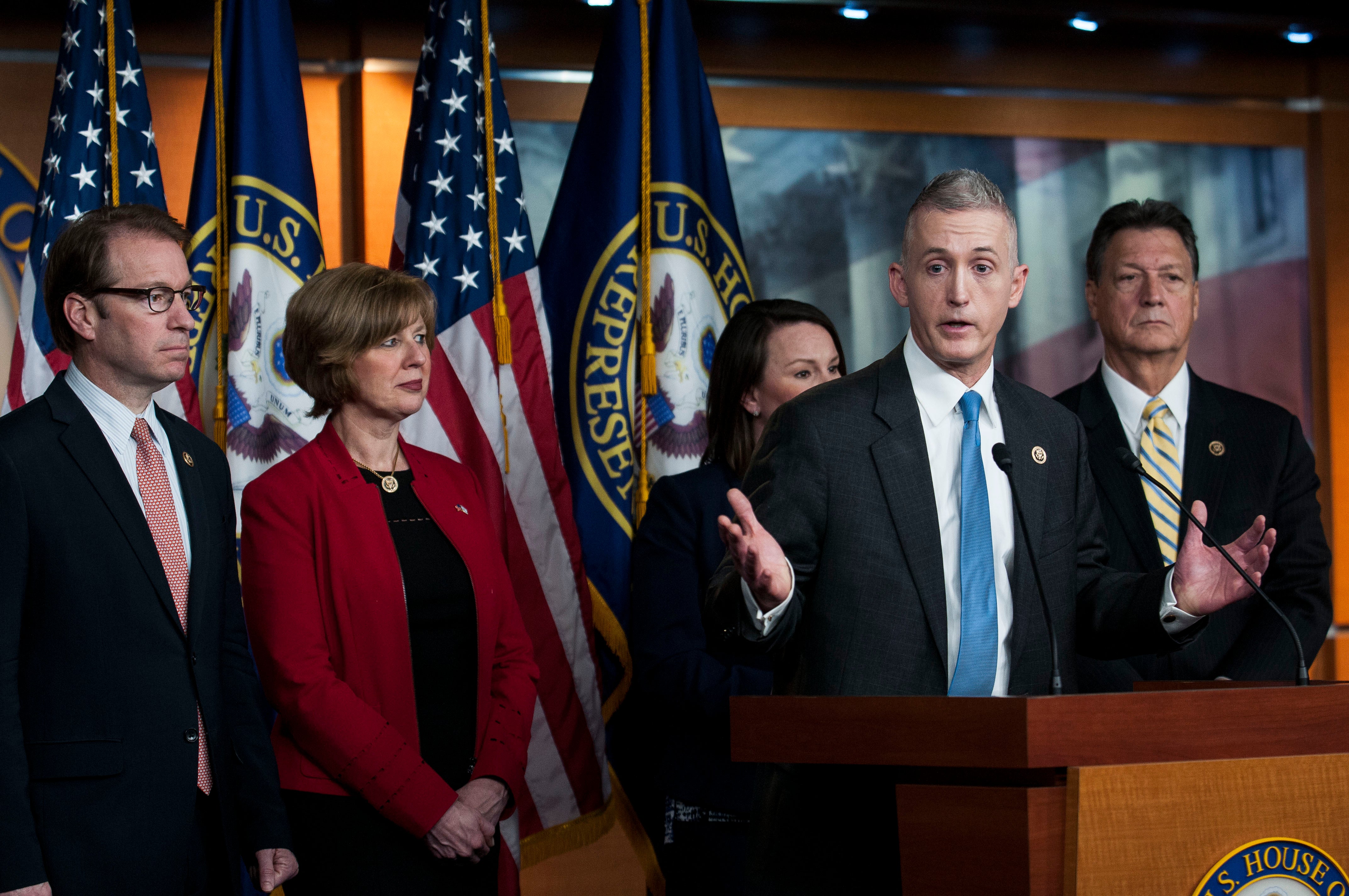 ​Fired Benghazi investigator says House probe is partisan
Just as the House Select Committee on Benghazi readies for Hillary Clinton's testimony this month, a former staffer is coming out with a scathing indictment of the panel, charging its Republican leaders of carrying out a partisan investigation aimed unfairly at the Democratic presidential candidate.
Air Force Reserve Maj. Bradley Podliska, a former investigator for the special committee, plans to file a complaint in federal court next month over what he calls an unlawful termination -- a firing that he says occurred because he was unwilling to engage in a politically motivated examination against Clinton.
The suit will also charge that the committee fired Podliska after he took leave to complete military service, according to the New York Times. Such actions violate federal laws protecting uniformed employment.
Podliska worked nearly 10 months for the Republican majority staff starting in September 2014. He took a break from the committee in March to go on active duty in Germany for a few weeks before returning to the investigative panel.
Podliska told CNN that after he returned to work and news had broken of Clinton's private email server, the committee staff wanted him to focus almost exclusively on investigating the former secretary of state. In fact, Podliska said, the panel had actually taken away resources from examinations of other individuals and redirected them instead to scrutinizing Clinton and the State Department.
For the committee's part, a spokesperson vigorously denies the allegations, calling them "outlandish."
The panel spokesperson, who declined to be named, said that "directly contrary to his brand new assertion, the employee actually was terminated, in part, because he himself manifested improper partiality and animus in his investigative work."
The spokesperson also said that Podliska, a Republican, "never previously raised any allegation with respect to his work involving Secretary Clinton (other than that he was not allowed to do it)."
"We are confident that the facts and evidence give no support to the wild imagination fueling these and any future allegations, and the committee will vigorously defend itself against such allegations," the spokesperson said in a statement.
According to a draft of the lawsuit obtained by the Times, Podliska was told by a majority staffer that he was being terminated for three reasons: mishandling classified information, inviting colleagues to a reception sponsored by a trade group, and handing a project to an intern without proper authorization. The ex-staffer denied to CNN that he ever mishandled classified information and argued against the legitimacy of the other reasons.
In a statement, the committee added that Podliska's termination was also because of "his repeated efforts, of his own volition, to develop and direct committee resources to a PowerPoint 'hit piece' on members of the Obama administration - including Secretary Clinton - that bore no relationship whatsoever to the committee's current investigative tone, focus or investigative plan."
In recent days, the House panel has come under fire for what some view as a partisan attack meant to derail Clinton's 2016 presidential bid.
Last week, House Majority Leader Kevin McCarthy drew criticism for his comments on the Benghazi committee's politics.
"Everybody thought Hillary Clinton was unbeatable, right?" McCarthy said on Fox News. "But we put together a Benghazi special committee, a select committee. What are her numbers today? Her numbers are dropping. Why? Because she's untrustable. But no one would've known any of that had happened had we not fought and made that happen."
Though the panel has denied any partisan mission, the most recent allegations from its former investigator has already provided more fuel for Democrats wanting to crack down on the committee.
"The Republican whistleblower who has come forward only provides further evidence of what has been long evident," California Rep. Adam Schiff, a member of the Benghazi committee, said Saturday in a statement. "It's time to shut down the Benghazi Select Committee. Only by ending this expensive and politicized investigation can we begin to undo the damage already done through this unprecedented use of Congress' power for nakedly political purposes."
Thanks for reading CBS NEWS.
Create your free account or log in
for more features.